A small village, located approximately 10 kilometres from the capital city Panjim, Batim first became known for the apparition of Our Lady in 1994. Surrounded by picturesque paddy fields and swaying palm trees, the village is very quiet and very peaceful. However, that's not all that its famous for. The village is home to a lovely lake that attracts all kinds of birds from far and wide. It's no surprise then, that visitors to the Batim lake go back happy.
The Batim lake is a bird lover's paradise
For the traveller that wants peace and quiet, Batim is truly heaven. There's even a lovely homestay named Casa Menezes Heritage Homestay. The owner David will even take you to the lake if that's what you fancy.
Previously, you would see the below-mentioned species at the Carambolim lake. However, in 2008, that lake was almost dry and the Batim lake became the place to go birdwatching. The lake isn't very big but the variety of migratory bird species that turn up at different times of the year is just amazing. There's the Lesser Whistling Duck ( a common sight at the Batim lake), Purple Swamper, Cotton Pygmy-goose, Comb Duck, Darter and Spot-billed Duck.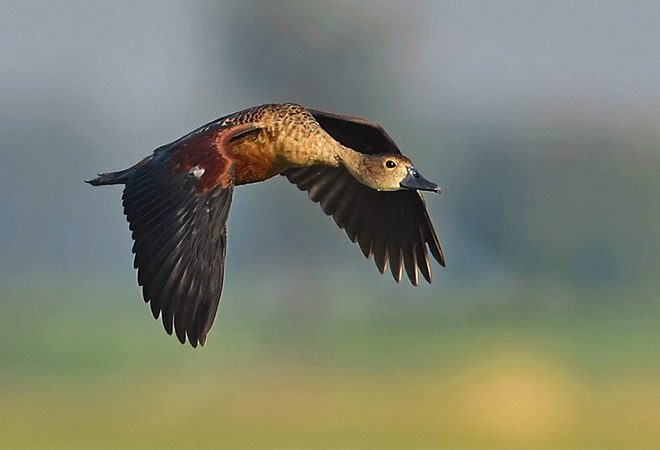 A few lucky visitors can get to see these birds as well as others, visiting the lake and making it their home. These include Gadwall, Northern Shoveler, Cotton Pygmy-goose, Common Coot, Common Teal, Garganey and Northern Pintail.  All through the year, the beautiful Batim lake gets photographers from around the world looking for a chance to catch sight of these migratory birds.
The lake makes for a great learning spot for school children. You will very often find different schools sending their students to the Batim lake to catch a glimpse of the different birds that visit the lake. They may also learn all kinds of fascinating trivia about birds along the way.
Getting there
The Batim lake isn't very easy to find if you're not familiar with the area but one can always use directions through Google Maps to get there. You can take a car but it's so much easier and more fun to get there on cycles. So the next time you find yourself in Batim, be sure you visit the lake. Not only will you get to see all kinds of birds but the lake by itself is very peaceful.
Note: Names of bird species sourced from http://www.easybirder.co.uk/Batim_Lake.html
ItsGoa/JAN/KDGP