An old article in the Times of India describes the village of Aldona as one of great wealth. Between its gorgeous location and the number of talented Goan personalities produced by this village, that statement could very well be true. Aldona stands on the banks of one of the Mandovi's tributaries with a backdrop of hilly terrain. It's absolutely beautiful all year round but more so in the monsoons.
Visiting picturesque Aldona leaves you feeling nostalgic
Aldona is a short drive from Mapusa. It's a peaceful village with an old-world charm about it yet quite modern at the same time. The village is said to be a comunidade village. Comunidade is a Portuguese word meaning 'belonging to the community'
Aldona, with its pretty, winding roads leaves visitors spellbound. The peace and charm of the village beckon and it's precisely why a lot of Indian celebrities have built houses in the area.
The village name is locally pronounced as 'Oidone' and according to comunidade records, it is also referred to as 'Haledone'. There are others that say that 'Oidone' means 'Vhodlem Dhan' which translates into 'great wealth'. Alternatively, some believe that the word means 'plough' used to till the fields and a few others support the idea that it was derived from the haldi plant (turmeric).
The wards of Aldona
This comunidade village is believed to be at least 2000 years old and comprises of around 16 wards. Bodiem and Danua wards are separated from the main village area by the Mapusa river. These wards come under the neighboring village of Tivim's panchayat. The other wards of Aldona comunidade are Quitula, Ranoi, Coimawadd, Gutcoi, Udoi, Cottarbhat, Santerxette, Panarim, Naikawaddo, Castelwaddo, Carona, Lankdem, Panth, and Calvim.
Aldona also has a parish jurisdiction that encompasses all of these wards with the exception of Bodiem, Danua, Ponolem, and Calvim. Bodiem has its own parish and Danua again falls under the Tivim parish. Calvim and Ponolem, also close to Aldona, also form a separate parish.
All of these wards, along with Ponolem as well as Corjuem island come under Aldona's panchayat jurisdiction. Only Bodiem and Danua are excluded as they belong to the Tivim panchayat.
Once a bustling port town
Going back a little, it shouldn't be a surprise that this village's name is said to mean 'great wealth'. After all, in the old days, it was quite a busy trading post. Aldona, along with Calvim was famous for its onions and chilies. It was said that onion saplings from these places were taken to other villages across Goa, including Agassaim in Tiswadi. Boats called Patmarim(sailboats) coming from the Mandovi, stopped here, then in Moira and finally at Mapusa to unload and reload their wares. The patmarim usually transported vegetables and staples like rice, grown in the fields in Aldona to other villages. This enabled the local Oidonkars to earn a sizeable income.
St. Thomas Church
There is also the well-known St. Thomas the Apostle church in the middle of the village. Also known as 'Sao Tomé Igreja em Aldona, Goa', this church was built in 1596 and has a lovely view of the Mapusa river. The church building has a set of broad steps at the fore, leading to an open space that surrounds it. The inside of the St. Thomas church is beautiful with intricate biblical murals on the walls, paintings, and grand statues.
Like most places in Goa, there is an interesting story attached to the St. Thomas church. The story tells of a gang of robbers that attacked in the middle of the night hoping to get their hands on the comunidade and church treasures. After a brief scuffle, the villagers managed to kill the entire gang. Those that escaped, ended up drowning in the river. Today, the Oidonkars celebrate this event as a thanksgiving and call it Choranchem Fest.
Corjuem Fort
It's impossible to talk about Aldona and leave the Corjuem fort out of the conversation. Constructed in 1551, this small island fortress was a Portuguese stronghold, protecting them from the invading forces of the Marathas, Bhonsles, and the Rane Rajputs in the 19th century. Today, it is a popular tourist spot even though it is in partial ruin. Corjuem island lies about 6 km from Aldona and can be accessed by way of the cable-stayed bridge that was constructed in 2004.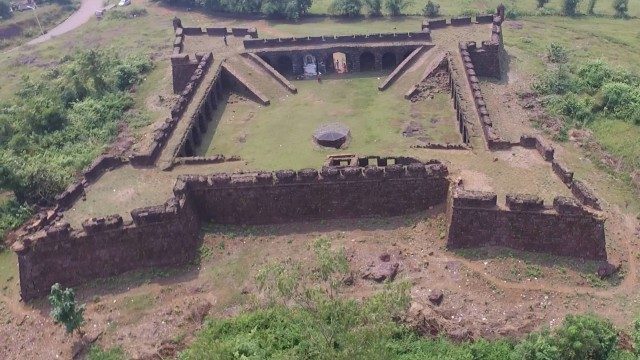 Famous personalities
Aldona's great wealth does not come from the income that the villagers made, alone. The village has produced a number of notable Goan personalities as well. These include singer-tiatrist Alfred Rose, Joseph Couto, archbishop of Karachi, Pakistan, Late Ferdinando Fonseca, auxiliary bishop of Bombay, Filipe Neri Ferrão, archbishop of Goa and Daman, Late Alban Couto, former chief secretary and author, Padma Shri awardee Maria Aurora Couto among many more.
Information credit 
https://timesofindia.indiatimes.com/city/goa/THE-VILLAGE-OF-GREAT-WEALTH/articleshow/55300576.cms
http://www.goaholidayguide.com/villages/aldona-village-goa.php
https://www.goaholidayhomes.com/information/aldona.html
ItsGoa/JULY/KDGP