Christmas is almost here and everyone's feeling the spirit of the season come alive once more. Christmas is a time to reflect and celebrate the joys of not just the season but the whole year that's gone by. And of course when the word 'celebrate' comes into play what else can anyone think of but Christmas parties? And we all know everyone loves a good Christmas party.
In the coming week leading up to Christmas Day, there are going to be plenty of Christmas parties, especially for the little ones. They are most excited to attend as many of these just so they receive that many more presents. Of course, the parents secretly have fun as well as a lot of these events end up having something for the adults as well.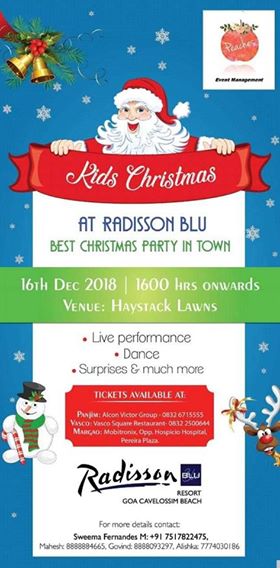 A Christmas party for the family
Most big hotels and resorts in Goa spend a lot of time and money hosting such events and they are open to in-house guests as well as people not staying with them. One resort that is hosting their very own Christmas party is the Radisson Blu Beach Resort in Cavelossim, South Goa.
Radisson Blu Beach Resort has partnered with Peaches Event Management to present The Best Christmas Party in Town. It's a Christmas party for the entire family that takes place on the Haystack Lawns at the resort. Mark the 16th of December on your calendars for a Christmas party that is not to be missed.
This Christmas party sounds like it's going to be a rocking one with loads of entertainment for all. There will be exciting games, dancing, international live performances and a lavish buffet spread with all kinds of food imaginable. Not to forget that Santa will make an appearance with gifts for every child and more surprises for all in the family.
Tickets to the event are available at the below establishments so hurry and get yours now!
Panjim: Alcon Victor Group
Vasco: Vasco Square Restaurant
Margao: Mobitronix
If you would like to know more about Radisson Blu's Best Christmas Party, check out their FB page (link is below) or give them a call on 7517822475/ 7774030186.
https://www.facebook.com/events/1971319369614122/?ti=cl
Information credit
Radisson Blu Beach Resort
ItsGoa/DEC/KDGP