Utorda is a coastal village located in the Salcete taluka of South Goa. It is bordered by the village of Arossim to the north, and the village of Majorda to the South. It is home to the beautiful Utorda beach, which is one of the cleanest and most tranquil beaches in South Goa. This beach attracts visitors like no other beach in Goa. It has lots of shacks and hotels scattered along its white-sanded shores. The beach is usually not very crowded during the off-season. The best time to visit this place is during the evenings or at night. You can enjoy a lovely dinner with good food and drinks at one of the many popular beach shacks located at this place.
For those planning a visit to Utorda beach anytime soon, here is a list of the best beach shacks in Utorda beach where you can enjoy a lovely dinner party with your family and friends.
Zeebop by the Sea
First on our list of the best beach shacks in Utorda beach, is a very famous award-winning restaurant called "Zeebop by the Sea". This is an open-air restaurant, located right on the shores of the serene Utorda beach in South Goa. It is surrounded by coconut palms and rolling dunes and is very close to all the major hotels and resorts in Utorda. It is noted for its excellent seafood offerings. It also serves Indian, Continental, Goan, and Tandoori dishes.
Every morning, fishing canoes on the Utorda beach venture into the sea to bring the freshest catch of the day, to supply to the restaurant. Also with the Cutbona and Betul fishing jetties being close by, there is always a continuous supply of fresh fish to the kitchens of Zeebop by the Sea.
It is second to none when it comes to seafood restaurants in South Goa. It was awarded the title of "Best Seafood Restaurant (Stand-alone) in South Goa" in 2013 by the Times Food Guide Awards, an initiative of The Times of India.
Thousands of tourists from all across India and the world flock to Zeebop restaurant every year to relax, and treat their taste buds to a variety of delectable flavours, right in front of the Arabian Sea. Live music performances are held during the evenings at Zeebop Restaurant
The bar at Zeebop is stocked with a wide range of cocktails, mocktails, wines, beers, and spirits. When it comes to food, one must try the various seafood platters, like the king crab platter tossed in butter garlic, or the shark steak fillet, which is either grilled in recheado masala, or is fired with garlic/ lemon butter. Their chicken xacuti is highly recommended for those who prefer chicken over fish. It is prepared by cooking chicken in coconut milk along with grated coconut and a variety of Goan spices. The effect is a nice, mild curry with a distinct and scrumptious flavour.
The restaurant also organises beach parties and private functions on the beach. It offers catering services for large banquets and has banquet facilities that can host up to 350 guests.
Jamming Goat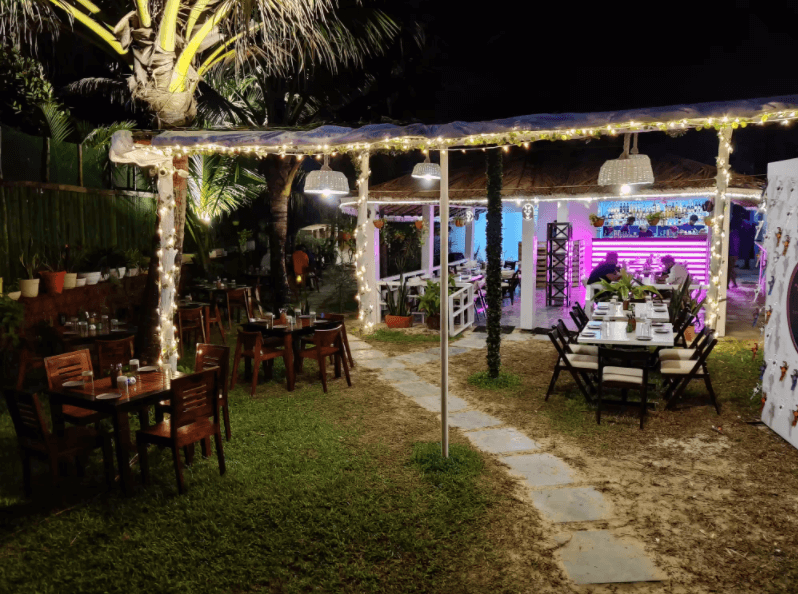 Next on our list of the best beach shacks in Utorda beach is a newly opened restaurant called Jamming Goat. It is located in a very quiet area on the beach, and has a very cool vibe, with amazing music playing in the background. It has both indoor, as well as outdoor sitting areas. The restaurant menu is mostly a modern touch of various cuisines across India. The food offered here is delicious and is served in good portions.
The bar at the shack has a wide range of alcoholic drinks to offer. Their '1986 Drink' is a very tasty cocktail, made of peppered vodka, jalapeno tea, and citrus fruit. It is very tempting and is a must-try.
For starters, you can try their papad platter, which is very appetising and delicious. For gravy, you must try their butter lobster masala served with warm coriander crusted naan. Try it once and you will be left craving for more. Their chicken biryani and dal tadka are also worth trying. You can end your meal on a sweet note by having a few scoops of the yummy avocado ice cream dessert.
Lloyd's Beach Shack
This is a nice shack located right next to the Jamming Goat shack on the Utorda beach. It has a wide variety of delicious food and drinks on its well-curated menu. The prices are also quite reasonable. During high tide, the seawater almost touches your feet, if you are sitting outside. This place is good for both couples as well as families. They have a kids' area with slides to play on. The food offered here is very nice. The waiter asks how you would like your food to be cooked and also gives suggestions based on ones individual needs.
You must try the grilled mackerel with recheado masala, Goan fish curry, paneer tikka and roti. The rotis are fluffy and light, and the paneer has a soft creamy moist interior and a nice grilled tandoori exterior. The Goan fish curry is delicious and has a nice flavour. The grilled mackerel is very spicy yet at the same time very tempting. You can also try the chicken Xacuti and squid with recheado masala. The squid is a little spicy, but if you don't like it hot, then you can request the waiter to make it medium spicy. On the whole, it is a nice place to enjoy authentic Goan and North Indian food in a nice beachside setting with a beautiful view of the ocean. They also have sunbeds, where you can sit and have your food delivered to you.
Balton's- The Reggae Shack
This is a fabulous seasonal shack located close to Planet Hollywood Beach Resort at Utorda beach. The food choices available on the menu are quite good and are very reasonably priced. They have a special seafood menu as well. They also serve hard liquor and very delightful cocktails. They have laid out beach recliners under a thatched umbrella where diners can relax and get a suntan. The beach is flat with clear sea waves lapping close by. There is a sizable tourist crowd during the day. The nights are pleasant and romantic. Since it is the first shack on the beach, it is quite crowded, especially during the evenings. The waiters are very friendly and polite. The service is also very quick.
Seashell Beach Shack
And concluding our list of the best beach shacks in Utorda beach is the Seashell Beach Shack. This is a nice restaurant that has a very relaxed vibe and a pleasing ambience. The best part of this place is its closeness to the water. With the waves kissing your feet, nice music and amazing lighting, it truly is an amazing place to hang out and have a beer and some nice food and snacks. You can get to enjoy a brilliant view of the Arabian Sea from the restaurant and during the evenings, the view of the spectacular sunsets is truly a sight to behold.
The shack has several sun loungers, chairs and tables on the beach where you can eat in a nice open-air setting. It also has a slightly more formal dining area, set back from the sea where you can eat with more shelter from the sun and the sea. All the dishes served here are freshly prepared and very tasty. You can try their delicious seafood offerings like squids and marinated red snapper fish. They also serve delicious mutton biryani and chilli chicken.
The bar at this shack offers a wonderful collection of alcoholic and non-alcoholic drinks. In addition to this, the shack also serves freshly made fruit juices. Their lime juice and pineapple juice are very nice. There are also several clean lavatories and a wash basin at the shack. The staff is very nice and quickly attend to all your needs with a smile. Overall, a nice place with good food and great service.
With this, we conclude our list of the best beach shacks at Utorda beach. So, what are you waiting for guys? Gather your closest buddies and head down to one of these amazing restaurants to enjoy a memorable evening, feasting on some delicious food and drinks, right in front of the majestic Arabian Sea. Hurry! Make your reservations now!