Panaji, October 2023: Goa needs to focus on upskilling its tourism-related workforce, harmonise road networks and find ways to ease pressure on existing infrastructure caused by the manifold increase in tourist footfalls to maintain its reputation as one of India's top tourism destinations, according to Vivek Kerkar, newly appointed president of SKAL International Goa, a global network of travel and tourism industry stakeholders. 
Kerkar took over as president of SKAL International Goa at a recent ceremony at The St. Regis Resort Goa at Cavelossim in the presence of the immediate past president of SKAL International Goa Shekhar Divadkar and Tourism Minister Rohan Khaunte, who said that the diversification of tourism experiences in Goa was empowering women and making the ecosystem more inclusive.
SKAL International Goa is one of the leading trade bodies in the state, representing travel and tourism industry stakeholders, with more than 130 members in its ranks, which provides a platform for its members for business networking, according to Divadkar.
Speaking on the occasion, Khaunte said that Goa is diversifying beyond beaches with sustainable initiatives like homestays, caravan tourism, agro-tourism, and spiritual circuits, linking it to women empowerment. "These actions create opportunities for women in the local communities to actively participate in and benefit from the tourism industry. Women's economic empowerment is not just a matter of gender equality; it is an essential step towards sustainable and inclusive tourism," Khaunte said.
The Tourism Minister also said that the Tourism Ministry was in the process of providing training mentorship and access to resources for women entrepreneurs to "ensure that they can establish and grow their homestay business in the tourism sector". "This empowerment will contribute to a more diverse and vibrant tourism landscape," Khaunte said.
Kerkar, the newly installed president said that Goa should continue to build on its more recent reputation as the gastronomic capital of the country by promoting its Indo-Portuguese fusion cuisine, ensuring strict hygiene standards, as well as organising more open-air, public festivals promoting food.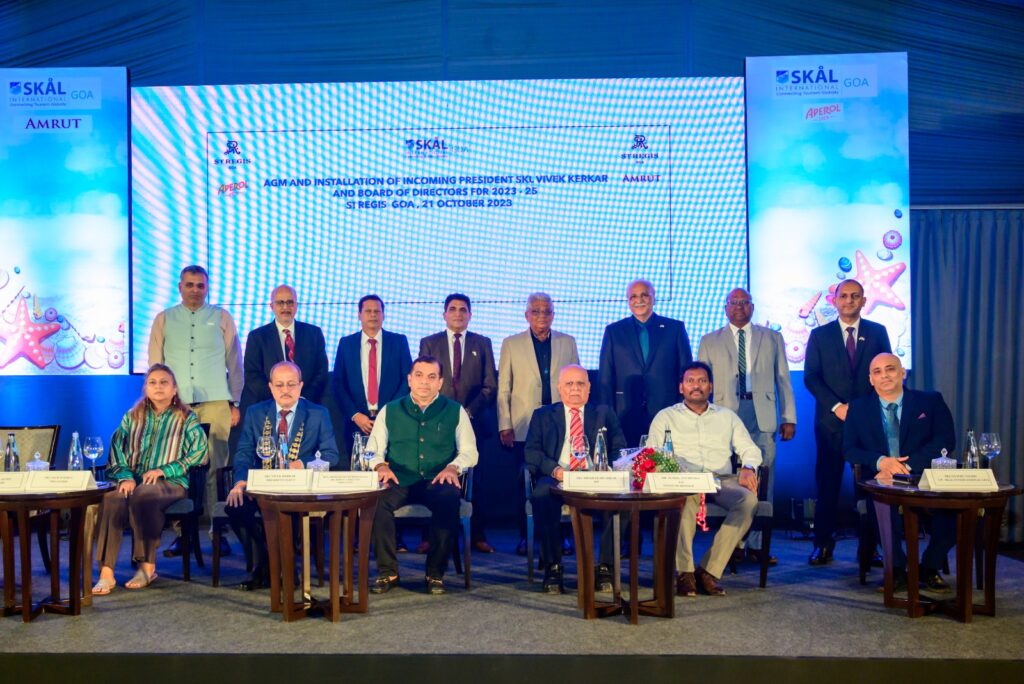 Speaking about boosting infrastructure in the state to augment tourism activity and tourist footfalls, Kerkar said: "Infrastructure poses the most significant challenge as we lack proper roads, footpaths and signage. This deficiency can deter tourists from choosing Goa as their destination". He further said that the tourism industry needs to balance the challenges posed by environmental sustainability and infrastructure development.
Kerkar also trained the spotlight on the need to upskill the existing workforce in the state, while underlining the importance of training programmes to equip human resources with the necessary skills to interact effectively with the diverse cultures present in the industry.
"Acquiring a skilled workforce is crucial in the growing Goan tourism industry. Efforts are needed to enhance training programmes, fostering better understanding and improved communication skills for diverse interactions," he said, adding that Goa's inherent strength is the friendly and cooperative nature of its people. 
Looking ahead, Kerkar emphasised the need for Goa to expand its horizons in terms of marketing efforts, suggesting exploration of untapped markets in Southeast Asia, the Middle East and Europe, particularly highlighting the potential in countries like Scandinavia and the USA.
In the context of sports and adventure tourism, he said that with the government's investments in sports infrastructure, including stadiums and training facilities, especially for the upcoming National Games and various sports events, Goa was well-positioned to attract sports enthusiasts.