Farmagudi was the site of a horrific bus accident yesterday afternoon. In what appears to be yet another case of negligent driving, a 2-bus collision has left passengers from both vehicles, injured. The drivers of both buses are also in critical condition in hospital. The bus accident involved a Kadamba Transport Corporation bus and a private bus.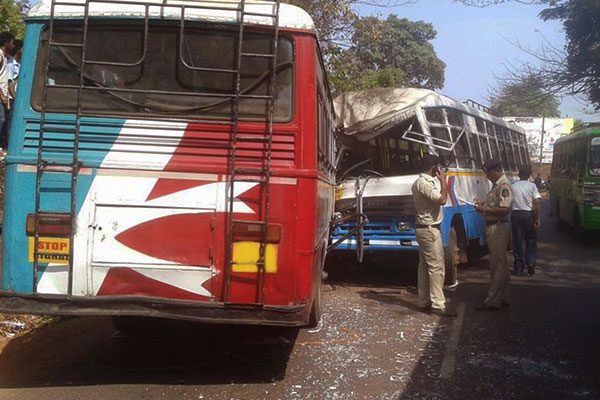 The bus accident leaves a lot of passengers seriously injured
The Navhind Times states that around 29 people were injured in the bus accident. Of these, 14 were women. The head-on collision between the KTC bus and the private bus happened near the GVM's circle in Farmagudi on Thursday afternoon.
Sources further reveal that 8 people were seriously injured. These include the drivers of both the buses and all have been admitted at Goa Medical College and Hospital at Bambolim for treatment.
The Ponda police say the bus accident happened at approximately 14:40 on the Ponda-Panjim highway, around 30 metres from the GVM circle. The private bus was heading towards Panjim from Ponda with 40 passengers and the KTC bus was carrying 20 passengers, heading in the opposite direction. The KTC bus driver is believed to have lost control of his vehicle as both buses approached Farmagudi. This resulted in the bus accident wherein the KTC bus rammed the private bus head-on. The police further state that the KTC driver was on the wrong side of the road.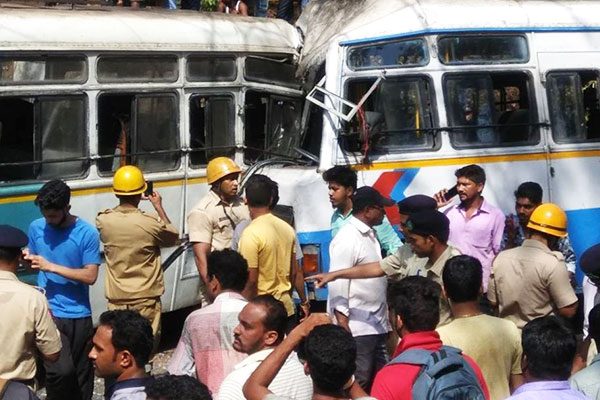 Head-on collision
Both buses collided on the drivers' side. With a bus accident of such proportions, the driver of the KTC bus remained stuck in his seat for a good half hour. Another lady passenger in the private bus was also trapped. Both were rescued by the fire department later. The private bus driver was also affected but managed to get out of his bus after the collision.
The police have registered a case against the KTC bus driver for driving recklessly and endangering passengers lives, said PI Harish Madkaikar. The KTC bus driver claims that the steering wheel got locked due to a technical fault in the machinery, resulting in the bus accident. The police are still investigating the case.
Information credit – The Navhind Times
ItsGoa/MAY/KDGP