Clarice Vaz, a pioneer in the Syringe Painting technique, forayed into the world of art after her children left home for further studies. She called it the "empty nest syndrome".  A nurse by profession, she was passionate about painting right from childhood. So she decided to pursue it differently.    Says she, "If I painted …like the rest…..I'd have to compete. If I discovered a new way of performing Art…I would be unique. I chose the latter."  Clarice painted with unconventional tools like a hairbrush, comb, straws, steel wool etc.
A self-taught painter, Clarice surged ahead,  "not worrying about a male-dominated society…but focusing on her own path."  A contemporary, abstract artist Clarice says her works are influenced by artists' Jackson Pollock, Mark Chadwick and more.
Her unconventional painting techniques and her profession as a nurse led her to 'Syringe Painting'. A unique and first-of-its-kind technique the world over. Having used a syringe to administer hundreds of injections as a nurse in her village of Saligao, she was determined to create ART with a syringe. Successfully showcasing her first syringe paintings in December 2017, at her solo exhibition at the Church of Santa Monica, in aid of the refurbishment project of The Museum of Christian Art, Old Goa.
Getting the recognition she deserved
Noted artist Padmashree Laxman Pai and Vamona Navelcar, "legends in their own right! were astonished to see my new unique style."  Also noteworthy was that the exhibition was curated by India's foremost curator Lina Vincent Sunish from Bangalore, now based in Goa.
Clarice's paintings have reached France, Canada, Japan and the Gulf.
Painting for a social cause
Through the sale of her paintings, Clarice Vaz supports social causes. He pet project,  de-weeding, and growing flowering plants at the Saligao cemetery – making the final resting place of her beloved older son beautiful. The project needed funding and so Clarice raised money through her paintings. Today the Saligao Church has taken up the project along with village volunteers.
Having raised funds to refurbish the Museum of Christian Art, Old Goa, Clarice then partnered with Stacy Rodrigues to support the cause of the Blind. In an exhibition cum sale of paintings titled 'The Giver', organized by the National Association for the Blind, Clarice and Stacy will showcase their paintings, mostly landscapes, as a tribute to Mother Nature.   "This is a tribute to our core inspiration 'Mother Nature' expressing our love for her, portraying her beauty through mediums of acrylic and charcoal." – Clarice and Stacy. Proceeds from the sale will go to better the facilities of the NAB.
Discovering the 'Syringe Painting technique'
"A series of accidents …led me to discover the syringe painting technique. It was in the year 2014." Using a surgical syringe, she began with a series of Landscapes. "A tedious process. But it was so satisfying. Now I use texture in my syringe paintings. They are definitely eye-catching and refreshing."
https://www.facebook.com/bina.nayak/videos/10155522076458178/
Besides painting, Clarice is an avid photographer.  "Keeping in touch with my PATIENTS …helped me in my Photography! Many of my patients were more than willing to pose for my work!" "I also like storytelling so I write short stories via photographs," says she.
Today, a recognized artist, Clarice goes by the pen name 'CRAIG VAZ' – the name of her elder son whom she lost a few years back.
Support Clarice
Her exhibition cum sale of paintings titled 'The Giver' is on at the Kala Academy from 16th to 18th March 2018 from 10.30 a.m. onwards.
"I do not paint to compete…I do not paint to earn a living.
I paint because I love to paint. I paint because I have a health issue myself and it's a wonderful meditation!
I now paint because I get paid well enough to help the various charities I'm associated with. It's my talent that I'd like to share for I got it free of cost!" – Clarice Vaz.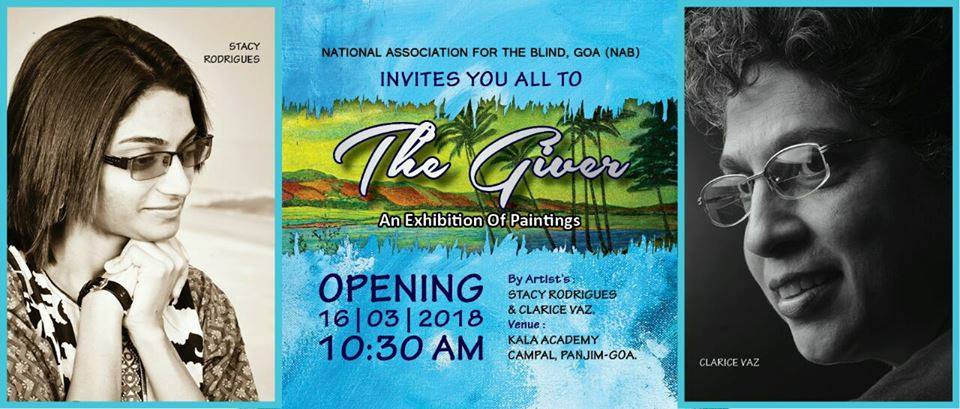 Information and Picture Credit: Clarice Vaz