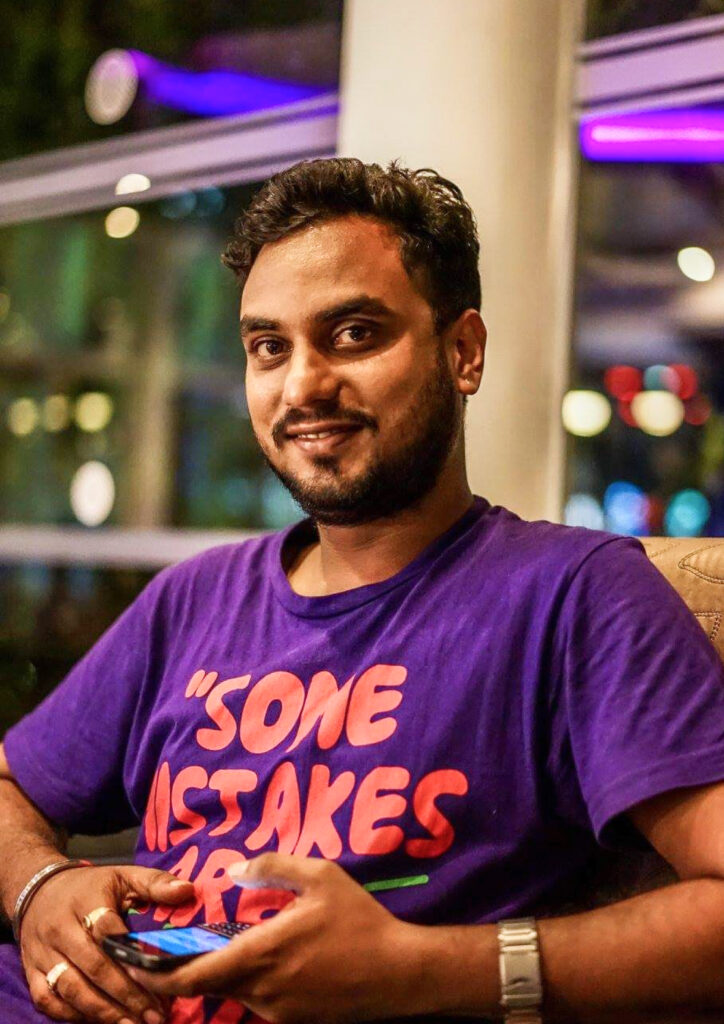 Drones have gained a lot of popularity over the past couple of years. The first time most of us saw a drone or something similar to it was in the Aamir Khan-starrer '3 Idiots', where Rancho (played by Aamir Khan) works on his college-mate Joy Lobo's final year project and successfully does a trial run of it on the college campus. Drones are used for wedding photography and videography as well as by vloggers and influencers who shoot their vlogs and YouTube videos using drones.
Dr. Varad Karmali, who hails from the beautiful village of Curchorem in South Goa, too developed an interest in drones sometime around 2013. His interest in drones drove him to pursue a doctorate in unmanned aerial vehicle technology.
Varad's Early Life
Varad was born and brought up in Curchorem. He did his schooling at the local school in Curchorem from kindergarten till class 8. After finishing class 8, he shifted to Vidya Prabodhini in Porvorim to complete his SSC. He was a boarder at the school hostel over there. At Vidya Prabodhini, Varad got a lot of opportunities to participate in activities like inter-school table tennis tournaments, National-level science working model exhibition, etc.
After completing his SSC, Varad enrolled at the Institute of Shipbuilding Technology (ISBT) in Vasco to pursue a diploma in electronics and telecommunications. During this time, he was instrumental in organizing the first inter-polytechnic fest in Goa in 2007.
After completing his diploma, Varad wanted to study further. So, he did his graduation and postgraduate in event management at Fergusson College, Pune followed by a PG Diploma in event management from the prestigious National Institute of Event Management, Pune.
After completing his studies, Varad returned to Goa in 2011. He started working as a lighting engineer at Funky Heads, an event management company based in Goa. This was followed by a stint at Star Dimension India Private Limited. During his time at Star Dimensions India, Varad's boss took him to Mumbai and trained him extensively in light engineering.
After a year, Varad left Star Dimensions India and started freelancing as a lighting engineer for shows and concerts. He served as a lighting engineer for events like Sunburn, Channel V India Fest, Supersonic, and Timeout72.
Varad happened to do the lighting for the launch event of the Audi Q3 in Goa. The event manager who had hired Varad to do the lighting engineering was happy with his work and took him abroad to do the lighting for the launch event of the Mitsubishi Outlander in 2014. At this event, Varad saw a drone being used for the first time in his life.
After this event, Varad developed a very strong interest in drones. He bought his first drone which was a DJI Phantom 3. He started using drones for events like Sunburn, Supersonic, and various other EDM fests.
"We used to fly the drone on top of the festival site, survey the area where the event would be taking place, and then decide where to keep the stage, entrance, exit, parking for the event, etc.," he says. On the event day, we use the drone for taking aerial photos and videos of the event.
In 2017, Sunburn and Supersonic did not take place in Goa. To replace them, a new fest called TimeOut 72 was held in December 2017 at Vagator. Varad worked with the organisers of TimeOut 72 and helped them to do the surveying of the event area using his drones.
He clicked aerial photos of the entire event area which was more than a kilometer long. He took more than 100 photos of the event venue, stitched them together, and then made a 3-D map picture using which the organizers of the event were able to do the planning of the event venue. (Setting up of event stages, location for parking, entry and exit areas of the venue, etc.)
After that, Varad bought a new drone called DJI Inspire using which one can do live streaming of the camera footage being captured by the drone. We did a concept called "Live From Sky", wherein the drone footage can be broadcasted on an led screen. We used this concept to show what is taking place at the various stages of the fest. This was the first time such a concept had ever been done in India.
In 2018, Varad got a wonderful opportunity to do drone videography for the Tiger Shroff-starrer 'Baaghi 2'. He has done similar work for a couple of south Indian movies as well. He also did drone video shooting of the Salaulim Dam and the Anjuna Dam for the Government of Goa.
Varad later started doing 3-D mapping for villas, apartments buildings, etc. using a drone. This is done using a drone that has been fitted with a 360-degree camera. This helps in providing virtual tours of villas, apartments, and buildings for customers.
His Ph.D. in UAV Technology
Varad registered with Mumbai University for his Ph.D. in UAV technology during the first week of September 2019. However, a couple of weeks later, he met with a serious accident and was in a coma for nearly a month.
Thankfully, through the efforts of the doctors and the prayers of his family members and well-wishers, Varad came out of the coma a month later. However, he still couldn't walk proepr.ly and had a caretaker to look after him. Varad spent this time writing his thesis on the non-traditional use of drones. It took him nearly 2 years to complete his thesis.
He submitted his thesis to the university in 2021. After careful scrutiny of his thesis, the university approved it and awarded him a Ph.D. in UAV technology in May 2021.
Highlights of His Research
Varad's research on the non-traditional use of drones covered 4 main areas
Delivering a lifejacket using a drone: Varad showed how a drone can be used to deliver a lifejacket to someone drowning in a water body. When a person is drowning in water, a lifeguard needs to personally go to the person to be rescued and then get him safely back to the land. This is a risky process wherein the lifeguard puts his life in danger. Also, by the time the lifeguard reaches the person to be rescued, the person may drown. Using a drone, a lifejacket can be dropped on a person who is frowning. Once that person gets a lifejacket, he will float for hours together in the water and the lifeguard can then use a speed boat to rescue him without being in a hurry.
Drone for traffic control: Varad demonstrated in his research how a speaker can be attached to a drone and then be used by the traffic police to regulate traffic. For example, if there is vehicular congestion on a narrow road, traffic police cannot enter the area because of congestion. To overcome this problem, a drone with a speaker and a camera can be deployed to the site where there is traffic congestion. Using the drone, the traffic police can remotely give directions to the vehicles and guide them in decongesting traffic.
Drone with Thermal Camera: Varad demonstrated how a drone with a thermal camera can be used to catch people involved in arms trafficking or drug trafficking, during night-time. For example, near a beach area, where there is no proper lighting, if a person is handing over an unlicensed gun or drug to another person, a drone with a thermal camera senses anything that has heat. Using a drone with thermal cameras, police can detect any unlawful activity like arms trafficking or drug trafficking and can easily apprehend the criminals.
Virtual Tours of Properties: Varad demonstrated how drones with a 360 camera can be used to do 3-D mapping of structures like villas, apartments, hotels rooms, etc. using the footage captured using a drone with a 360 camera fitted, property owners, can give virtual tours of their properties to potential clients.
Varad was awarded his Ph.D. in May 2021. Goa Legislative Assembly speaker R. Patnekar heard about Varad's achievement and made an announcement in the Assembly congratulating Varad.
The Work He Did During the Lockdown
Varad has worked with the police department and various other government agencies in Goa and has shared his expertise in drone technology with them.
During the lockdowns and curfews in place in 2020 and 2021, there were many areas that had no proper mapping. These were organized places like the housing board, Margao, slum areas in Vasco, etc. The police did not know where to place barricades to keep people in a particular area under curfew. Varad offered his knowledge and expertise in drones and helped the Goa police to map these unorganized areas. Using the footage captured by Varad, the police were able to plan where to put barricades for a particular containment zone, where to keep the exit area, etc.
Varad's company 'Droneacharaya', which was founded in 2013, provides drone photography and videography services for weddings, festivals, and other events. Along with this, it also provides 3D mapping and virtual tours of villas, flats, etc. Varad says that he is willing to teach anyone about drones if they are seriously interested in making a career in this field, he is willing to teach them free of charge
The Future of Drone Technology in India
Varad says that India's laws regarding drones are still not very strong. In other countries, when a drone is manufactured, a unique identification number is implicated in it. This number is used to trace the owner of the drone in case the drone is used for an unlawful activity
In India, people import drones or assemble drones by importing drone parts from outside India. Over the last few years, the central government has tried to put a stop to this. It has started a platform called digital sky where one can legally get their drone registered. This will help in the proper regulation of drones operating in India,
Varad says that just like other countries, we will soon see the delivery of things like groceries and medicines using drones in India. We might even see drone taxis very soon. "We are currently working on developing a drone which can be used for coconut plucking", added Varad
Final Words
Varad urges people, especially youngsters, to not think of drones only as a tool for leisure, photography, and vlogging. He urges them to think beyond that and explore other applications of drones that can help in solving the day-to-day problems we face in our daily lives.
He also urges establishments like builders, and real estate developers, to adopt showcasing their properties (villas, apartments, hotel rooms, etc.) to their clients using virtual tours. In other countries, builders and hotel owners have already started using this concept by which they offer their clients living in any part of the world 360 virtual tours of their properties instead of showcasing their properties by providing multiple photos of different areas of the property. In India too, property developers must start using this technology for the benefit of their customers.