By Greta Fernandes @ Deliciously URS
Diwali is here and this exotic-looking dessert, which is also eggless, is bound to bring a dazzling smile to everyone's face.
This is a beautiful fusion between the succulent and oh-so-loved Indian dessert – the Gulab Jamun and the extremely sophisticated Cheesecake. So, this Diwali let's combine these into a dessert that will add that extra SPARKLE and DHAMAKA to your dinner table!!!
This is a make-ahead-of-time dessert, so in the midst of all the frenzy that festivals bring, this dessert really helps to save the last-minute rush. You can make these for your kitty parties, Diwali dinner or for that matter any other social gathering. It will wow everyone and that is a guarantee.
There are three basic steps in this recipe :
The bottom-most layer is the biscuit and butter mixture.
Cream Cheese layer with the Gulab Jamuns placed in it
Baking the cheesecake.
EGGLESS GULAB JAMUN CHEESECAKE (RECIPE)
Ingredients :
10 Digestive Biscuits
2 tbsp melted butter
2 Cardamoms
A pinch of Saffron (Kesar strands)
¼ cup Dairy Cream
½ cup Cream Cheese
2 tsp cornflour
½ tsp lemon juice
¼ cup condensed milk
8 Gulab Jamuns
Chopped Pistachios for garnishing
Silver leaf (Vark) for garnishing
Method :
Add saffron strands to warm milk and keep aside.
Coarsely grind digestive biscuits and cardamom seeds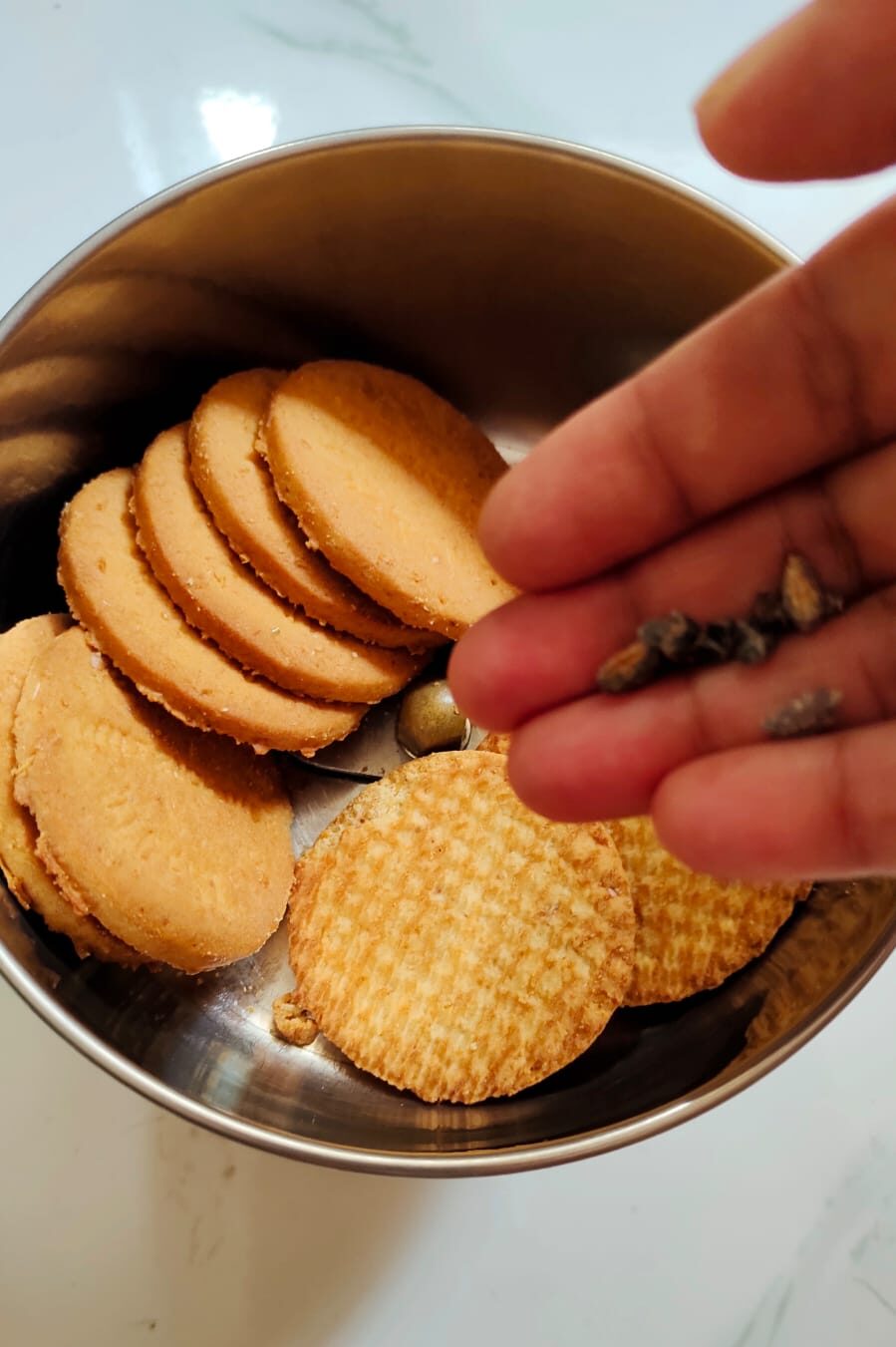 Add melted butter to this and pulse grind twice.
Line the muffin tray with liners and transfer the biscuit and butter mixture into them. Press with the back of the spoon and refrigerate for about 10 minutes.
Take cream in a mixing bowl. Add the saffron-infused milk to it and whip it with an electric beater for a couple of minutes. Do not overbeat.
Now drain the excess sugar syrup from the Gulab Jamuns and keep them aside.
In another mixing bowl, add the cream cheese, cornflour, condensed milk and lemon juice. Whip this mixture till it combines well and becomes smooth and creamy.
Now combine the saffron-infused whipped cream into this cream cheese mixture. Fold gently with a spatula.
You can taste the mixture for sweetness. If less sweet, add some powdered sugar and fold it in well.
Now, this cream cheese mixture is ready to be poured onto the biscuit-layered muffin moulds.
Once you pour the cream cheese, place one Gulab Jamun at the centre of each mould.
Now place this muffin mould into a tray and carefully pour hot water into the tray (this is called Bain Marie). Bake these in the preheated oven at 160 degrees Celsius for 30 minutes. Let them cool in the oven for 15-20 minutes.
After this, cool them down to room temperature and later refrigerate them for 6 hours or overnight.
Decorate them with chopped pistachios and silver leaf (Vark) and enjoy these delicious creamy Gulab Jamun Cheesecakes.
Points to remember :
For the crust, I have used NutriChoice Digestive biscuits. You could use any sweet cookies or biscuits like Marie or Parle G.
The butter needs to be melted before mixing it into the crushed biscuits.
Use Full-fat cream cheese, not the fat-free version.
Use the full-fat version of the cream too.
For thickening and binding the cheesecake, use either cornflour or maida.
Use saffron and cardamom for infusion. This will give the cheesecake that beautiful Indian flavour.
I have used canned Gulab Jamuns to prepare the cheesecakes. You could also use homemade ones. Only ensure that the excess sugar syrup is drained out from them and the size is not too big for the muffin moulds. Else you won't be able to fill enough cream cheese into it.
Do not overbeat the cream cheese mixture and also the full-fat cream; we do not want to incorporate too much air into them.
It is important to bring all the ingredients to room temperature before starting the process of making the cheesecakes. This is to ensure that the cheesecake doesn't crack while baking.
A safety hack is to first place the tray in the oven with the muffin mould in it and then pour the hot water into the tray. This way the hot water won't spill.
Happy Diwali!
About the Author :
Greta Fernandes is a Mumbai-based Goan. She is a self-taught baker and runs Deliciously URS, an online confectionery that specialises in sugar free cakes. Deliciously URS provides pan India deliveries of brownies, cookies, and tea cakes – both, sugar-free and regular versions.
To place orders for cakes and other confections from Deliciously URS, contact Greta on
WhatsApp: 8369880446
Facebook: https://www.facebook.com/deliciouslyursbygreta
Website: https://deliciouslyurs.com/