Finnair recently launched its Goa operations with a Press conference at the Taj Vivanta. Two officials from Finnair hosted the gathering – Arja Suominen, Sr. Vice President Communications and Corporate Responsibility, Helsinki and Desmond Chacko, General Manager – India.
Beginning with just two weekly flights to and from Helsinki / Goa during the tourist season starting 1st November 2017 to 21st March 2018, they are optimistic about continuing the schedule the next tourist season as well. Speaking to reporters, the officials stated that currently, Finnair did not have plans to regularise flights from Goa to Helsinki due to high costs. Depending on the response this season, their operations would continue seasonally.
Finnair – the official airlines of Santa Claus
Finnair is the official Airlines of Santa Claus who is considered their National Heritage. With the introduction of weekly flights, people from Goa will be able to have a "different kind of experience –the Nordic experience," says Arja Suominen. Finland's location is considered better than Europe and America. It has become a gateway to the rest of Europe, America and Asia with their arms extending to Goa and India. Offering Indian tourists' an opportunity to visit Lapland, the land where Santa and his Elves live, with a chance to experience the beautiful Northern Lights (Aurora Borealis).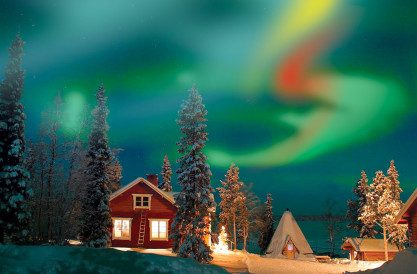 Top of the class airlines
Pioneers in sustainable flying and voted 'Best Airline Northern Europe' for seven years in a row with a 4-star Skytrax ranking, last year Finnair carried 11 million passengers across Asia, Europe and America. Their fleet includes 11 modern eco-smart Airbus A350 XWB's, being the first airline listed in the Leadership Index of the worldwide Carbon Disclosure Project. All their aircrafts are well maintained. Finnair offers reliability and safety. Currently, Finnair has more flights and more seats than ever before. Helsinki Airport has one of the best transfers. Customer experience proves it.
What brought them to India
The interest to travel to Finland is growing among the Indians. "While the temperature is 30 degrees in Goa, the temperature is -9 degrees in Helsinki", says Arja – a chance to "Find the beauty in-between."
In the past, Finnair operated charters to Goa. Now with the growth in two-way traffic, they launched their economically priced fares from Goa to Helsinki and back.
Flight Time-table / Type of Aircraft: A330
Flight Number and Airport Codes
Days of Operation
Timetable
Flight time
AY123 HELSINKI – GOA

(HEL- GOI)

Wednesday,

Sunday

18:50 – 6:30 +1
8 hrs 10 mins.
AY124 GOA – HELSINKI

(GOI-HEL)

Thursday,

Monday

8:15 – 13:35
8 hrs 50 mins.
Finnair adds a weekly frequency to Delhi, flying six times a week to the Indian capital during the winter season.
The speciality of Business Class is pre-booked meals and free access to' Comfort Economy' class seats which allow more leg-room.
Finnair is the most fuel-efficient airlines. They are members of 'oneworld', the alliance of the world's leading airlines committed to providing the highest level of service and convenience to frequent international travellers.