It's not a tourist spot. It's not even a place that someone would visit on a whim. What it is, however, is one of Goa's most iconic spots on which a church now stands. Known to every Goan as the Miraculous Cross, everyone is bound to pass this place on the way to South Goa.
A little bit of history about Bambolim
Bambolim wasn't always a separate parish. It used to originally be a part of the Siridão parish. There was no church on the Bambolim plateau either. Instead, the church originally stood where Siridão's cemetery stands today.
Around 1610, Augustinian Archbishop Dom Frei Aleixo de Menezes declared Bambolim a separate parish. Four years later, in 1616, a new Church was built on a hill with the monetary support of Gonsalo Pinto da Fonseca. In 1619, Archbishop Dom Frei Cristovao de Sa e Lisboa elevated it to a Parochial Church. But the Church structure which had an underground tunnel lasted for two and a half centuries. The hill on which the old Church lay is today known as Orth de Vigar or Padigaracho Dongor. The Communidade de Bambolim then built a chapel in 1851. This chapel was raised to a Church in 1825 and consecrated to Our Lady of Belem. Confraria Nossa Senhora De Belem is its confraternity.
The Miraculous Cross of Bambolim
People have visited the Miraculous Cross or Fulancho Khuris at Bambolim for years. Long before the church was built, it was a tiny cross at the side of the road. It was easy to miss if one wasn't looking. The Miraculous Cross has visitors day and night, throughout the year, no matter what the weather is like. Also, religion does not matter. It is a source of peace and fulfillment for a lot of people seeking comfort from God. People come to pray for all kinds of reasons. From asking for a cure for an illness to asking for blessings to get pregnant, to giving thanks for passing exams, this Cross has seen and heard it all.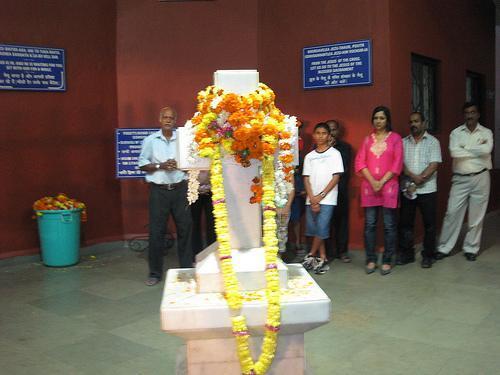 The story of the Miraculous Cross
The Miraculous Cross has evolved over the years. From just a small white stone cross, it now has a canopy cover. The Holy Cross church stands tall and proud behind it, now considered a shrine.
There is an interesting story of how the cross came to be considered as a miraculous one. Sometime in the 1940's, a lady named Santana Afonso from Siridão had been diagnosed with cancer. The cancer was said to be in its last stages which meant there was no hope. But it appears that Santana's faith in God was strong and she prayed, asking to be saved from the wretched disease. She was miraculously cured of cancer after this. And as she had also made a promise to provide a canopy for the Cross if she was saved, she kept her word. Over the years, the temporary canopy erected gave way to something more permanent.
Slowly, word passed around about this miracle. By 1969, the officers and soldiers at the military camp at Bambolim also came to pay their respects and beautified the Cross. In fact, the marble tiles plastered to it by the military are still intact. For the military camp, this was their place of worship.
Now a church stands behind it
Sometime in 1995, the foundation stone for the church was laid. The Shrine of the Holy Cross was eventually built in 1996, forming what can be described as a protective barrier for the Miraculous Cross.
It's also known as Fulancho Khuris, the cross of flowers. It has earned this name thanks to the numerous garlands of orange and yellow marigolds which are placed on it in gratitude and in reverence. People pass by, sometimes stop to offer up a prayer. Others will drive by and press the horn twice in respect. This is also because the highway passing through Bambolim is also believed to be an accident-prone zone so drivers ask for safe passage with the sound of the horn.
Information credit – https://www.outlookindia.com/magazine/story/let-there-be-flowers/288952
ItsGoa/JUNE/KDGP