She is strong, talented and the owner of Anna Artistry Bridal Studio & Academy, and I got a chance to meet and get up close and personal with her. I asked her many questions from makeup trends, to what she feels about her job!  And she is coming up with something exciting for all brides to be! Watch this space for more.
So without much ado here's an excerpt from the interview, where she gave me a sneak-peek into beauty trends for the modern bride.
1. Tell us something about "Anna Artistry"
It Stands on 3 Pillars. TECHNIQUE, CREATIVITY & PROFESSIONALISM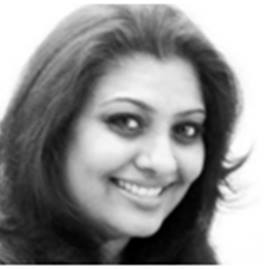 What kind of look is trending this bridal season?
In my personal opinion NEVER FOLLOW A TREND FOR BRIDAL MAKEUP, the reason being, it stays for generations. If at all you are keen to know the "TREND" – its holographic makeup either on eyes or lips or both!!!
What was the most challenging part in creating your own academy?
To generate awareness on how authentic and unique makeup artistry is as a career.
4.What are the different types of courses that you offer?
Certificate course which starts from 2 weeks to 6 weeks.
Diploma Courses from 3 months to 1 year.
For more details pls visit the website www.annartistry.com
 What is the best part about your job?
My Passion is my Job. So by the end of the day, I am ready for the next day.
6. What mistake do most Indian women make with regards to bridal makeup, and what can they do to avoid this?
I won't say it's a mistake.  Probably a misconception, in general, could be that people tend to  "MAKE IT UP".. (change the person completely).
Your wedding is the day that demands you to be completely in your skin but in the most and highest form of elegance. Makeup plays an integral part to bring out the best in you and it goes hand-in-hand with every other factor on the D day!
 What are some of your best hair and makeup styling accomplishments?
Whether it is a movie, fashion show, editorial or theatrical, it's always been spontaneous, so I cannot pinpoint any thing in particular. For Bridal Makeup & Hair, my concerns and focus are 'the bride' and her family. So the look is always a collaboration of different tastes.
In your opinion, which bridal makeup styles look best on Indian women?
Whether it is Traditional or Contemporary the look should be classy and sophisticated. RED LIPS always look best on Indian Brides.
 What are the top 5 products you recommend for Indian brides?
If it's for the wedding day, then:
        Hydrating Face Cream or Gel
        An Antiperspirant to avoid sweating
        Blotting Powder by Mac Cosmetics
        Water Proof Mascara
        A lip liner in Natural Shade and a Lip gloss (just in case)
 5 makeup faux pas that one should avoid? 
        Trying new products just before any event
        Contouring and Highlighting for all the occasions
        Not Blending Enough
        Not choosing the foundation according to your skin tone and undertone
        Misconceptions on Colour Correctors and Concealers
 What advice do you have for aspiring makeup artists?
Attend small seminars, workshops and training to keep yourself updated. Grab all the opportunities to be seen. Focus on your forte ie Bridal, Fashion, Editorial, Trainer and Stick to it. Be Unique with your creation. And "DON'T OVER DO THE MAKEUP ON YOURSELF"!
12.  Any final beauty tip or suggestions for our readers?
Drink lots of Water. There is no other beauty tip that can work wonders for you!
Interview by:Priyanka Shetty