Are you a Bomaicar? If so, have you ever visited the Nehru Planetarium at Worli? The Goa Science Center and Planetarium (GSCP) is a Goan version. With its own, special Goan flavor. Yes, it's true, Goa isn't only beaches, trance music, and rave parties. Goa is quite scientific and high tech too. The GSCP is a firm testimony to that fact.
Schoolkids in Goa today have opportunities their parents and grandparents didn't get. They get to learn more about science than any previous generation. They love learning too. Goa has one of the highest rates of literacy and education. Almost every Goan kid goes to school and does as well in Science as in music and sport. If you thought Goan kids only like to play the trumpet and violin or spend all evening on the football field, think again. Many of them just love to spend time at the Planetarium.
The planetarium is located in Miramar Panjim and was opened in December 2001. Goa has a lot of space, so there are a full 5 acres of space here. This means you get the luxury of a huge outdoor park, in addition to the planetarium and the facilities inside.
A large park with interesting exhibits outside
Let's start with the outside first. Outside the Goa Science Center, there's a huge outdoor park. With lush green lawns and exotic flowers. Of course, most large houses in Goa have such lawns and flower patches. This one is the same. Well manicured and well maintained. There's also enough space to keep large exhibits outside. Most kids who love the movie Jurassic Park would go all gaga over the display of the huge dinosaurs outside. The T-Rex is life-size and sure looks real. There's a large Wooly mammoth that reminds you of the movie Ice Ace. Of course, Manfred is a lot more handsome. The armadillo there is rather cute too.
If the kids feel like doing something energetic and physical, take them to the physics section where there are a lot of pulleys. They'll have fun pulling themselves up and lowering themselves down, in the bargain they'll learn the physics and science of how pulleys work. If only every school had space for such facilities in their school playground. Learning science can be more fun.
Feel like a good laugh? Visit the hall of laughing mirrors. You'll see how fat and wobbly you can get if you dare to become lazy and put on weight. Also, see how skinny and tall you can get if you were stretched on a rack. The funny reflections in those mirrors will have the kids laughing their guts out.
There are so many interesting exhibits here, you and the kids could spend the whole day exploring the wonderful world of science. From the Goan point of view, the exhibits of the salt pans and the fishermen with their nets, are also rather interesting. There's also a whole section on Oceanography. Just what you might want to show your kids if you, yourself, were a 'tarvotti.'
Travelled to Goa by train? They will love the section displaying the endless train. Let your kids explore all the interactive exhibits. Let them wonder at the red bucket that seems to get filled with water from a tap that seems to have no pipe connected. The exhibits of virtual fish are intriguing. Any Goan kid who loves to eat fish would be interested in knowing more about each of the species on display there.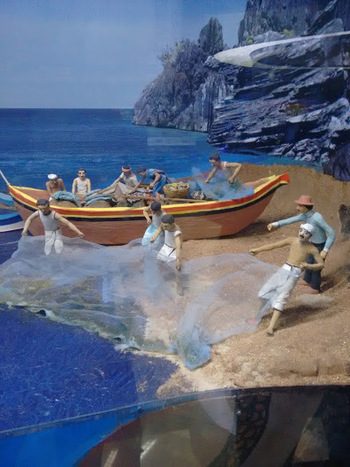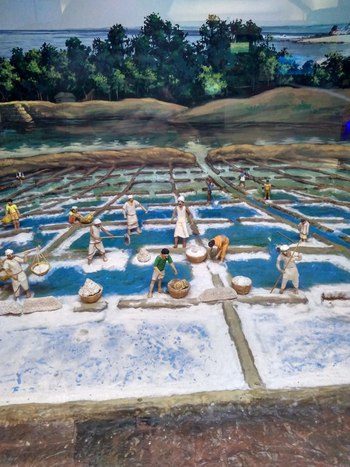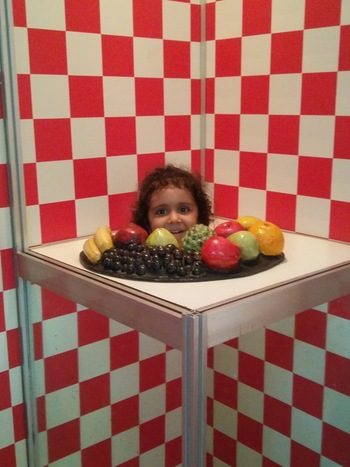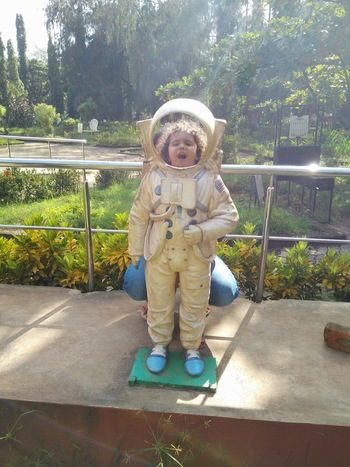 Pic Credits: Mitul Metawala and Nana Kishore (Google Photos- Goa Science Center)
Take a photo of your child in the astronaut suit. He/She will love it. Make him/her step into the magic chamber where you can see only his head among a plate of fruit as if he has been decapitated and his smiling face and head has been placed on a fruit platter.
A dome-shaped Planetarium
Then, of course, there's the star of the Goa Science Center – the dome-shaped planetarium. There's a 50-seater digital planetarium which runs 4 shows a day. The magic of the sky and all the secrets of astronomy are revealed to you as you sit back and watch the almost life-like projection of the celestial bodies onto the dome-shaped screen. So many galaxies, so many stars, so many constellations.
Actually what's projected on that dome is precisely what Goans were able to look at in real life, at night, from their windows, about 60 years ago. At a time when Goa was a place which had so little electricity that most houses lit oil lamps at night. If you took an 8 pm walk on a Goan road way back in the 60s and looked up at the sky, you would see a billion stars twinkling down at you. All of that is now hidden by the ambient light of the street lights. We make up for it by setting up planetariums. So if you really want your kids to know what Goa was like at night, back then, take them to the Goa Science Center and Planetarium. They'll love it. They might also wonder why you didn't have the common sense to preserve all that.
But that's progress. That's modern science for you.