Goa finally get its Startup Policy
The state government, as part of its vision to make Goa a preferred startup destination, unveiled the Goa Startup Policy and its incentives this afternoon in a "2-day event that will help participants interact with the who's who of the startup ecosystem and government and unlock their potential for a smarter and innovative future!" (Rohan Khaunte, Minister for IT Goa)
"The two-day event will see 100+ Ecosystem leaders from the Startups Ecosystem – entrepreneurs, investors, corporate partners, Policymakers, cross-border startup ecosystem partners, foreign embassies, trade bodies and media will come together and celebrate the spirit of innovation and entrepreneurship at Goa Startup and Innovation Day on April 27th & 28th, 2018."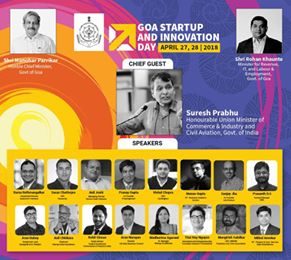 While the Goa Startup Policy has already been notified, the schemes and incentives will go live from April 28. This will allow local startups and new startups to avail of the incentives that the state government is offering.
Goa Startup Policy objectives
Build a robust startup ecosystem
To have 100 successful start-ups in 5 years
Creation of 5000 jobs in IT
Develop 2 lakh sqft of innovation and incubation space
All start-ups will be allowed to operate 24×7
This will be the Government's third attempt to kick-start Goa's IT and start-up industry. Only this time Rohan Khaunte, Goa's IT Minister,  wants to ensure that the mistakes of the past are not repeated.
Along with the incentives, the department is expected to unveil a slew of initiatives and the state startup portal to attract startups and niche IT companies to Goa. Other measures that will be launched are the online single-window portal for startups and the Goa startup promotion cell.
Registration or certification of start-ups would be done through the startup promotion cell with The Secretary,IT as the convenor.
"The Goa startup and innovation day will stand testimony to Goa as we embark on a new journey to foster innovation and help realize every entrepreneur's dream," said minister for information and technology Rohan Khaunte.
https://www.facebook.com/RohanKhaunte/videos/1902544676424600/?t=0
Information & Video credit: https://www.rohankhaunte.com/, ToI