A seventy-two year old sprint queen from Canacona, Perpetua Fernandes e Jaques has been selected to represent India at the 20th Asian Masters Athletics championship 2017 in China.
Nicknamed "Butterfly" by her well-wishers and neighbours, Perpetua is all set to conquer new boundaries and glory after being selected for 20th Asian masters Athletics championship 2017 in the 100 and 200 mts to be held in Rugao, Jiangsu, China from September 24 to 28 this year. And who knows? She may even have a proxy showdown with serial sprint king Usain Bolt.
Speaking to Herald, Perpetua said, "I will be starting my training under coach Devi Gaonkar at Bambolim and am  looking forward to do my best in China. I have also written to the Sports Authority of Goa through local MLA Isidore Fernandes for financial assistance as I am not in a position to finance my trip to China, once the financial aspect is taken care of I will be able to concentrate on the training sessions and hopefully I should come back with a medal or two," she said.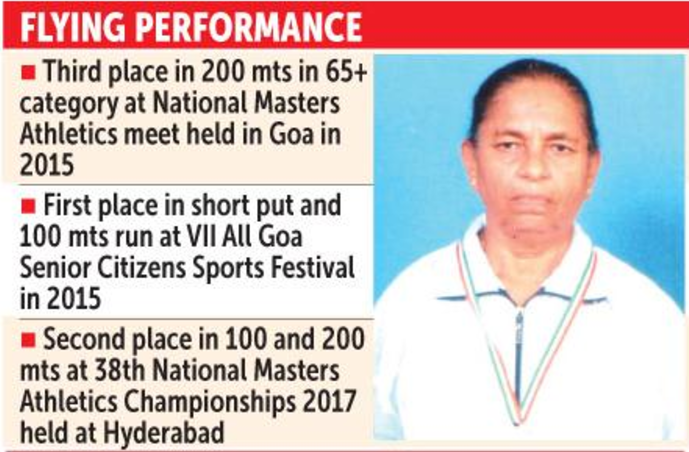 It may be recalled that Herald in its edition dated March 8, 2017 had featured Perpetua highlighting her past achievements in sports and other fields when she had won the 2nd place in 100 and 200 metres. Her major achievements in sports till date are a 3rd place in 200 mts at National Masters Athletics meet held in Goa in 2015 for 65+ category, 1st place in short put and 100 mts run at VII All Goa Senior Citizens Sports Festival in 2015, 2nd place in 100 and 200 mts at 38th National Masters Athletics Championships 2017 held at Hyderabad.
Apart from Perpetua others Goans who are selected to represent India at 20th Asian Masters Athletics championship are Pedro Rosario Colaco in 40+ category 400 mts hurdles and 1500 mts event, Colleen Sequeira 35+ for high jump, Agnes Maria Dias 45+ in long jump, Regina Lucinda Monica Dourado 45+ in 800 mts.
True Goan traditions demands we stand united and support our rising superstars and propel them to stardom, let's do it financially and for the sake of our pride!!
Source: Abel Barretto | O Herald O