Goa's coal route spells doom. Over a four-month-long investigation, The Indian Express found that coal that arrives at the port takes three key routes, road, rail and river, that slice deep wounds in the ecological heart of the state.  While the road route winds its way through major villages, the rail route chugs through Goa's biodiversity hotspots and the sea route through some of Goa's rich marine life.  The black 'devil's dust' (coal dust as referred to by the locals) gently settles on everything in its path.
Coal transportation from Goa Harbour to double by 2030
According to Indian Express, if the quantity of coal i.e. nearly 25 million tonnes is evenly spread across a standard football field, this toxic black mountain will rise almost 3 km into the sky. ( That is the amount that will be unloaded each year at the Mormugao Port Trust by 2020, just three years away.) By 2030, official records attest, this is slated to double — up to 51.6 million tonnes each year. The main importers being JSW, Adani and Vedanta.
Residents along the road route suffer from either respiratory ailments or skin rashes. Indian Express found out that every morning people living around the coal route wake up to a thick layer of coal soot covering their furniture and vehicles.
The Road Route begins at the Mormugao Port and goes via Dabolim, Verna, Nuvem, Khandepar and Mollem before it crosses into Dharwad onwards to Bellary. Basically, the route entails extensions of the NH17 and NH4A (National Highways) that divide Goa vertically and horizontally. By night these become Coal corridors.
Goa's Road, Rail and Water Routes used for transporting Coal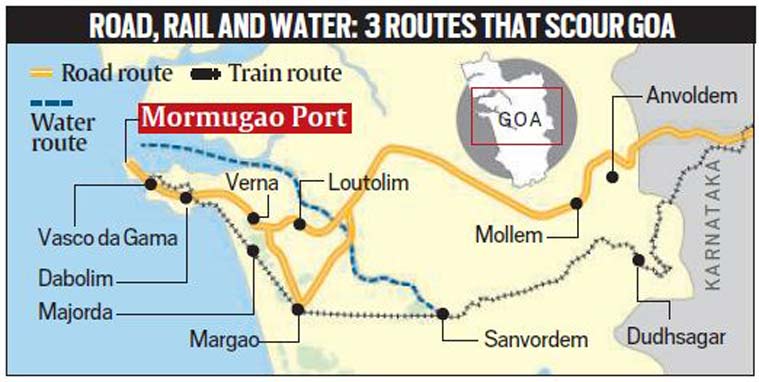 As reported, Coal transporters prefer transporting from Goa. They say that for every tonne of coal imported the carriage fare works out to Rs.850 for the 308 km journey from Mormugao to Koppal in Karnataka. This is way below the cost of transporting it from Mangalore Port which is 400 km south of Koppal or Andhra's Krishnapatnam Port which is 500 Km east of Koppal.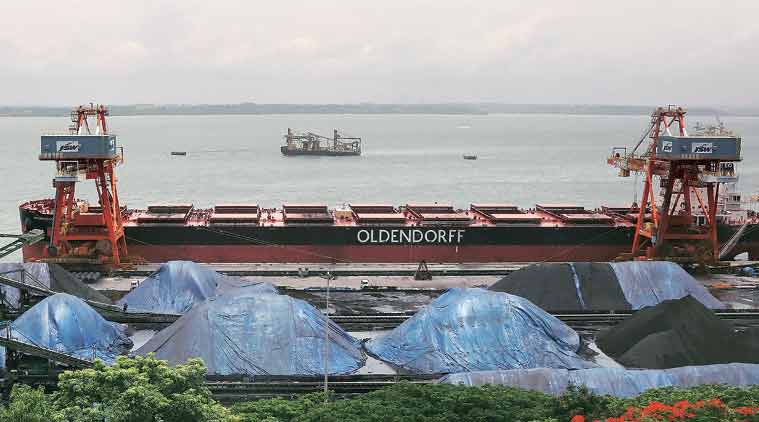 That is why experts advise better regulation than a shutdown. "The economy of Goa revolves around mining. When the mining ban was in place, everybody lost jobs, it hit the state's GDP. Coal is a different matter; in this case, coal coming in is for industries outside. Still, the solution is not to ban any economic activity. The government has to ensure that the state has the infrastructure to contain the pollution caused, and corporates are allowed to import only after various measures are put in place," says Peter F X D'Lima, board member and former director of the Goa Institute of Management.
Also read the Government's Master plan of Road, Rail and Sea infrastructure development.
Stringent guidelines for Coal unloading, storing at Port and transportation need to be laid down and followed. Though Coal may boost the economy, if not properly monitored, may spell doom for our green State in the long run.