Chief Minister Manohar Parrikar on Monday criticized environment protection laws, arguing that, ironically, they sometimes come in the way of protecting the environment itself. He cited the case of the solid waste garbage treatment plant at Saligao, which was stalled after a case was filed at the National Green Tribunal.
"A regulatory authority and judicial system that tries to find one square-bracketed solution for the entire country is the biggest problem," Parrikar said at the inaugural session of the international day for biological diversity.
"A person sensitive to biodiversity, ecology, and the environment is equally restricted by this court from acting even in the interest of the environment, because of 'one law one rule'. This does not fit a multicultural nation such as ours."
The programme was organised by the ministry of environment, forest (MoEF) and climate change, national biodiversity authority, and Goa state biodiversity board, in partnership with the United Nations Development Programme.
Goa, Parrikar pointed out, has been struggling to control illegal constructions in CRZ areas since 1991. "Goa has generated more legal expertise than any other state in the field of environment and defection laws," he said, adding that Goa contributed the highest number of cases to the green court.
Parrikar also said that all trees cut for highway expansion would be transplanted or trans-located wherever possible, and if not, new saplings would be planted.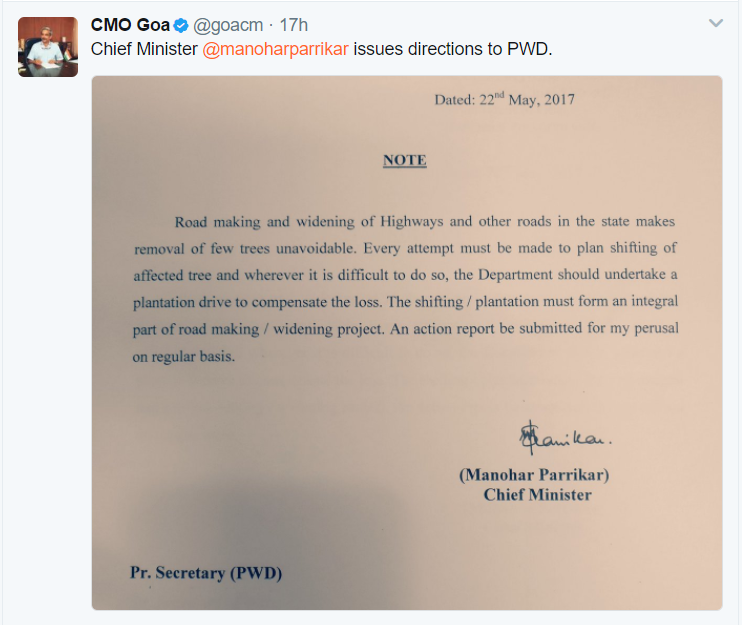 "It's the same highway authorities that planted the coconut trees along highways 25 years ago," he said.
Read more HERE
The widening of the highway running through Guirim is part of the four-six lane project from Patradevi in North to Pollem in South Goa. The forest department has initiated the process of enumerating the coconut trees along the 2-km national highway between Guirim and Porvorim. The coconut trees on the left side of the highway while travelling from Mapusa to Panaji have been marked in yellow paint. There are almost 400 coconut trees on both sides of the highway, 200 each on either side or most of them are 15 to 20 years old.
Meanwhile, following the announcement of the proposed mass axing of Coconut trees at Guirim, social activists from Goa took to the roads on Monday, in protest of the decision. The protesters informed that they will carry on with the agitation on Tuesday, along the Guirim section of the highway in the evening between 5 pm to 7 pm.
Source: Times Of India
Pic Credit: The Goan Everyday