Goa is best known and loved for its beaches. With a coastline that's approximately 105 kilometers long, the state has some of the most beautiful beaches in India. However, we do not have the Blue Flag certification for any beach in India.
What is Blue Flag certification?
In short, The Blue Flag is a certification by the Foundation for Environmental Education (FEE) that a beach, marina or sustainable boating tourism operator meets its stringent standards.
It is a trademark owned by FEE which is a not-for-profit, non-governmental organization consisting of 65 organizations in 60 member countries in Europe, Africa, Oceania, Asia, North America and South America.
FEE's Blue Flag criteria include standards for water quality, safety, environmental education and information, the provision of services and general environmental management criteria. The Blue Flag is sought for beaches, marinas and sustainable boating tourism operators as an indication of their high environmental and quality standards.
Certificates, which FEE refers to as awards, are issued on an annual basis to beaches and marinas of FEE member countries. The awards are announced yearly on 5 June for Europe, Canada, Morocco, Tunisia and other countries in a similar geographic location, and on 1 November for the Caribbean, New Zealand, South Africa and other countries in the southern hemisphere. (Source – Wikipedia)
GTDC to identify a Goan beach for Blue Flag certification
The Ministry of Environment, Forest and climate change (MOEF) has asked the state government to identify a beach in Goa for 'Blue Flag certification'. Under the Blue Flag programme, an international non-profit organization grants its certification to beaches and marinas that meet over 30 criteria related to water quality, environmental cleanliness and waste management, safety and other services.
According to a source, the issue was discussed at Goa Tourism Development Corporation's (GTDC) board meeting last month. It was suggested that the GTDC should appoint a consultant to identify potential beaches, and accordingly, build facilities to pitch them for certification.
Francisco Braganca, former president of the Travel and Tourism Association (TTAG), said, "So far, there is no beach in India that has been awarded Blue Flag certification. But it is an uphill task to obtain the certification."
TTAG president Savio Messias said, "Blue Flag certification will surely help increase tourist footfall. Many international travelers, before deciding on a holiday destination, check if the beaches there have Blue Flag certification."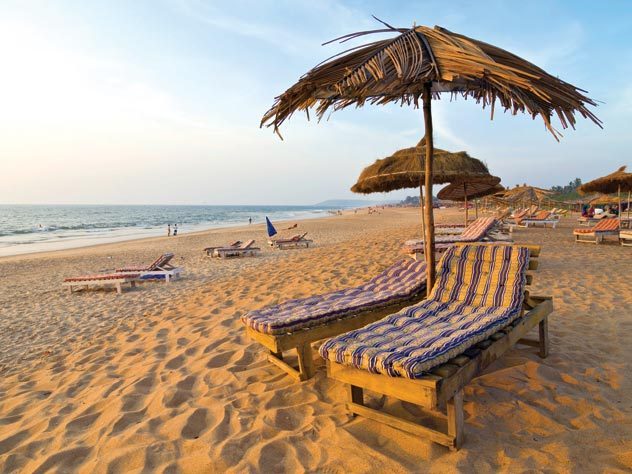 Can Goa fly a Blue Flag on all of its beaches in the near future?
It's completely true that Goa's tourism is over saturated and needs more looking at to find alternate fields in which to operate. Most of the beaches in North Goa are an absolute mess with people, livestock, stray dogs and garbage sharing the same space. Everyone that lives in or visits Goa has seen it. It's an extremely disheartening sight.
Savio Messias also said the image of "destination Goa" has taken a hit during the last few years because of litter on the beaches, but a Blue Flag certification will surely help increase its face value.
A tourism stakeholder, who did not wish to be identified, said, "Over the last few years, some of Goa's beaches have deteriorated. The Calangute and Candolim beaches are worst hit."
While pointing out that some of the beaches have become congested due to increased commercial activity, he said, "Adding to the chaos are private shacks. Some popular beach stretches have more private shacks than beach shacks, and some private shack operators at many beaches release sewerage into the sea."
As Mr. Braganca rightly said, this is definitely an uphill task to obtain such a certification. Namely, because we lack the infrastructure to keep it all in place, along with manpower.
However, if everything is worked out properly and the concerned authorities do manage to meet all the criteria and requirements, Goa could stand a chance to become the first state in the country to fly a blue flag. So let's all keep our fingers crossed and do our bit in helping Goa to get Blue Flag certification as soon as possible. One such way is to join the Team Up to Clean Up Goa initiative.
Source – TOI
ItsGoa/NOV/KDGP