The world-famous Anjuna beach, located in the beautiful village of Anjuna, is one of the most popular tourist spots in North Goa. It is located 18 kilometres from Goa's capital city Panaji. The beach is part of a 30 kilometre long stretch of extended beach coastline along the western coast of Goa. It attracts scores of tourists every year from different parts of the world. The beach is known for its electrifying nightlife, lively beach parties, high octane music festivals and lots more. A few kilometres away from the beach is the famous Anjuna flea market, which takes place every Wednesday and Saturday. Due to its high popularity as a tourist hotspot, many hotels and resorts have come up in the area to cater to the accommodation needs of tourists who flock to the popular beach every year. 
However, many tourists wish to experience the true essence of Goan life during their holiday in Goa. They wish to stay at a place that gives them a feeling of being at home despite being miles away from home. Homestay apartments are the perfect option for those who prefer such kind of accommodation. They offer guests more privacy as compared to what is offered at a typical hotel or a resort. Guests can enjoy the feeling of being at home, without being disturbed by anyone. Here is a list of the best homestays near Anjuna beach for those who wish to enjoy a unique "home away from home" experience on their next holiday in Goa.
Casa Borboletas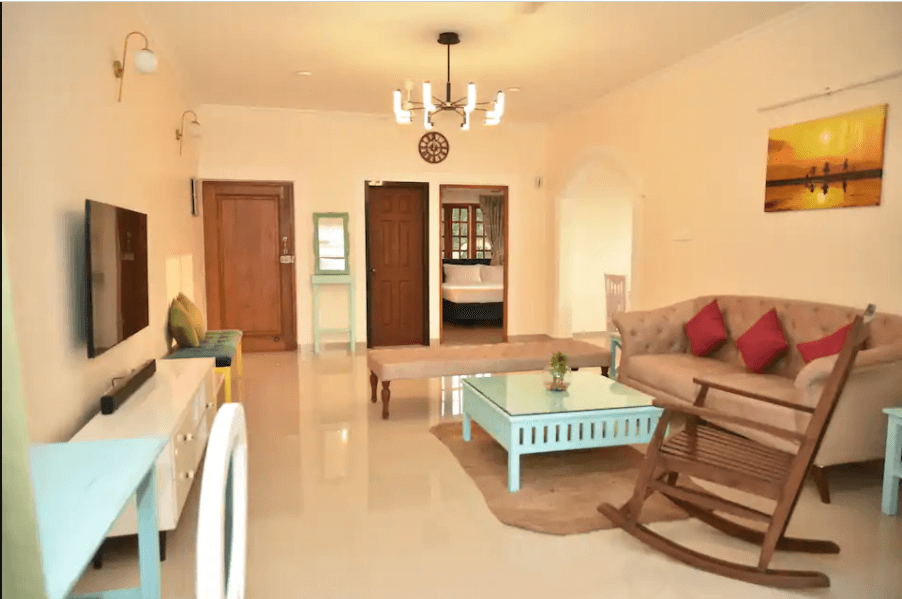 Starting the list of homestays near Anjuna beach is a property called Casa Borboletas. This Airbnb property is a 2 BHK apartment located in an apartment building with Goan-Portuguese architecture. The apartment has spacious rooms with beautiful interiors and wide veranda-style balconies. Both the bedrooms in the apartment are air-conditioned and have king-size beds. There are two bathrooms and a well-equipped kitchen as well. The flat is equipped with all necessary amenities like an induction cooker, a mixer grinder, a gas stove, a TV with a cable connection, a Wi-Fi connection, a washing machine etc. The apartment building is surrounded by open areas, lush green fields, and walking tracks. Even the location is good, with popular restaurants, cafes, beaches and other tourist attractions located nearby.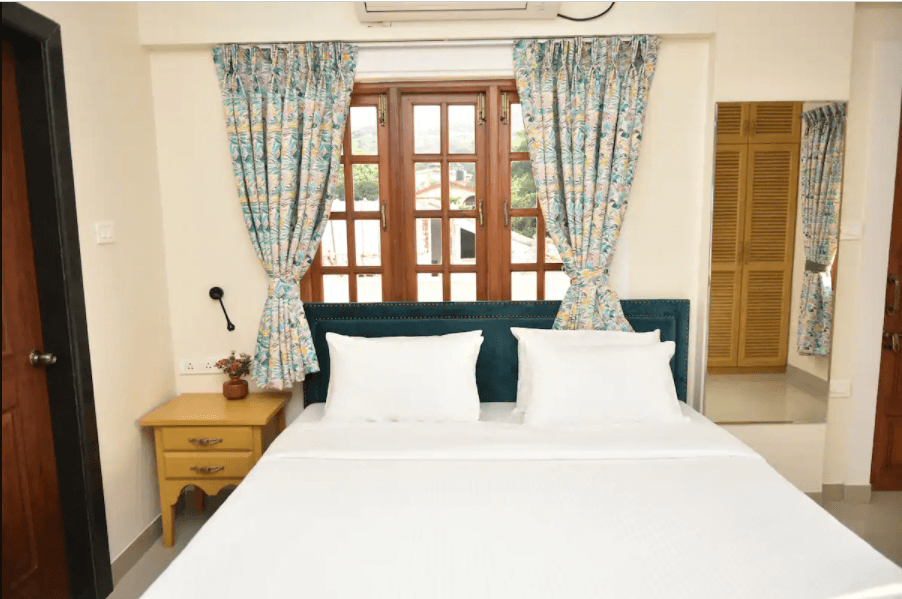 Casa Solastas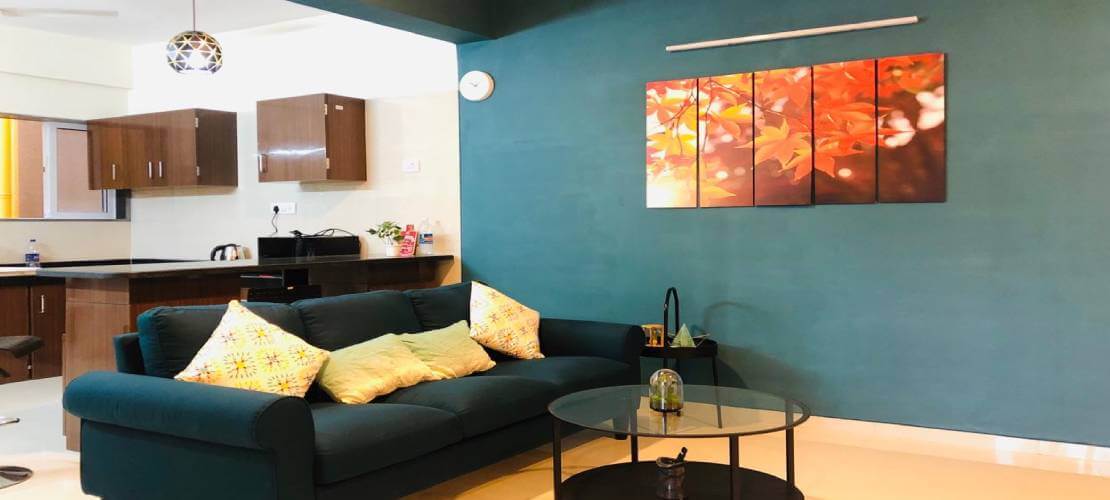 Next on our list of the best homestays near Anjuna beach is a high end 2 BHK apartment called Casa Solastas. It is located in an apartment complex right in the heart of Anjuna village. It comes equipped with everything you need to enjoy a comfortable holiday. It has a large living room with a sofa and a smart TV. It boasts an open kitchen that is equipped with basic cookware to prepare your daily meals.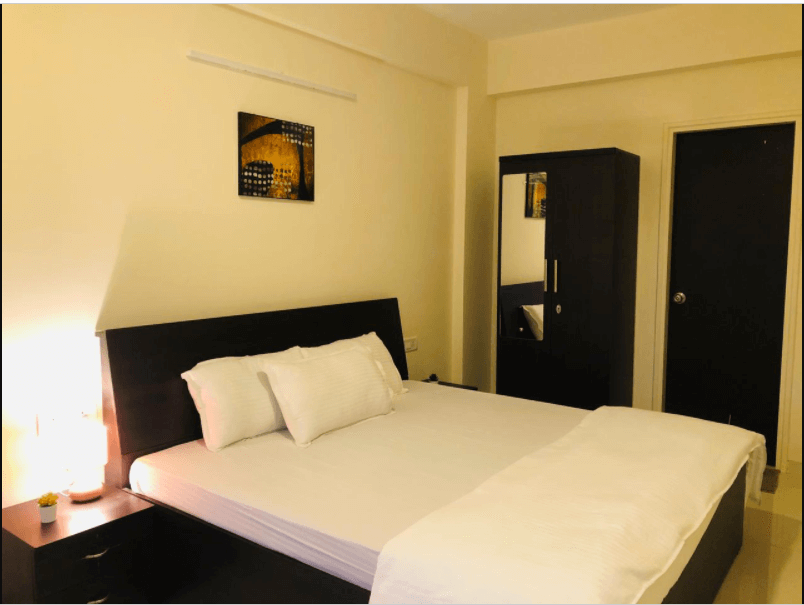 The master bedroom comes with a king-size bed, a wardrobe, and an attached bathroom. Car parking is available for guests who come to the property in their own vehicle. Guests can enjoy access to the swimming pool, children's play area and the well equipped gym located within the society premises. The beaches of Anjuna and Vagator are located very close to the property. All the famous party places like Purple Martini, Curlies, LaRive, Antares, Titlie etc. are located right around the corner. Food places such as Burger Factory, Angry Sardar, and Dominos Pizza are also just a stone's throw away from the property. 
Emilia's Cosy Den
And concluding our list of the best homestays near Anjuna beach is a property known as Emilia's Cosy Den. Located in central Anjuna, this is one of the best homestays to get the actual feel of Goa. It is run by an old Goan couple who stay at the same location. The homestay consists of 3 studio apartment units.  One apartment unit is occupied by the owners of the homestay, while the other two apartment units are rented out to guests. Each studio unit can accommodate up to two people. It is located very close to all the major beaches in North Goa.
Both the apartments are air-conditioned and have a bedroom with a double bed, an attached bathroom and a well-equipped kitchen for basic cooking. Each apartment unit has a separate entrance. The space has common seating area outside with a view of the society garden. The guests will have access to the allocated room, the parking area, and other common areas in the apartment complex.
With this, we conclude our list of the best homestays near Anjuna beach to stay at during your next vacation in Goa. So, if you are feeling bored and want to take a break from the hustle and bustle of the city, head down to one of these amazing home stays and treat yourself to a nice and quiet vacation in the peaceful countryside of Anjuna village. Hurry. Book your rooms now!