Humans of Goa is our original and official series that shares inspirational stories from the lives of Goans. We speak to talented and contributing individuals from this wonderful tiny state. In this article, we bring to you the inspiring story of Ankur Kankonkar, a 32 year old man, who fought all odds and became a successful IT entrepreneur , despite being visually-impaired.
---
Ankur Kankonkar was born on 19th June 1989 in Canacona village in South Goa. The only child of Mr. Shahu Kankonkar and Mrs. Pramila Kankonkar, Ankur was born completely normal and was a very bright student when at school. He did his schooling at Katyayani Baneshwar Vidyalaya in Canacona. He passed his SSC in the year 2004 and then moved to Fatorda to pursue his higher secondary education (Class 11 and 12) in the science stream from Chowgule College in Gogol, Margao. He passed his HSSC exams in the year 2007 and then took up B.Pharma at PES College of Pharmacy in Farmagudi.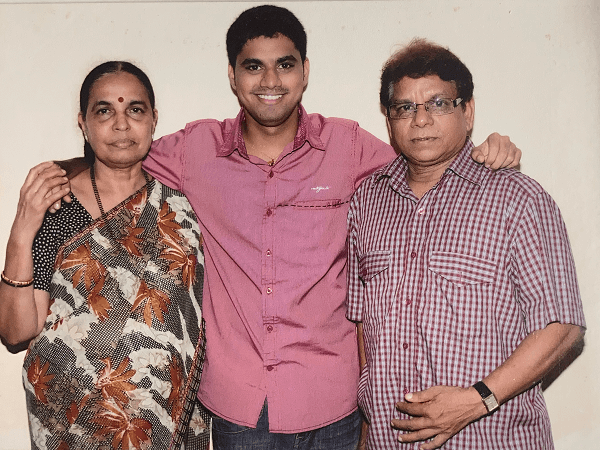 During his first year in college, his vision started deteriorating, but it still did not affect his daily life significantly. However, in his second year, his vision started getting worse. He could not see and identify things clearly. Due to this, he was unable to cope with his studies at college. His poor vision and his inability to cope with studies led to him dropping out of college in 2009.
After a series of medical examinations, he was diagnosed with a very rare eyesight condition called Retinitis pigmentosa. This is a group of related eye disorders that causes progressive vision loss. People afflicted with this condition suffer a gradual loss of vision due to the gradual deterioration of the light-sensing cells of the retina.
The onset of symptoms of this disease is generally gradual and often begins in childhood. The first sign of retinitis pigmentosa is usually a loss of night vision. Problems with night vision can make it difficult for people to navigate in low light. Later, the disease causes blind spots to develop in the side (peripheral) vision. Over time, these blind spots merge to produce tunnel vision. The disease progresses over years or decades to affect central vision, which is needed for detailed tasks such as reading, driving, and recognizing faces. In adulthood, many people with retinitis pigmentosa become legally blind. There is currently no cure for this rare disorder.
Having dropped out of college, Ankur went into depression. He couldn't digest the fact that a bright and energetic youngster like him, with a lot of dreams and aspirations, is sitting at home. He kept asking himself as to what wrong did he do to deserve this. However, during those difficult moments of his life, he received a lot of emotional and moral support from his parents, his childhood friends, his cousins and other members of his family .
During this difficult period, Ankur came across a software called JAWS, which stands for Job Access with Speech. JAWS is a computer screen reader program for Microsoft Windows that allows blind or visually impaired users to read the screen either with a text-to-speech output or by a refreshable braille display. JAWS enabled Ankur to once again use the computer and the internet, despite being visually impaired.
While surfing the net, Ankur came across the story of Kartik Sawhney, a Delhi based student who became the first 100% visually impaired person to pass the CBSE Class 12 board exams in the Science stream. Kartik passed his exams with a whopping aggregate of 96%. After his class 12 exams, Kartik wanted to join the Indian Institute of Technology but was not allowed to appear for the IIT-JEE entrance exam because of his blindness. So he went to the USA, got admission in Stanford University and completed his Masters degree in Computer Science from there. He now works as a software engineer at Microsoft.
Kartik's story led Ankur to think that, "if Kartik can achieve so much despite being 100% visually impaired, then why can't I?" Kartik's story served as a spark of inspiration that drove Ankur to start exploring as to what course he could take up to study further.
After a lot of research and thinking, Ankur decided to pursue a B.Sc. in Computer Science. However, to pursue this course, he needed to have maths as one of his subjects in Class 11 and 12. He did not take up Maths as one of his elective subjects during his higher secondary days at Chowgule college.
After a couple of meetings and discussions with the Goa Board of Education, he was permitted to answer the class 12 Mathematics paper and Computer Science paper. The next challenge was to find good tutors who would prepare Ankur for these two papers. They approached many tutors and finally found two well- qualified teachers who were willing to teach Ankur and prepare him for these two subjects.
He answered both the papers with the help of a writer and cleared both successfully. Armed with all the pre-requisites needed to apply for a B.Sc. in Computer Science, Ankur approached Chowgule College for admission. The college was a bit hesitant to admit him because they were doubtful whether a visually impaired person would be able to cope with studies, especially since the course he was applying for involved Maths and other complicated computer-related formulas and algorithms. They asked him to approach Goa University and see what they have to say about his case. The university told him that the decision to admit him rests with the college. After a few trips running back and forth between the college and the university, Ankur was finally granted admission to Chowgule College in 2014.
Going back to college after a gap of more than 6 years, Ankur had to share the classroom with students who were six years younger to him in age. However, despite the huge age gap, as well as the fact that he was visually impaired, he was treated very nicely by all his college-mates. Being an extrovert, he made many friends in college during the first week itself. Also, all his teachers were very supportive of him. They were amazed by his confidence and will-power to study computer science, and were very eager to help him out with anything that he needed.
His first year of college went by quite well. He used to manage his studies as well as his social life with friends very well. He used to understand whatever was taught in class and did not face any major difficulties with studies, despite being visually impaired.
He answered all his papers with the help of a writer, except his computer science paper, which he answered on his own by typing the answers to the questions on a computer. It was his computer science teacher who insisted that he answer the paper on his own, as it would help him to become more independent and gain more confidence as well.
He cleared the first 2 years of his course with very good marks. In his 3rd year, he majored in Computer Science. He scored 94.5 % in his final exams and successfully graduated in 2017. He was the topper of the entire Goa University across all B.Sc. streams. For his incredible achievement, he got a lot of press coverage and was felicitated by various organisations. He was also felicitated in the Goa Vidhan Sabha by the then Chief Minister Mr. Manohar Parrikar.
After graduation, Ankur pursued a two year Masters in Information Technology programme at Chowgule college and successfully completed the course in 2019. Fresh out of college, he along with two of his friends started a firm called Kapslock, which is now a brand of his new company called Kankonkar Technologies Private Limited. The firm provides services like web design and development, mobile app development, social media marketing and branding services to clients in Goa, India and a few foreign countries as well.
The company started operations on 15th August 2019. Ever since then, the firm has come a long way and has grown exponentially. The firm has developed websites for finance companies, tourism companies, healthcare companies and investment firms. They have also developed e-commerce portals, mobile applications and custom software for companies for their internal use. Ankur liaises with his clients via video conferencing apps like G-Meet and Zoom to discuss projects . He is assisted by a team of well qualified professionals to execute the projects and deliver them.
Ankur says that a lot of awareness needs to be generated on a very large scale to improve the lives of persons with disabilities in Goa. There are a lot of misconceptions that people have regarding persons with disabilities. "Many people ask me how do I run my firm? How do you type on the keyboard when you cannot see? The perceptions that people have regarding persons with disabilities needs to change and for that awareness is very important", says Ankur.
Secondly, the government should work to make public buildings more accessible to persons with disabilities by providing ramps, markers, braille signboards etc. Also, educational institutions in Goa should be more open to accepting persons with disabilities, he says.
Also, assistive technologies for persons with disabilities needs to be promoted on a very large scale. Assistive technology is a huge blessing for persons living with a disability. "What technology has done for me, no person could have done for me. Technology has made my life so much easier. It is a big boon for me and for all people with disabilities. Without technology, life would be very difficult for me" says Ankur.