Everyone that lives in Goa or travels into the state, has to do a tour of Panjim. This includes a drive past Miramar beach and heading to the famous Dona Paula beach and beyond. They also get to hear the legend of Dona Paula.T he statue of this famous lady is located at the end of the iconic Dona Paula jetty.
This is a spot that is a favourite of locals and tourists alike and is always full. People even visit during the monsoons despite the fact that the waves crash over the promenade leading to the jetty, leaving it very unsafe. And it is for this exact reason that the government authorities will be blocking all public access to the jetty very soon.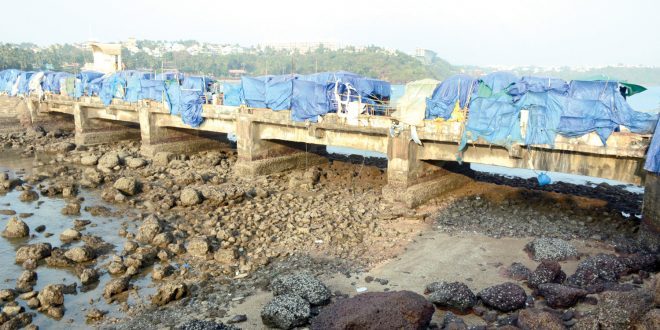 The reason for closure of the famous Dona Paula jetty
According to today's newspapers, the public works department (PWD) found that the entire Dona Paula jetty is unstable. They submitted a testing report to the Goa State Infrastructure Development Corporation (GSIDC) last year recommending that the access to the jetty be completely restricted.
The report showed that the portion from the where the jetty begins is completely corroded underneath.
North Goa collector Nila Mohanan confirmed that orders will be given to block all public access to the Dona Paula jetty.
These orders will be undertaken by the Captain of Ports will have to be enforced sevens from the date of issue of the order
"We will be blocking access to the portion from the entry point because that portion has been reported to be potentially dangerous," said Mohanan.
Earlier, Mohanan was the chairperson at a meeting which was attended by officials of the CoP, the traffic cell, the Corporation of the City of Panaji and other concerned government departments involved in implementing the orders.The repair work of the Dona Paula jetty is likely to be undertaken under the Smart City project by the government.
The Dona Paula jetty also plays host to a number of vendors selling tourist items and clothing on the same portion of the jetty that is corroded. It is learnt that these vendors will not be relocated or shifted. This will affect their business as the tourist footfall at this spot is expected to stop after blockage of the access to the jetty.
Information credit – Navhind Times
ItsGoa/FEB/KDGP