Clarice Vaz is an Indian visual artist, who runs her own artwork website. She is one of Goa's top painters, specializing in syringe painting, fluid painting, spin painting, and abstract art. Hailing from Saligao, Goa, Clarice loves to experiment with colors, textures, gels and mediums, plus getting my hands dirty! She paint with non-traditional tools. She never follows any artist rulebook as she believes that art can emerge from almost anything.
The team of ItsGoa caught up with her and put her under the spotlight.
Humans of Goa is our original and official series that shares inspirational stories from the lives of Goans. Humans of Goa is made for and made up of Goans.
Let's get started.
---
If anyone were to ask you, "What do you do for a living, then what would you say?"
I'm a homemaker that loves to paint, create visual stories and serve.
---
What was that one moment when you decided that, "That's it! I want to become a good Indian visual artist"?
When I saw our Goan heritage changing after decades of Liberation while on house calls as a nurse in the 90's, I decided to document it all with a pen on paper and with a brush on canvas.
---
A bit about your role models. People you look up to when painting?
I am original in my work and paint from my soul. I have mentors and friends who guide me but I do not have a role model for I like to make my own path. It's easier than following someone and having to compete.
---
Any inspirational moment you remember in your life that changed everything…
Yes, the tragic passing away of my elder son aged 20 suddenly in his sleep due to a rare undiagnosed heart condition which changed my life and I do everything in his memory consequently I do not miss him.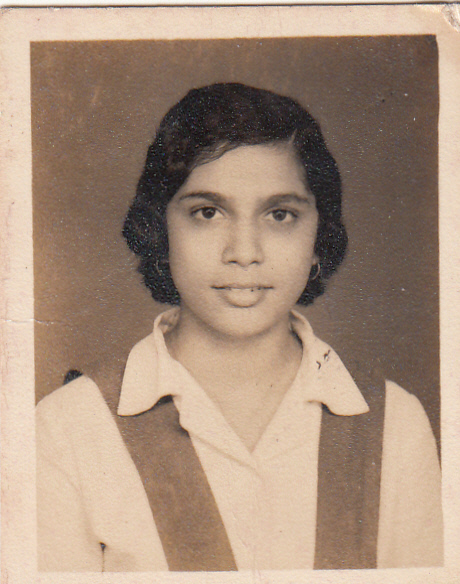 ---
What was the biggest challenge when pursuing this as a fulltime career? And how did you overcome it?
I paint, write or photograph because I love doing it. And so, each day I wake up doing what I love. I do not work for money as I'm well cared for by my family. My fulltime career is simply a hobby that turned into a cathartic journey and once I got recognition from professionals, I began to compete with myself using my talents to help others in memory of my late son.
The luxury I have is that my career is a HOBBY! That is why I enjoy the 'challenges' and have no fear.
---
Any memories as a kid you'd like to share? Something that sparked the love for painting?
I always loved to draw but was told that 'Artists don't survive. You need a skill in hand'! So, I chose to become a nurse instead as at that time Mother Teresa was my inspiration. I studied in St. Martha's College of Nursing Bangalore and worked there and briefly in Mumbai before becoming a fulltime mother to my young boys by choice. I took up painting and writing visual stories only when they went out of Goa for further studies. Later I took up painting in particular in memory of my son Craig Vaz so I could use the proceeds for my social work in his memory.
---
Who is the one person you'd like to meet from the past? And what would you ask him/her?
I'd like to meet my little self and would like to say that life wasn't all that challenging after all. I am almost 57 today and have witnessed bittersweet moments. Knowing who we are is fundamental in life and that's what I would like to tell everyone for this is NEVER taught to us anywhere in school, home, Church or workplace. They tell us what to do and how to do but no one tells us who we are! That we are already worthy, whole and loved! From this point one can do anything!
---
If you could go back in time, what would you tell your younger self?
I would teach and train my younger self to claim her worthiness. I don't want to be the best Indian visual artist, I only want to tell stories at the best of my capacity.
---
Can you write a couple of lines for us here say on the topic of "Life is Art"?
If you can accept that every time you think a thought and speak a word you are creating your reality you are painting your future you are creating your own life. Choosing the colors on the easel of your soul is important. It's a fulltime job! I also am aware of the colors I wouldn't want to paint with. I love that many people like my life's painting, my actions, my personality, what I believe, what I feel. It's beautiful.
---
What role did family and friends play? Any quick incident you remember when family or friends helped you overcome a hurdle or challenge in life?
It was a big challenge when my family discovered that I was a creative person. They had never seen that side of me. Creativity requires long hours of work and as my successes began to show they accepted the fact that I was indeed gifted with a little talent and today I can freely do what I love. They support me
---
What were people's feedback (negative and positive), and who stood by you the most?
Honestly, I do not consider people's opinions but do listen. Ultimately, art is self-expression and it's something so inclusive after all art lies in the eyes of the beholder only!
I have one mentor/and honest friend who actually took one look at my work in 2014 and instantly knew I had talent. Being trained in Sir J.J school of Art, her belief in my work changed my perspective of LIFE and from being a nurse, I became a full-time painter only to experiment with the tools of my trade, that of using a syringe to paint! She encouraged me all the way.
She is a senior Art director/graphic designer having worked for big companies like FCB Speer, DDB Mudra, Ogilvy, Walt Disney and more. A humble and simple soul, who simply strolled into my home to check on my oeuvre of work. She bought my first artwork as a professional. Her name is Bina Nayak. She has been a part of my visual story books as editor and designer too.
---
What is the legacy you want to leave behind? And for whom?
I am just a soul journeying in life. A small of the big one All. My deeds will be my legacy. Being an admired Indian visual artist fills me with pride.
---
You can catch a snippet of this conversation on ItsGoa's Instagram page. Humans of Goa is our original and official series that shares stories from the lives of Goans. 'Humans of Goa' celebrates the spirit of every Goan.
Use #humansofgoa to feature your story, and follow ItsGoa for more inspiring stories.