Everyone laments the so-called death of the spirit of football in Goa. Folks used to joke that if you were in Goa and you threw a stone, it would most likely fall on a Bar, a Chapel, or a football ground. Football was our passion. Every kid who had spare time would be found kicking a ball around. Neighborhood friendships were forged, team spirits were built, lifelong friendships were made… around that big white ball. Folks were ready to play football at the drop of a hat, tournament or not, friendly matches and fun inter-village tournaments were an everyday affair. Just like taking a siesta in the afternoon was a way of life in Goa, playing football just for the fun of it, was a way of life in Goa. In fact there were many Goan kids who would play football in their front yard while their parents took an afternoon siesta inside.
Has all of that changed? I wonder. Let's look at some of the facts. Let's look at the U17 world cup that just took place, Many of the matches were in Goa. Guwahati, Cochi, Kolkata, Mumbai and New Delhi were the other venues. According to an article by the Indian Express, the stats show that a whopping 13,47,143 Indians attended the matches. That's a record. On one hand it shows that more Indians are watching the game than ever before. If you thought folks only watched cricket, here are facts that that are contrary to that popular befief. Thank heavens for that!
Improving factlities
Now let's look at the facilities for football, in India, and especially in Goa. Look around you in all the villages. Panchayat grounds are, in fact, being turned into well maintained football ground. Some even have AstroTurf laid down. Not to mention gated areas and stands with proper seats. Microphones and sound systems to give you running commentary, are no longer luxuries, every ground has them. Are the grounds well-maintained and well-watered? Oh yes. They have ample budgets for that.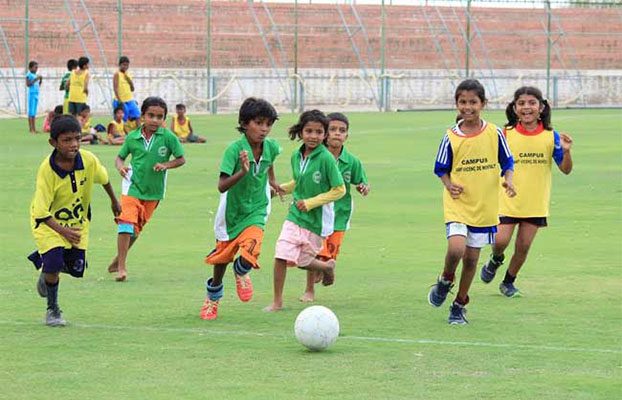 What about the players? Take a good look, they no longer play bare feet, or in a torn shirt and torn shorts. Every player had a good pair of football shoes, not to mention fluorescent T shirts and shorts with the numbers and colours of their favourite stars. Finally, there's the haircuts. Man I could go on and on about the myriad different haircuts you can see on the field.
Are there enough sponsorships? Oh yes. Even at local village tourneys you'll have a luck draw in which you could win yourself a bike. Whenever there's a game on the village grounds all the local businesses want to support it by way of sponsorships.
All of this seems to point towards the idea that football is booming in Goa. Is it?
Perhaps it's the spirit of Football that is in need of upliftment. Along with all those facilities and all those sponsorships, what's needed is passion. The pure simple joy of kicking around the ball and having fun doing that… that's what missing.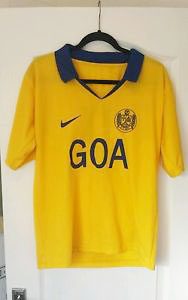 Declining spirit
Here's what some of the old die-hard football lovers have to say
Here's the football ground at Baga gone?" thunders Marius Fernandes – a church figure immensely and emotionally invested in the sport to the extent he started an academy to train young teens with a pal Fabian D'souza. "Go find it, you won't. It's a car park now" he adds. According to him, every ground. Every paddy field is taken over during the elections under the guise of development. They convert it into a Gated facility with a big fat lock. "Come at 4 O'clock they say."
But Goan's play football whenever it takes their fancy, anytime anyplace. At the drop pf a hat. Because they love…football. Goans would play, with or without AstroTurf, with or without shoes, with our without sponsorships. We played simply because we loved the game. And that's what's missing. It's almost as if all those fancy facilities, shifted the focus from the true spirit of the game to the peripherals.
It's not as if we did not have good football clubs before. The country's best clubs – Vasco, Salgaokar and Dempo would give the famed Kokotta giants a run for their money and every such game was filled with 90 minutes of high passion. There was a time when the Phillips league, that preceded the I league and even the National football league of the 90s attracted 22,000 plus fans at the Fatorda Grounds. There was a time when every inter school, inter-college, inter-village tournament from Mapusa to Vasco and Colva made it to the sports pages of the local newspapers with enthusiasm and gusto. What happened to all that passion?
Have Goans traded their love for the dribble with the dazzle of the dollar? Is this why Football is dying in Goa?
Some say that EPL killed our Football. As soon as boys started watching the English League, they wanted to do all the same things – they wanted those jerseys and scarves and structured grounds. But the cost of maintaining those immaculate grounds is expensive so the facilities become multipurpose grounds. You can't go there to play any time you feel like a game. You have to go at fixed hours. How do you harness our good old fashioned love to football to those fixed hours. After all we played because we loved to play. Not because we loved the astroturf, or the fancy stands.
Another element to consider is the inflated salaries of the foreign strikers. This mentality creeps in here and is messing up the survivability of the clubs. It's bleeding the clubs dry.
Even the kids parents now have a different perspective. In the old days, they would just let their kids go out and play. These days they ask unusual questions. Like, why do their kids have to stay in the camp or at the camp's hostel?  Why can't their sons finish their training and come home to sleep in their beds. This question becomes even more acute when dealing with girls' football.
Then there's the question of earnings. Some fathers, whose sons seem to be doing ok o the field and earning decently, keep asking the same question. Why can't they pay my son/daughter more?
If you look at the facts and you look at the issues from bot side you can't help but ask- why were there no Goan players in the world cup squad? It raises alarm bells. Have we Goans lost our love for football? Or have we merely got distracted by the "bells-and-whistles" (the frills and fancies, the so called glamour of the game). Can we bring back the good old fashioned simple "love for kicking around a ball' and have fun doing just that – just because that's what we are passionate about. That's what we really LOVE.
Information source: Indian Express