What's the one thing that everyone comes to Goa for? Besides the alcohol, of course. Food! Mouthwatering food is the answer. More precisely, mouthwatering seafood and a few tasty chicken dishes served at Babazins Shack, Nerul. Babazins is truly a perfect spot to relax and unwind while tickling your taste buds with some authentic Goan cuisine.
The restaurant is owned by Jean-Paul Costa Cardoso, or "Babit" as he is more famously known, from Saipem.  "Babazin" is a local pet name that found its way into most Goan households which had young sons. The restaurant is actually named after his younger brother as a tribute to his passing away at an early age.
Jean-Paul lived abroad, in the Gulf for many years, working as an art director in Saudi Arabia, Dubai, until he decided to move back to Goa, Kuwait. He has a lovely wife named Karishma and two adorable kids named Jovani, 10 years old and Kiana, 3 years old. In fact, he moved back to ensure a better quality of life for himself and his family, the Gulf having nothing more to offer them in the long run.
Karishma helps out at the restaurant, a familiar, smiling face behind the counter and takes care of the billing and such. Jean-Paul is always at the restaurant and more often than not, in the kitchen with the rest of the kitchen staff, helping to prepare those great tasting dishes.
Mouthwatering Food, Great Ambiance
The food is simple fare. Their specialty is seafood, serving Lepo's, Vellio, 'Gaboie' (fish row), Squids, Prawns, Tiger Prawns, Bangda, Mussels, Oysters, Chonak, Kingfish, Tamoso, Modso, Pomfret prepared in recheado masala/butter garlic/rawa masala/batter fried, whichever way you like it.
Signature dishes at Babazins include appetizers like the Tisreo Sukhem, Prawn Stuffed Papad, Fish Fingers, Butter Garlic Squid. For the mains, one can order Shark Ambotik, Fish Caldinha, Prawns Sambarachi Koddi, Prawn or Fish Balchão/Vindalho, Crab Xecxec, Oysters Sukem. Babazins also serves some chicken dishes like Chicken Xacuti and appetizers like Chicken Strips and Chicken Chili Fry. Beef is definitely not on the menu.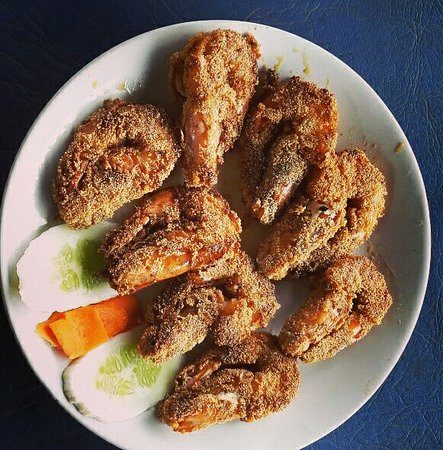 The bar is also well stocked with soft beverages, well-known brands of alcohol and a small but nice selection of mocktails, cocktails, and wines.
Babazins is definitely best known for its seafood though. So don't miss out on visiting the restaurant as soon as you get a chance to. I know I need to revisit the place, especially after writing this article.
No Beach, No Problem
While this awesome restaurant with the yummy food is nestled along the banks of the river Mandovi, close to the Reis Magos fort, there is no beach to swim at. There is a small rocky stretch of beach in front of the restaurant, perfect for just wetting your feet or sunning yourself if the tide is low. There is always a breeze coming off the river and once you're sitting down, you probably won't ever want to leave.
Most people that come to Goa and hear about Babazins aren't very familiar with the route to the restaurant. Therefore the best time to come on down is lunchtime since it's easier to locate the restaurant then. The view is also better at lunch anyway. You can always search for it via Google Maps since the restaurant location is pinned there.
When To Visit Babazins
Babazins is open from Tuesdays to Sundays for Lunch – 12:30 pm – 16:00 pm and Dinner – 19:30 pm – 23:30 pm. They do shut down for approximately a month during the monsoons since business is low. There is parking for cars just across the road from the restaurant. They accept cash and card payments.
Babazins is also open to anyone who wants to organize private parties. Give them a chance and they will take care of everything food and drink related. Just check with Jean-Paul in advance about booking the space along with the date and number of people. He should be able to help out.
If you plan on heading there, you can give them a call at 99236 52954 or leave them a message on their Facebook page.
Link: https://www.facebook.com/babazinsshack/