If you want to experience the other side of Goa then you've got to visit all these markets. The best part about Goa is that no matter whether you're rich, poor, a shopaholic, non-shopaholic, party lover or introvert there is always something for everyone, you will never be bored in this paradise.
Alternatively, if you are one of those who just want to chill out and not go partying then you should explore these markets.
Panjim Municipal Market
Panjim Municipal Market also known as "Panjim New Market" is located near Inox Multiplex, off the Campal road. It is a well-organized market. Right from fancy footwear, spices, hand bags, casual clothes – one can find all products that can be expected in a local market. This is a perfect place to buy fresh fruits and vegetables. Groceries, sweet-meats, Goan sweets, Goan products, meats of all kinds are also available.  Bargaining works wonders here.
Calangute Flea Market or Tibetan Market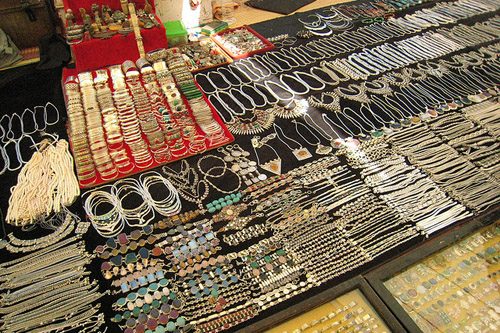 You'll find people from across the world, including foreign traders, selling a fascinating selection of goods here including unique artifacts and jewellery items. You can try your bargaining skills at different stalls here and you might just strike a good deal! But, if you are not so much into shopping then not to worry because there is also the huge attraction of tempting food stalls! These Tibetan stalls can be found in Umtawaddo and Gaurawaddo of Calangute. This market is seasonal.
Saturday Night Bazaar
What better way to spend your weekend other than heading down to the Saturday Night Market at Arpora. This is a perfect place to buy spices, carpets, embroidered textiles, clothes, footwear and accessories. In this market, you will find some exquisite handicrafts that might be expensive but worth it. A huge number of foreign and local tourists throng this place in season. Besides the standard Indian food on offer, you can also find international cuisine to tempt your taste buds. Live music from budding artists enthralls the audiences. So one can just relax and chill at the Saturday Night Market.  Open from October to March, it is an evening market. You will see a huge number of foreign and local crowd here as well. Saturday night market is a must visit place while you're in Goa. You will be amazed to see how much this market has to offer you.
Anjuna flea market
The oldest of all markets in Goa, held every Wednesday in the village of Anjuna. Even this market offers a wide range of footwear, swimsuits, artificial jewellery, accessories, local handicrafts, spices and clothes. The market sells ornaments and clothes that represents Goan vibes and at good rates. Open from November to April from 4pm to 11pm.
By: Priyanka Shetty