Embers Bistro Bar is once again the scene of some great music this Thursday, the 8th of November. This time it's a treat for all those rock, blues, funk and soul music lovers with the talented Aviv – Darin Duo.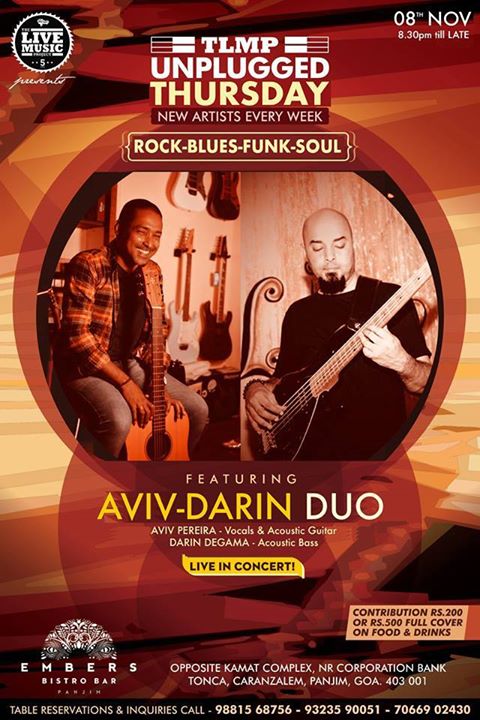 The Aviv – Darin Duo at Embers Bistro Bar
Goans love music. It's no secret that for every party or wedding in the state, music plays a really big role in getting the crowd moving and enjoying themselves. Of course, not everyone wants to dance when music is playing. Some people just prefer to sit in one place, with a drink in their hand and listen to the soft sounds coming from an acoustic guitar. Or they listen to rock music with their full attention.
Embers Bistro Bar is pleased to present the Aviv – Darin Duo as part of their TLMP UNPLUGGED THURSDAY SESSIONS.
Aviv Pereira is a professional singer/songwriter/producer based out of Goa. He performs solo and also with his bands – 'The Aviv Projekt' and 'Clear Blue Sky'.
Together with Darin de Gama, the duo is all set to play original music as well as cover music by some of music history's most famous acts. This Thursday, Embers will let you hear music from guitar greats like Gary Moore, Carlos Santana, Jimi Hendrix, Stevie Ray Vaughn, and a wide range of classic bands from the 60s' onward including The Beatles, The Doors, Deep Purple, The Eagles, Bob Marley, Led Zeppelin, Eric Clapton, Chris Rea, Pink Floyd, Elvis Presley, Jack Johnson, John Mayer, Bruno Mars, Incubus, Radio Head, Nirvana, Pearl Jam, Oasis, Jamiroquai, etc.
Additional details
Check out the entry options below.
You can make a contribution of Rs. 200/- just for entry or spend Rs. 500/- as a full cover charge on food and drinks.
So bring your friends and your family to Embers this Thursday for a great night of music. Check out the event link for more details.
https://www.facebook.com/events/328095141320811/
CALL FOR RESERVATIONS & INQUIRIES
Darryl +91 98815 68756
Vinesh +91 93235 90051
Wesley +91 7066902430
Information credit
Vinesh Iyer
ItsGoa/NOV/KDGP