They say the way to a man's heart is through his stomach. It's probably the same when it comes to women. Especially when the food is truly delicious and well prepared. Food is an intimate experience. Memories are made and friendships become stronger as does love sometimes. And we can't forget that if the dinner table is full, conversations are plenty, entertaining and even a bit heated. Thinking of all this, we found some romantic places for people to go eat at this Valentines Day.
Time to get romantic with the one you love
Bay 15
Nestled all the way down in the little fishing hamlet of Odxel, Dona Paula is one of the most gorgeous settings for a romantic night out. Bay 15 has a panoramic view of the Zuari river and faces the Mormugao harbour. It's well known for being one of the best locations for sunset weddings. This Valentines Day, you too could experience the love in the air at the Harbour Grill. With some great music from A.J Father and son duo, come on down for a special Valentines Day at Bay 15. The buffet dinner with unlimited soft beverages is a steal at Rs. 1199 per person. Call them on +91 7447499070/ +91 7350146000/ 0832 6515133 for more details or to just book a table.
A Reverie
There is nothing quite like A Reverie in Calangute with its dreamily romantic aura. This makes for a perfect setting for romance and wooing. Everything you eat at A Reverie is a culinary masterpiece prepared with a lot of love and dedication. This Valentines Day, Aakritee and Virendra Sinh, bring to you a very exclusive menu, curated and prepared just for this day. With exotic ingredients such as truffles, oysters, strawberries, passionfruit and so much more, it is truly something to look forward to at this beautiful fine-dining establishment. You can opt for the Aphrodisiac 4 course set menu and a love potion at the price of RS 3500 per head that includes all these fantastic ingredients or just order from the regular a-la-carte menu. There's live music as well.
Be sure to make reservations in advance for a very romantic Valentines Day at A Reverie. Their numbers are +91 8380095732 and 9823174927.
Black Sheep Bistro
Another absolutely romantic place to eat at this Valentines Day is the very classy Black Sheep Bistro or BSB as it is more affectionately known. At this fine dining restaurant, everything from the food to the ambience is top quality.  The menu constantly evolves so you get to experience something new every time you visit. Make sure to book your own table at the earliest as everyone comes from far and wide to sample the culinary delights on offer. Get in touch with them on 0832 222 2901 and book your table at the earliest.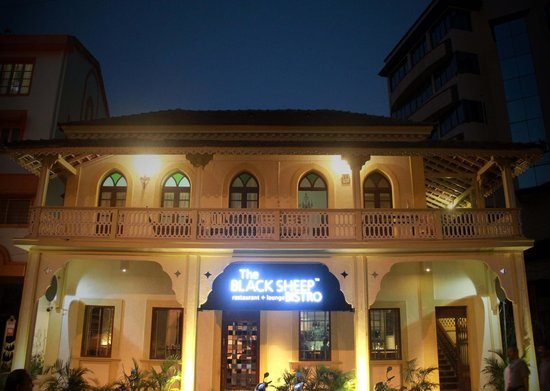 The Lazy Goose
Goa's newest restaurant sure is making waves since its opening just 2 or 3 months ago. It is Chef Rohan D'Souza's baby and he and his team have made sure that everyone is saying good things about The Lazy Goose. Overlooking the backwaters and located to the side and under the Nerul bridge, the food at this restaurant is something out of this world. Even the reviews on their Facebook page are a delight to read. Visit them on Valentines Day and make a romantic night of it. For reservations, call on +91 77759 58419. Don't forget, making an advance reservation means you won't miss out on some scrumptious food.
ItsGoa/FEB/KDGP