Tourism and fishing are the mainstays of Goa's beautiful beaches and bays, India's smallest state.

Slimy algae known as seaweed has been silently thriving in the low tide pools throughout the 100-kilometer-long shoreline. We combined a few content pieces from various sources to create this blog post on seaweed farming.
What is Seaweed?
Seaweed has garnered global recognition in recent years as a wonder plant of the sea, with claims that it is a renewable source of food, energy, chemicals, and medicines, as well as having the power to counteract climate change.

Seaweed is the general name for a variety of marine plants and algae that can be found in the ocean, rivers, lakes, and other bodies of water.

Some seaweed is minuscule, while others, such as the gigantic kelp seen in abundance in "forests," are massive. The majority are medium-sized and come in a variety of colors including red, green, brown, and black.

Seaweed has long been used as a source of food, medicine, and fertilizer for terrestrial agriculture in many maritime countries.

With an alternative source of income for overfished coastal communities, where farmland is degraded and increasingly scarce, the coastal population can show that perhaps it is time to take farming to the sea.
Harvested by coastal populations for centuries, seaweeds have played an important role in the economy of a number of countries by generating revenue and employment.

Asia stands as the world leader in seaweed cultivation and more than 80 per cent is contributed by China, Korea and Japan. In China alone, seaweed is a 16 billion dollar-a-year industry.

"India has not taken up seaweed cultivation on a large scale. We have plenty of seaweed resource but it is just not being used.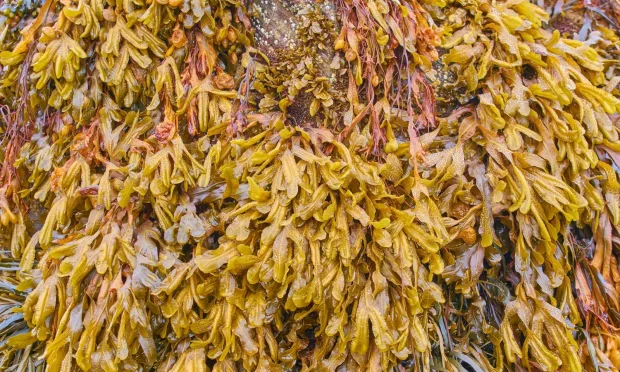 Seaweed Farming in Goa
Though Goa is bestowed with a coastline of over 105 kilometres, embracing over 100 types of seaweed species, due to the lack of awareness neither the government nor people have exploited seaweed resources commercially," said former NIO scientist Dr.A G Untawale, who has done an extensive research on the commercialization of seaweeds.
Seaweed has many industrial uses and a high export value, as it is a good source of food, feed and medicine. Brown algae yield a gummy substance called 'algin' and red algae produce jelly-like substances called agar and carrageenan.

These substances are used as additives in food products and drugs to give them a smooth texture and help them retain moisture. They are also used in lipsticks, soaps, film, paint, varnish and buttons.
Pointing out at the seaweed resource to be a gold mine, Dr Untawale said that a multi-billion dollar seaweed industry could be exploited by the government or individuals, who are looking to grow seaweed as a business for its multi-functional properties in the form of food, agriculture, health and personal care, cosmetics and chemicals.
Japanese cultivation of Porphyra yields about 4,00,000 wet tonne/year, representing an annual income of $1,500 million. In the Republic of Korea, the cultivation produces 2,70,000 wet tonnes, while China produces 2,10,000 wet tonnes. These countries do the harvesting using nets.
The new market research report by the international Seaweed Industry Association (SIA) provides groundbreaking analysis and insights to help companies drive sales of foods made from seaweed. According to the report, seaweed producers, packaged food manufacturers and restaurants can drive growth by introducing prepared foods made with seaweed.
On the basis of extensive research carried out on marine flora and fauna, former NIO scientist Dr. Vinod Dhargalkar made a host of observations in his article that makes a strong case for seaweed consumption. Seaweed contains beneficial proteins, antioxidants, minerals, vitamins, trace elements, dietary fibre and polyunsaturated fatty acids.
According to his findings, the green seaweeds Enteromorpha, Ulva, Caulerpa and Codium are utilised exclusively as a source of food. These are often eaten as fresh salads or cooked as vegetables along with rice in Japan and China. Adding seaweed to foods can help reduce cardiovascular diseases, the number one cause of premature deaths worldwide.
Despite being aware about seaweed being the cheapest source of food supplement for fish, farm animals and natural growth of plants, departments like animal husbandry, fisheries and agriculture have never tried to make an attempt to utilise such resources.
The NIO research that led to a discovery of organic seaweed liquid fertilizer, extracted out of seaweed that contains a sufficient amount of oceanic bio-active matter important for plant growth, could prove to be a great boon to push organic farming in the state. The agriculture department has said that it is ready to adopt such technology if it is recommended by ICAR, an agriculture research organization.
Foraged from the rock cliffs and shallow waters, seaweed is also the best source for producing green fuel. India today makes most of its biofuel from food crops such as corn and sugarcane. Lack of land and water resources also has dimmed the prospects for green fuel.
The Pilot Seaweed Farming Project
Goa's coastline boasts an abundance of seaweed, according to Maria Fonseca, professor of botany at St Joseph Vaz College in Cortalim, Goa, and author of The Manual of Algae of Anjuna. The majority of seaweed, particularly sargassum, is located near the rocky shore of Anjuna in Goa.
Sargassum contains a lot of alginate, which is an extract used to thicken or cream-ify water-based goods. "In the food, pharmaceutical, dairy, confectionery, paper, and textiles sectors, the gels produced from red seaweed (carrageenan) and brown seaweed (agar and alginate) are frequently utilized as gelling, stabilizing, and thickening agents," Fonseca noted.

She went on to say that there hasn't been a lot of research done on Goa's seaweed. "We know that seaweed grows all year," Fonseca explained. "In Goa, different seasons favor different types of seaweed.

Green seaweed flourishes during the monsoon season. The months of October to December are great for red seaweed Porphyra (also known as nori in Japan) and Gelidium, and November to April offers a diverse range of seaweed species."
"There are over 145 known kinds of seaweed in Goa," says Gabriella D'Cruz, a young marine conservationist who has spent the last ten years studying coral reef ecosystems, seaweed forests, and cetaceans.

She is currently working to establish Goa's first seaweed farming pilot project. "In the sense that they are almost like cities of the sea where they aggregate a lot of species," she continued, "seaweed forests are very comparable to coral reefs."

"They're feeding grounds, breeding grounds, and nutrient cycling hotspots." Working on restoring or assisting in the maintenance of these marine powerhouses is critical for the oceans' overall health. Algae that are climate-smart are seaweeds. They absorb a lot of carbon, minimize acidification in the water, and act as nutrient scrubbers."

Sargassum, a brown seaweed genus, growing on a beach. Wikimedia Commons/Jonathan Wilkins/Wikimedia Commons/Wikimedia Commons/Wikimedia Commons/ (Creative Commons BY-SA 3.0)
Seaweed demand has been gradually increasing around the world. The commercial seaweed market is estimated to reach $95 billion by 2027, according to Global Market Insights.
Seaweeds are rich in minerals, vitamins, trace elements, and bioactive chemicals, according to a report by the Central Marine Fisheries Research Institute, and have been dubbed the medical food of the twenty-first century. Gourmet meals like kelp burgers, linguini, kelp ice cream, and kelp cocktails are made from seaweed.

Kelp was traditionally used as animal feed in Scotland. There are now studies that demonstrate kelp in animal feed is both nutritional and decreases methane gas emissions. Seaweed has been used by the Japanese for over 1,500 years. In Tamil Nadu, India, extracting the gel-like substance to make halwa is a ritual.
Commercial seaweed is produced in 42 countries across the world. North Korea, South Korea, Japan, the Philippines, Chile, Norway, Indonesia, the United States, and India are the top producers of seaweed. The top 10 countries account for nearly all of the world's commercial seaweed production.

Food products for human consumption currently generate $5 billion. "If you've been following the seaweed sector for the past five years, you'll notice a tremendous surge in beauty-related seaweed goods and foods, especially as veganism and vegetarianism become more popular in Europe and the United States," D'Cruz said. "Because they are valuable, it makes sense for firms to invest in this area."
Seaweed is primarily used as a raw material in the manufacture of agar, alginate, and liquid seaweed fertiliser in India. Along the beaches of Tamil Nadu, Karnataka, Andhra Pradesh, and Gujarat, there are agar, algin, and liquid seaweed fertiliser factories.

Sreekanth GB, a scientist at the ICAR-Central Coastal Agriculture Research Institute, points out that India's mariculture industry (which includes fish and seaweed) is in its early stages and has recently attracted attention due to a stagnation in the wild sector's catch.
"As a result, the marine farming sector in our country is a newly researched area," Sreekanth explained. "Fish farming, for example, grew in popularity after the 1990s, and mariculture caged farming in open waters grew in popularity in 2015."
Seaweed Farming Benefits To Goa
According to Gabriella D'Cruz, the fishing sector is critical to Goa's culture, ecosystem, and tourism. It's past time to reconsider how people use oceans and create more regenerative enterprises. She claims that sustainable seaweed farming is climate-smart, mirrors natural processes, and is regenerative.
Seaweed, unlike fish, is viewed differently in Goa. "Most people are unaware of seaweed's commercial and ecological importance. Green seaweed, such as Ulva, is great for chutneys, but in Goa, seaweed is utilised as fertiliser around coconut palms and in gardens, so local fishermen haul seaweed along with their fish catch and discard it, oblivious to its many benefits.

"Seaweed is a low carbon food source, meaning it doesn't require arable land, irrigation, or nutrients like fertilizers," D'Cruz continues, "and it offers a sustainable source of income for coastal communities experiencing the challenges of overfishing and rising sea levels."
"Seaweed cultivation can be a really good investment for a country in such a scenario," she said. "Aside from its numerous commercial applications, seaweed cultivation is a simple supplement to fishing." Seaweed forests can be found all over the world. You can take advantage of your local seaweed forests to produce food supplies."

"Furthermore, integrating seaweed farms into other fishing sectors strengthens the economic unity by providing a backup plan," she continued. "Conserving Goa's fish spawning areas involves protecting our seaweed forests."
D'Cruz wants to launch Goa's first prototype seaweed farm in November, starting with five rafts at an undisclosed coastal location.

"Through seaweed farming, processing, conservation, and aquaculture, the project in sustainable seaweed farming has the potential to mitigate the loss of ocean biodiversity, offer bio remedial solutions for cleaning parts of the ocean, and provide an alternative source of income to local fishing communities," she said. "The project is still experimental."
She advocates for including seaweed as a byproduct of existing aquaculture in an integrated farm, such as a combination of seaweed and mussels/prawns/fish, which is sustainable and provides a backup plan for coastal towns. "If you develop seaweed forests biodiverse and multispecies, they will support more fish life."

It is beneficial to both the fish population and the fishing industry. Also, if you live near the water, have a boat, and a market to sell to, it's not a costly investment."

"Cash is currently put in place, but there are no guidelines or policies in place in Goa to structure how this funding is used," D'Cruz said, adding that she expects to be a part of the policy structure soon.

She owns The Good Ocean, a small seaweed consulting firm that advises other businesses and communities interested in growing seaweed. She wants to use seaweed to make a few regenerative items.
Seaweed Cultivation in Goa
According to a publication by the Central Marine Fisheries Research Institute on trends and possibilities of seaweed farming in India, despite having a coastline of more than 17,000 km and 821 species of seaweed, seaweed cultivation has not been popular in India in the past.
Seaweed agriculture has just lately resurfaced in a few coastal areas of Tamil Nadu. Culture techniques for some of India's commercially important seaweed species have been developed by the Central Salt Marine Chemical Research Institute and the Central Marine Fisheries Research Institute.

As a result of this initiative, a number of self-help groups, village youth groups, and non-governmental organizations (NGOs) have stepped forward to promote seaweed growing as a viable alternative source of income for the coastal poor.
Seaweed farming has a bright future, given the high demand for these resources on the international market, as well as the availability of enough talent and interest in the country. It may be developed as a viable cottage or cooperative sector industry.
Seaweed cultivation is only getting started in India, according to Sreekanth of ICAR Goa. "To expand as a significant marine farming sector, a lot of awareness programmes and capacity building are required," Sreekanth added. "Also, because seaweed is not directly consumed in our country, the sector needs to be connected." Pilot-scale programmes in Tamil Nadu and Gujarat have shown to be successful. In order to locate viable farming locations in the state, extensive surveys must be conducted."

Seaweed farming is a labor-intensive process that produces employment at all levels, particularly for women, according to a recent government proposal titled "Seaweed cultivation and value chain development in India." Drying, cleaning, sorting, and harvesting workers might earn Rs. 500 to Rs. 700 per day. According to the proposal, efforts will be made to priorities the establishment and promotion of FFPOs, cooperative support, and women self-help organizations in the country's potential coastal areas.

To this purpose, the Indian government has set aside Rs. 637 crore from the Rs. 20,050-crore Pradhan Mantri Matsya Sampada Yojana for the development of nutrition-rich marine plants, which would be spent mostly as subsidy support over the next five years.
"We have still to do surveys and studies on the feasibility of the ecology, economics, and socio-economic ramifications of seaweed farming in Goa," Sreekanth added.

"For this, substantial conversations between stakeholders and fishermen communities must be begun," Sreekanth added. "In addition, top institutes focusing on seaweed cultivation, such as the ICAR-Central Marine Fisheries Research Institute, should be contacted to identify ideal places and locations for seaweed farming in the state."
"Seaweed farming has potential if it is done in a participatory manner after gaining the trust of local populations," Sreekanth added. "In addition, manufacturers must be connected to optimal market circumstances and industries in order to reap the benefits that they deserve."

"Seaweed farming happens in the inshore portions of the ocean, a space normally co-managed by artisanal fishermen," D'Cruz concurred. The most important thing, in my opinion, is to recognise that, while the oceans are the commons, we must respect fishing communities' rights of access and collaborate with them to integrate seaweed farming into their existing fisheries activities."
"Unfortunately, seaweed farming in India, like most mariculture, including aquaculture, is controlled by people who own land or private players with funding," said Aaron Lobo, an interdisciplinary marine conservation scientist working at the intersection of conservation, livelihoods, and sustainable coastal development.

Small fishing villages, according to Aaron Lobo, "tend to lose access to traditional fishing grounds in such a scenario." "Because most fishing takes place within 12 nautical miles of the shore, it's critical that the coastal commons stay in the hands of fishing communities." Equity should be maintained across the value chain, with a focus on growing indigenous seaweed species and local coastal populations."

The content is taken from a piece published on Mongabay & Navhind Times.