Sethu is a charitable trust based in Goa, India, which helps children get the best out of their lives as they grow and develop. Founded in 2005, their mission is to be a bridge between children and their families, their schools and their communities to foster their complete development through assessments, therapy, educational initiatives, training, awareness, and capacity building.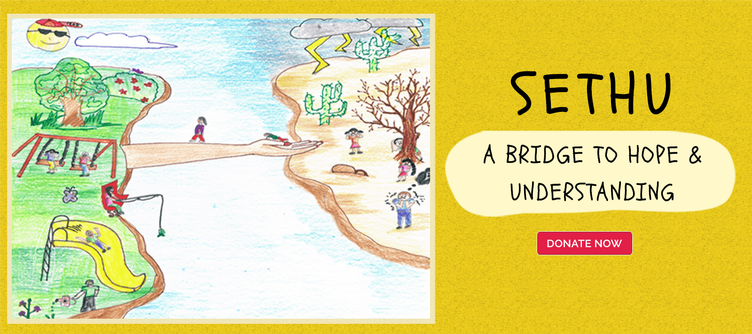 Sethu's History
The Sethu Trust was formed on 1st June 2005 to provide services for children with developmental, behavioral, emotional and educational challenges. It was and is a commitment to the welfare of the young. The founders and trustees believe that there is a real need for a service-based organization for children and their education, development, and behavior.
Their conviction is that everyone who cares for children can work together sharing skills and knowledge. In fact, this is the bridge that the center embodies. It is because children have families, teachers, communities and other supports that Sethu can do its work. When everyone's diverse competencies and resources are pooled, it can maximize their power to make this world more responsive to all children.
The Journey from Inception to Today
From its inception in June 2005, Sethu has come a long way. When they first started, there were just 3 founder trustees and 3 professional staff. The center was located in Miramar in a modest 2 bedroom apartment. A large number of referrals along with numerous requests for training programmes led to more staff being hired on. The center then shifted to a slightly bigger 3 bedroom apartment in Altinho, Panaji in 2008. Sethu's work continued to grow with community outreach programs such as English is Fun in a Government Primary school and DOST for young people with autism.
As the years have gone by, there have been more requests for internships. Group therapy is another major requirement in order to deal with the numerous children that have been diagnosed with autism at the center. This led to a second shift in premises in 2014. This time the change was fortuitous as Sethu is now lodged in a rented bungalow surrounded by a garden in the village of Socorro – serene and green. It's also easily accessible with the NH-17 being within walking distance.
10 years have passed and Sethu's team has expanded to 5 trustees and 10-15 professionals. The seed of commitment to children has grown into a robust tree of service, as the center continues to reach up and branch out into research and training.
Here's a word from Dr. Nandita De Souza, Sethu's Director and a Developmental and Behavioral Pediatrician. Click on the video link.
You can learn more about the staff here.
I actually got a quote from Andre Velho who works at Sethu as an Autism Interventionist and Behaviour Therapist just to know what it's like to be a part of something so lovely.  
He says, " I have the privilege of being part of a fantastic multidisciplinary team at Sethu, a group of professionals whose hearts beat for children. Working for a Child Development Center that strives to provide the best possible service to every family that walks through its doors is an enriching, adventure-filled, heartwarming experience every single day. Sethu is a place where all children are treated with dignity and respect and strives to look after the best interests of children at all times."
Sethu's Top 10 Achievements
Over 6500 children, youth, and families assessed and treated at Sethu since 2009.
Developed a computerized clinical database with records of all children that are helped at the center.
Conducted over 300 training programs for parents, teachers, doctors, nurses, Anganwadi workers, both in and outside Goa.
Established as a referral center for diagnostic services for intervention in autism.
Implementing the Asha Parent-Toddler program for early intervention in autism twice a year since 2012.
Propagated inclusive education at preschool level through training, on-site support, and technical consultation.
Trained students and interns from various fields such as psychology, social work, counseling and special education.
Served on various Government committees including Sarva Shiksha Abhiyan, Child Welfare Committee, and Juvenile Justice Board, Goa.
Conducted research into child literacy in Goa, together with the Bookworm Trust.
Created the Child Protection Policy to ensure safe management of children who visit the Sethu Centre.
More information to guide you straight to Sethu
You can call them up at 0832 651 3749 or visit them at the below address:
Sethu Centre for Child Development & Family Guidance, Goa
House No. 640/2, Bhukti Vaddo, VP Sucorro
Porvorim, Bardez – Goa
403501 INDIA
The center is open from Tuesdays to Saturdays between 9 am and 5 pm. They are closed on Sundays, Mondays and all public holidays.
If you would like to donate to them, here's the link to the donation page.
Source – http://www.sethu.in/index.cfm