For as long as I can remember, its been a dream to visit Singapore – Gorgeous Lion City located in South East Asia. This finally happened two years ago, in June 2015 and the excitement started building up at least 3 months prior. Not to forget that it was going to be a 3 week long trip which made it all the more interesting.
So to give everyone an idea of what was in store for this trip, first, let's get to know a little bit about Singapore.
It lies one degree (137 km) north of the equator, just south of the Malay Peninsula across the Straits of Johor, with Indonesia's Riau Islands to the south. Singapore's territory consists of one main island along with 62 other islets. Since independence, extensive land reclamation has increased its total size by 23% (130 km2) and its greening policy has covered the densely populated island with tropical flora, parks and gardens.
In fact, looking at the industrial marvel that is Singapore – Gorgeous Lion City today, it's hard to believe that once upon a time, it was complete marshland for many years. The British built it up partly and once it was liberated, the local government headed by one man, Lee Kuan Yew, the city's first prime minister, turned it into the wonder that is seen today.
Experiences in Singapore
So we travelled to Singapore from the tiny state of  Goa (which is quite like Singapore in terms of weather and proximity to the sea). Landed at the famous Changi Airport, which is quite like a mini city in itself. Drove to the famous location of Robertson Quay (next door was the very famous area of Clarke Quay) where we were to stay, with family, for the next 3 weeks.
The first few days were spent wandering around Orchard Road (Singapore's most famous shopping street that runs for 2.2 km and has malls on either side of the street filled with all the high end brands). Of course, this writer couldn't afford most of them and had to be content with just window shopping for the most part. Saw H&M and Mango, however, and a love affair began, especially since the Great Singapore Sale was on and everything was at discounted prices. Otherwise it costs an arm, a leg and sometimes a kidney to shop in Singapore. of course, there is still street shopping for the less brand conscious clientele at Bugis Street.
I should mention that in 2015, the Great Singapore Sale coincided with leading up to Singapore's 50 Years of Independence celebrations in August which was a grand affair by itself. Every evening, we were treated to practices for the said celebrations in the form of the armed forces (the Army, Navy and Air Force) doing aerial shows and fireworks in front of the famed Marina Bay Sands Hotel & Casino.
Happened to catch these one evening, when a friend took me up to the highest bar in the city, 1-Altitude which houses and showcases the world's highest alfresco bar – 1-Altitude Gallery and Bar which offers stunning 360-degree views of the city and some awesome cocktails like the famous Singapore Sling(yummmmy), great nightlife vibes and music and spectacular sunsets. We were probably there for 2 hours after which our stomachs got the better of us. Set off for some authentic Japanese cuisine(which I absolutely adore) up on Club Street which is full of trendy restaurants and hip bars where the younger crowd gathers to chill out.
Did have a quirky experience with my cousin and a friend at a very unusual bar. The name of this clandestine venue was known as The Library and entry was only by some obscure password that no one could ever guess. I need to slightly digress here and explain that this bar changed its theme in terms of it's façade every month. One month the entrance was designed to look like a laundry shop, the month that we visited, it was a tailor's store. People had to figure out how to get the password since there was no direct way of knowing it. Unfortunately, since my trip to Singapore, the place has now shut down. It was definitely a fun experience there and the drinks were pretty great too.
A Foodie's Paradise
Eating and drinking are a way of life in Singapore. There are cool restaurants and bars all over the city and everyone is spoiled for choice from the hawker centres where you get the most tasty local delicacies; these are open all day till about 10 in the night to the food courts in every mall which also serve all kinds of cuisine to the numerous upscale restaurants where one would go for a more expensive experience. Keong Saik Road, Chinatown, Robertson Quay, Clarke Quay, Boat Quay, Duxton Hill are just some of the areas that are full of restaurants where one can eat to their heart's content.
We ate a lot of Japanese cuisine in Singapore, tried some Fish in Chili Oil and Baby Lobsters at Old Chengdu in Chinatown; spicy as heck and had to be washed down with sweet coconut water, Singapore's famous Chili Crab with sweet buns and the Black Pepper Crab at Long Beach Restaurant though the Jumbo chain of restaurants are equally famous for these latter two. Din Tai Fung and Hai Di Lao, the latter is a hot-pot restaurant where you pick out whatever you want to eat from a buffet type line of dishes (meat, pork, seafood) and bring it back to your table to be cooked right there. You become the chef in this case. If you are a big foodie then Singapore is definitely one of THE places to visit. You won't be disappointed.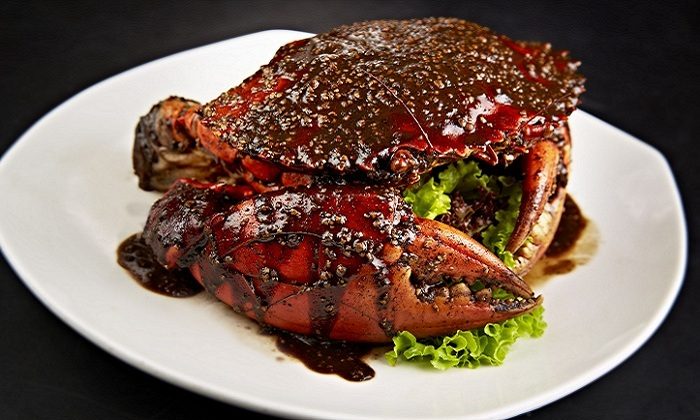 Fun In The Sun
Now we come to the last part of an amazing experience in Singapore. Sentosa, Singapore's world famous amusement and recreation island that houses a variety of amusement parks, hotels, restaurants and rides, not to forget a scaled down version of Universal Studios. Went there twice or thrice during the holiday and while it was fun, didn't have enough guts, honestly speaking, to try all the rides. Did like the beaches at Sentosa which are all extremely popular with locals and tourists alike. The giant statue of the legendary Merlion is also a sight to behold.
Gardens by The Bay is another amazing place in the city with its mysterious Supertrees and their sound and light show that runs every evening. Thoroughly enjoyed this spectacular show which runs twice for approx. 10 minutes every evening at regular intervals. It really is something to see and highly recommended. The Cloud Dome and The Flower Dome are also something marvelous to look at. We couldn't visit The Cloud Dome but did see The Flower Dome which was just gorgeous with it's numerous varieties of flowers and plants, all in full bloom. There was a theme running for the entire month which was Nursery Rhymes and Fairytales. Visit their website to keep up to date on everything that's happening there.
Gardens by The Bay website – http://www.gardensbythebay.com.sg/en.html
We visited the East Coast Park which is a gorgeous 15 km beach park where you can go camping, barbequing, cycling, roller-blading just to name a few. The place wasn't lacking in restaurants to eat at as well. We went for a stroll along the beach side and were treated to the most amazing sea breeze. It was just a very pleasant evening and a very pretty place to visit.
Jurong Bird Park – Where Colour Lives
Jurong Bird Park was a really interesting place to visit. We had to leave early in the morning as this place is about an hour's trip by train and then another 20 minutes or so by bus to the bird park. We saw so many varieties of birds like flamingoes, hawks, eagles, vultures, parrots, penguins as well as some exotic types like Violaceous Euphonia, Red-crested Cardinal and Yellow-hooded Blackbird which I personally had never heard of before. We even got to feed the lorikeets which my cousin's youngest daughter got an absolute kick out of. My aunt had one perch on her head and we have a very funny picture of that too.
Jurong Bird Park – http://www.birdpark.com.sg
All in all, Singapore was an insanely gorgeous place and I can't wait to go back there and see the other attractions like the Singapore Zoo which were missed out on this trip.
For more information on all things Singapore, you can visit the official VisitSingapore website – www.visitsingapore.com/en.html