Here's something fun for you skateboarding enthusiasts to do. Did anyone know that Goa has picked up skateboarding as an activity and that there's a skating park being built at Youth Hostel in Miramar? Sounds too good to be true, right? Well, it is. True, that is and sounds like a lot of fun.
Skateboarding all over the place
So, even with all the research, it's not very clear as to when skateboarding became a thing in Goa. Seems like people started taking it up sometime last year in the summer. It turns out Goa has 3 places that keep popping up on Internet searches. These are SK8 Goa in Assagao which is not operating at the moment if the information is correct, ALIS Bowl in Morjim and Cirrus which is in Anjuna.
It looks like Panjim is all set to get their very own skate park too with its first concrete transition. In fact, Thanks to Youth Hostel Miramar and Vans India, the skateboarding community has started a small (but the most beautiful) build by the seaside. The first section with a quarter leading into a bend is already done.
Cirrus in Anjuna keeps having skateboarding meets so if you're looking for some serious time with your skateboard and fellow enthusiasts, check out the Skateboarding in Goa page for more details.
The history of skateboarding
1950's – The skateboard is created by fixing rollerskates to a wooden board. Since this was a time when surfing was a big deal, skating like this became a way to 'sidewalk surf' when there were no big waves.
1960's – Big surfboard companies start making better quality skateboards with clay wheels and trucks specifically meant for skating. The first skating contest happens at Hermosa Beach in California in 1963. The following year, 1964, ABC Wide World of Sports broadcasts the Skateboarding Championships.
1970's – This decade sees the invention of urethane wheels which makes the ride completely bump free. Banks and ditches become skateable, as these new wheels can grip the concrete.  Fiberglass boards made by surf shops out of fin material become popular with the surf crowd. Companies experiment making skateboard decks, using everything from wood to aluminium. In the later years of the decade, The California drought forces homeowners to drain their pools. Though skaters have been riding swimming pools since the introduction of urethane wheels the previous year, they now view the empty pools as territory to be conquered. New tricks are invented daily—aerials, inverts, and the ollie. Many concrete parks are also being built, and the first professional skaters begin to receive notice. However, many skate parks are forced to close because of low attendance and high insurance rates.
1980's –  Street skating turns everything into free skate parks. Handrails and even walls are used by skating enthusiasts. Skater-owned companies become more and more common.
1990's – Skateboarding takes a giant step into the mainstream with the 1995 ESPN's Extreme Games, becoming more of a spectator sport. By the late 90s, skating appears in commercials for everything from soft drinks to phone companies. Fashion trends begin to reflect the influence of the skating crowd.
2000's – Skating can be enjoyed by children as young as two, but the majority of skaters range from early teens to twenties. Many cities have built high-quality skate parks, and a number of camps and lessons are available to young people. Some families even enjoy skating as a family activity.
Skateboarding evolves in Goa
With a colourful history as far as the world was concerned, long-time British skater Nick Smith decided to take a chance on a country that was pretty much oblivious to the sport he had come to nurture. He created the first skating bowl in Goa and it has since become a mecca for skaters the world over. And the skateboarding community is still growing.
The SK8 Bowl, the birthplace of Indian skating was built somewhere in Assagao but shut down as there was an issue with the landlord.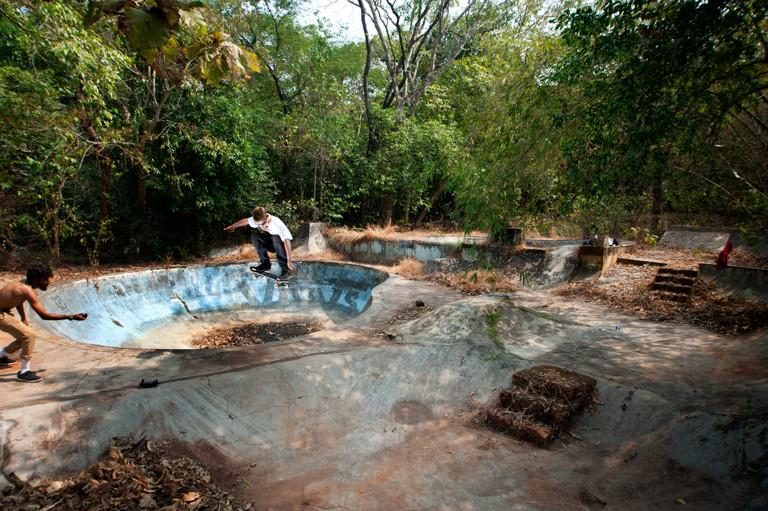 In 2012, the ALIS Bowl, Shiva Palace was built by a collaboration of Indian and International skaters.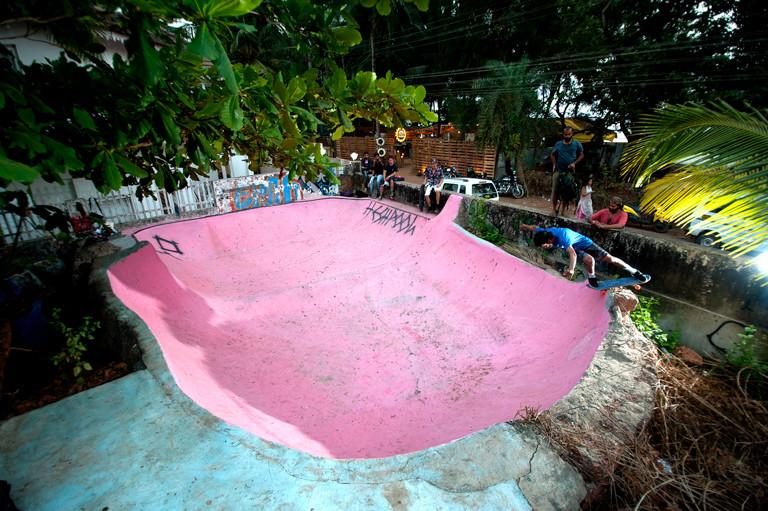 2014 saw the Cirrus Skatepark built though it's location is a major secret and only the completely skateboard crazy folks will know anything about it.
The years in between, saw skateboarding build up to great heights all over the country and even now it continues to grow. In the meantime, go check out Youth Hostel's skate park. It's a don't miss for you skateboarders in the state!
And if you want to know how to build a skateboard with ease, check out this link for the information.
Information credit – SkateboardingMagazine and The Evolution of Skate Culture in India
Image credits – Gautham Nalasingu
ItsGoa/JAN/KDGP