The rains are like a breath of fresh air. They bring us such a relieving experience between the fiery summers and the region of wintry gloom. Monsoons have arrived and the things that come to our mind are not only raincoats and umbrellas but more importantly food of this season. Simple yet appetizing food!
Here is a list of the top ten food items savoured in the state by locals as well as tourists…
---
1. Hot and yummy delicious soup.
Steamy sweet corn cream soup will make a real impression in your family. There's no chance of it going to waste because of how tasty it is. It is nutritious and can be made at home.
---
2. Corn on the cob
For your evening munchies, you will find many stalls all over Goa selling various street food but going to the beach and enjoying a hot fresh 'butta' or corn-on-the-cob will be totally worth it. The charred corn made right in front of you, with a generous amount of lime, salt and a bit of red chilli powder will make your day a lot more satisfying.
---
3. Masala Chai
On a cold and rainy day, one of the best and most craved for beverage after coffee is Hot Tea or Masala Tea (commonly known as Chai). No fruit juice or aerated drink can beat this during the heavy downpours.
---
4. Pakodas, Bhajias and Vada Pav
This is a vegetarian fast food dish native to the Indian state of Maharashtra. The dish is a simple creation involving a deep fried potato patty with some coriander and spices, served in a bread roll (pav) with condiments. Usually, people eat it with a dry, red, garlic-chilli chutney and onions. It is an affordable street food available in Goa and is offered in stalls and restaurants. Pairing this food item with hot tea is perfect on a cold or rainy day.
---
5. Patal/Mix Bhaji Puri
Hot and a bit spicy, Patal bhaji with puri or even bread is such a mouth watering dish. It is an all time favourite throughout the monsoon and many take delight in eating it. Cafe Bhonsle in Panjim is a favourite of most people, they visit the place especially on Sundays to have amazing breakfast there.
---
6. Paani Puri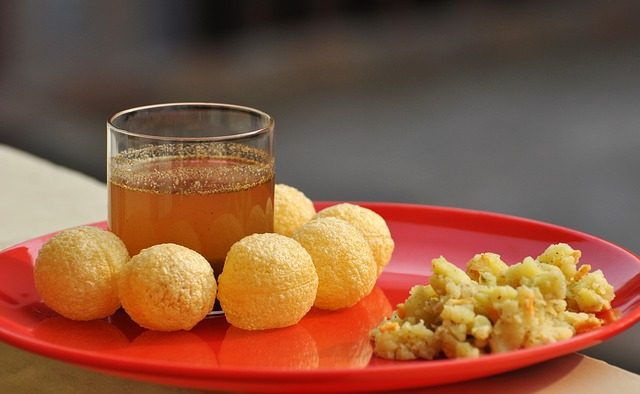 The 3 most popular types of Chaat during the monsoon is Sev Puri, Pani Puri and Behl Puri. You get the best chaat in Althinho near joggers park. It is safe, tasty and reasonable as well. There are many chaat stalls at the Miramar beach which sell tasty food items other than just chaat. Try it out and share your experiences!
---
7. Pav Bhaji
What else to chomp down during the cold weather? The ever famous Mumbai Pav Bhaji is available here in Goa at many places but you get the best at Navtara. You can go to any branch in Goa, be it in Panjim, Mapusa or Calangute in the North and Margao in the South of Goa.
---
8. Fish Thali
Goans enjoy a fish thali very often, yet crave for it in the monsoon more than usual. Due to the fishing ban during this season it seems difficult to purchase fish. Places like the Copperleaf Restaurant in Porvorim serve amazing fish 'thali'. Also a small restaurant known as Sanil's specializes in Fish Thali. People from all over Goa come there just for a plate of fresh goan fish curry, rice, pickle, bhaji(vegetable) and a crispy slice of fried fish that makes it the ultimate lunch meal during the monsoon.
---
9. Noodles
Be it instant or Hakka noodles, it is one of the most preferred foods of the season. It can be made quickly, not within two minutes of course!
---
10. Biryani
Biryani served with Raita, is arguably the best monsoon meal. Known to keep the stomach full and bring a smile to those eating it. Whether a kid or an adult, all age groups gorge on this lovely dish wholeheartedly.
---
Write to us about your favourite monsoon food memories in our comment box below or post a picture of your food and tag us @itsgoa_ on Instagram or Facebook.