Canada-based Goan, Mahesh Sardesai feels that Goa being one of the top tourism destinations in the country needs something more than the existing service of taxis in Goa to boost the state's tourism economy.
With that in mind, Sardessai started a petition – Chief Minister of Goa: Support Ola/Uber/Online Taxis in Goa. In less than 5 days the petition has been signed by 6,405 supporters.
"Tourism is the backbone of Goa's economy and tourists across the world and India are used to services like Ola and Uber, it's time to allow them to operate in Goa. Goan taxi drivers never use the taxi meters required by law and charge exorbitant rates for their services," Sardesai said in his petition uploaded on change.org.
Sardesai claims that local taxi services are expensive and some of the drivers are bossy and arrogant. He says these services will help increase employment and ease traffic congestion.
What is an Ola or Uber service?
Ola provides different types of cab services ranging from economic to luxury travel. You book a cab through a mobile app and pay by cash or even opt for cashless payment options with Ola money.
It is said an average of more than 150,000 bookings are done per day and has a command over 60 percent of the market share in India.
Ola started an auto rickshaw service on its mobile app in Bangalore and few other cities, for those who preferred traveling by rickshaws.
Uber Technologies Inc. is a transportation network company. Uber drivers use their own cars, although drivers can rent a car to drive with Uber as well.
Some of Goa's 7,000 odd tourist taxis and the drivers who man them, have often been accused of over-charging, intimidating and operating in an unregulated environment.
Several attempts by the state government to install and implement a fare-meter system have failed. Reports also exist of members of the taxi lobby having attacked tour coach buses ferrying foreign tourists, accusing tour operators of depriving them of business.
Some years back, a flare-up between a Russian travel operator and a local taxi owner resulted in the murder of the latter, sparking hostilities between locals and Russian tourists, who account for a large chunk of the half million foreign tourists who visit the state every year.
Ola taxi services were introduced in Goa in 2014, but were soon stopped by the state transport department following protests by local taxi operators.
Sardesai now wants Parrikar and elected representatives not to succumb to pressure from the taxi operator lobby this time round.
"We request that our elected representatives provide improved alternatives which encourages innovation and competition instead of our broken taxi system and not to give in to the voice of taxi thugs looting tourists and Goans," the petition states.
What do people think about taxis in Goa and the petition?
The petition has found support from denizens of Goa as well as NRIs, tourists and even from the student community in Goa.
"I am a student of BITS (Birla Institute of Technology and Science) Goa. We end up paying unreasonable prices even while travelling short distances. And because they have a monopoly we are left with no option. Competition will only benefit the common citizen," says Khyati Jain.
"Time to end the private taxi monopoly plaguing Goa! It's just ridiculous that the government is still putting up with this system in Goa and leaving people with no choice at all," says Delano Furtado, a Mumbai-based lawyer.
Owners of taxis in Goa aren't happy!
The Taxi Owners Association is up in arms about the petition and growing support it is receiving.
In a recent Facebook post, a committee member of the Taxi Association launched a scathing attack on Sardesai but expressed hope that Chief Minister Manohar Parrikar would not allow Ola and Uber to begin operations in Goa.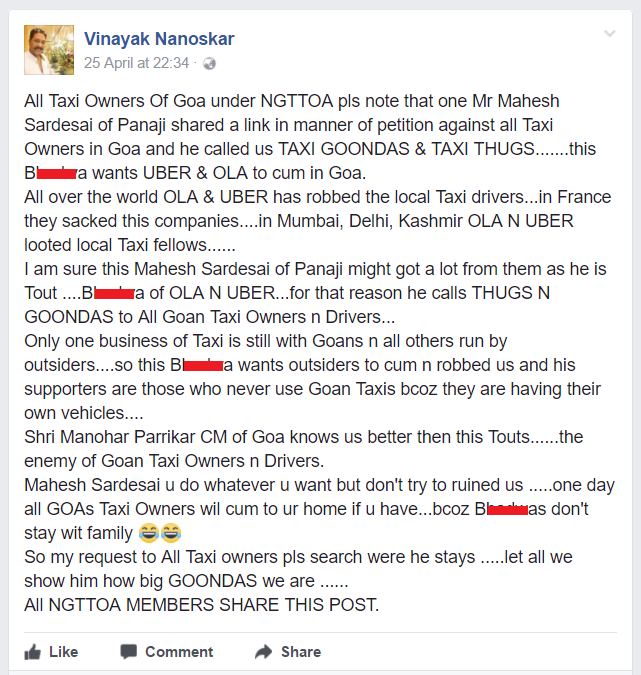 Anticipating a conflict due to the growing support for Sardesai's petition, Curchorem MLA and Chairman of the Goa Tourism Development Corporation Nilesh Cabral promised that the GTDC would launch its own cab aggregator service in the state in a bid to provide better experience with cabs to tourists arriving in the State.
Does the state, as one of the top tourism destinations in the country need something more than the existing service of taxis in Goa to boost the state's tourism economy?