I've always loved reading. As a kid, I was a voracious reader who would even read the torn out magazine page my bhelpuri was served in, once I was done eating.  Nowadays though, life and work at our tattoo studio, Inkfidel Tattoo, have kinda left me with very little leisure time for reading, but I still like to purchase books and novels in the hope that one day I will have the time. I do suspect I may have a mild case of Tsundoku though.
I grew up reading comics. Some of my favourites from when I was a kid (apart from Superman, Batman and Spider-Man) were Mandrake the Magician and The Phantom (thanks to my aunt and uncles who passed them onto me), and Tinkle (thanks to a school friend who introduced me to them in the 1st standard. They were my first Indian comics after coming to India from Bahrain). Through Tinkle, I discovered Amar Chitra Katha comics, while digging through hordes of books and magazines at the local raddi wallah (scrap shop). Trips to the raddi wallah became a habit of sorts with me, making regular visits to see what he had in stock. Finding a comic you haven't read in good condition was like striking gold!
Tin-Tin and Asterix & Obelix were childhood favourites as well, thanks to the fact that our school library had stock of the whole collection. In the span of a few years I had amassed a decent collection of comics, some of which were in such a bad state, my mum went ahead and had them all bound together with a nice hardcover.
Trying to narrow down my top 10 books of all time was not an easy task. But after much deep digging and deliberation, here's my list.
The Five Find-Outers – A series of mystery novels for kids by Enid Blyton (not to be confused with the Famous Five). This has to be my favourite series out of ALL the Enid Blyton books! I guess these books kindled a love for mystery and whodunnits at a very young age.
The Three Investigators – This also was a series of juvenile detective/mystery novels created by Robert Arthur, and one my favourites growing up. I think I could still read them even now – they are THAT good! These books instilled in me a sense of curiosity and furthered my love for mystery novels.
In the case of these two series, I have fond memories of making trips to Fort in South Bombay with my mum to hunt for these books amongst the various booksellers on the pavements. Good times!  
Calvin & Hobbes by Bill Watterson – Who doesn't love Calvin & Hobbes? I first came across the comic strip in the daily tabloid that I'd buy at the train station every day on my way home from school. It's offered me so many insights on life and shaped my world view in more ways than one. It's still a favourite and a constant at the tattoo studio.
Chicken Soup for the Soul by Jack Canfield & Mark Victor Hansen – A collection of inspirational true stories of ordinary everyday people, that just struck a chord with me and on more than one occasion brought a year to my eye.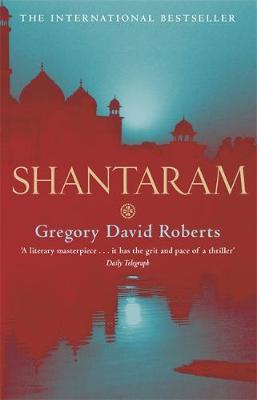 Shantaram by Gregory David Roberts – An epic story of adventures based on the author's real-life adventures. This book was a rage in India when it was published, probably because several of the events are said to have taken place in Bombay and Goa. I thoroughly enjoyed reading this one and many travellers that have visited our tattoo studio have come in carrying a copy of this book.  
Fun-but-also-completely-useless-at-the-same-time-fact:  I was travelling from Bombay to Goa by train when I was reading this book.
Can I Say: Living Large, Cheating Death and Drums, Drums, Drums by Travis Barker – An autobiography of Blink-182's drummer, one of my favourite drummers of all time, where he talks about his life thus far. This book made me realise how versatile Barker is as a drummer, and how open he is to different genres of music. Can't wait till he puts out another book because this dude is still crushing life and going at it hard!
This one is extra special because it was a Christmas present from my wife.
The Complete Maus by Art Spiegelman – It's a graphic novel that I read sometime last year and I was amazed at how the artwork and story were so simple yet so compelling. The tale is basically the author interviewing his father who is a Polish Jew and survivor of the Holocaust. That last panel though! Damn! A must read if you're into graphic novels.
The Watchmen by Alan Moore,  Dave Gibbons and John Higgins – After I watched the movie I was so blown away I knew I just had to, HAD TO read the graphic novel. It's up there as one of the best novels ever! I can't say much about this without giving anything away. The character Rorschach is such a badass! If you haven't read this one, make sure you do!
The Da Vinci Code by Dan Brown – Anything that ruffles the Catholic Church and other Christian groups' feathers is definitely going to get my attention! A favourite for its use of religious beliefs, Renaissance art and mystery.  Definitely got me questioning things a lot more than I already was.
Wall and Piece by Banksy – A collection of works by the world's most notorious, political, and prolific, yet unknown artist. I'm a huge Banksy fan, and although there are fan theories that suggest Banksy now operates as a collective, I'm glad he/she/they are maintaining their unknown status. Add this to your collection if you love Banksy's artwork.
Bonus Read
Batman: The Killing Joke by Alan Moore and Brian Bolland. One of the most famous Joker origin stories. Loved it for the artwork and storyline. One of my favourite quotes that's attributed to the Joker is from this graphic novel.
What do you think of Duncan's list? Are a couple of your favourites in there as well? Let us know in the comments below.
[author title="Duncan Viegas" image="https://itsgoa.com/wp-content/uploads/2019/04/Duncan-Profile.jpg"]Duncan is a tattoo artist and illustrator, and the co-founder of Inkfidel Tattoo Studio. He's an avid reader and audiophile who loves sneakers, skateboarding, and all things art. He lives in Goa with his wife Dionne, and their dog Loki.[/author]