Two college students were killed and two others were injured when the car in which they were travelling rammed into the compound gate of a house located at Assagao in the wee hours of Sunday.
The four youngsters, two boys and two girls aged between 19-21 years are/were students.
The Anjuna police said the four of them Ethan Viegas of Alto Porvorim; Lee Ann Rocha from Calangute; Lione Pereira, a resident of Ribandar and Zahid Shaikh of Mapusa- were returning from Candolim after attending a birthday party and were travelling towards Assagao around 3 am on Sunday in a car bearing registration number GA.05.B.3532.
Ethan was driving the car and Zahid was sitting next to him. Lee Ann and Lione were sitting in the back seat. When the car was travelling on the slope at Sautawado Assagao, Ethan lost control over the vehicle. The car rammed into the compound gate of a house situated by the side of the road.
Ethan died on the spot after the self-accident, while the other three sustained serious injuries and were rushed to the North Goa district hospital in an ambulance.
The impact of the car crash caused extensive damages to the gate and the front side of the vehicle.
Doctors at the district hospital declared Ethan 'brought dead'. They referred Zahid and Lee Ann, who had sustained grievous injuries, to the GMC Hospital at Bambolim.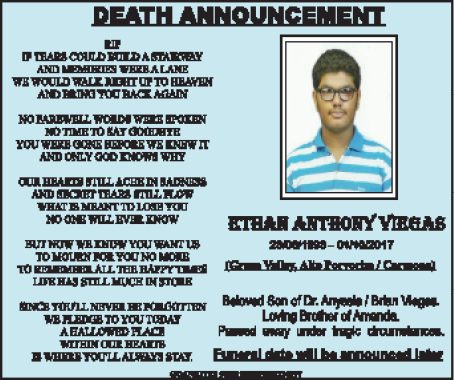 Lee Ann succumbed to her injuries while undergoing treatment at the GMC, while Zahid is under treatment and will be operated upon for leg injuries the police said.
Lione was discharged after being treated for injuries.
The body of Lee Ann Rocha was handed over to the family after postmortem was conducted on Sunday. While the body of Ethan will be handed over to the family after postmortem is done.
The college students were travelling after attending Lee Ann's birthday party. They were travelling on Assagao-Anjuna road towards Ethan's parked bike. But before they could reach the spot, they met with a self-accident, sources said.
The Mapusa fire services were informed of the accident and rushed to the site and extricated the trapped driver.
The Anjuna police conducted panchanama and registered a case of accident.
Source: The Navhind Times