Aaron Divino Rodrigues a.k.a "ADR" is a 22 year-old rising entrepreneur from the beautiful village of Quepem. He is the founder of ADR Pro System, a complete music store that deals in a wide range of musical instruments, DJ equipment, audio recording gear, professional audio/sound systems, stage lighting and case logic products. He is also the founder of ADR Music Studio. Apart from their retail store in Quepem, ADR Pro System also sells musical instruments online on Amazon India. They have clients from different parts of India. These include recording studios, music institutes, schools, colleges etc.
Born and brought up in Goa, Aaron did his schooling at Don Bosco School, Quepem. He had a very fun-filled childhood. He used to participate in various co-curricular activities like football, athletics, music etc. He was also the state record holder in High Jump in the year 2015. From a very young age, he aspired to become someone in life who can inspire the youth. After completing his schooling and higher secondary education, Aaron enrolled himself at the Government College in Quepem and successfully completed his Bachelor's degree in Commerce.
Aaron started singing and playing the keyboard for small parties when he was 15. The then Parish Priest of Quepem, Fr. Mario Vaz also encouraged him to play the keyboard for the Church. He gave Aaron a chance to play for Retreats, Night Vigils, Charismatic Meetings and for the Church Choir as well. This helped Aaron to gain a lot of confidence as a keyboardist. His aunt Maria D'Costa also encouraged him and gave him a Chance to feature on Rophe Tv to perform with her for Praise and Worship. Around that time, Aaron wanted to upgrade to a new keyboard and was introduced to a music store in Mumbai called Shalu Music. He discovered that the store gave very good discounts on musical instruments as compared to what music stores in Goa offered. Later, he started teaching music to young kids and even helped many of them to purchase their first musical instrument from Mumbai since it was cheaper there!
This kept Aaron thinking about venturing into the business of reselling of musical instruments. He had even heard that the proprietors of the Shalu Music in Mumbai had started off selling music equipment on the streets. This motivated him to start selling instruments from his home when he was 16, he says. Mohammed, the son of the owner of Shalu Music helped Aaron a lot when he just started his business of selling musical instruments in Goa.
After promoting his business through social media, he started getting many customers. Many Goan musicians also started ordering musical instruments from him. Aaron registered his company ADR Pro System in 2017 and opened his store in October 2017 in Quepem, just next to his house. Aaron couldn't afford to buy a shop or rent one. So, his parents gave him a room which he converted into a shop.
Aaron faced a lot of difficulties when ADR Pro System just started off. "The company was running into losses due to mismanagement. But it was a lesson for me and I always tried to learn from my mistakes and moved on!", he says. "I realised that business is not that easy. You need to work hard for it". When his store just started off, Aaron had an aim to see it as an authorized dealer for at least 35 brands in the coming years. But today, ADR Pro System is a dealer for more than 70+ music brands from different parts of the world!.
During the pandemic, everything was shut and Aaron had nothing much to do. So since he was into music, Aaron thought why not he start his own home recording studio where he can record his music and also provide services to other musicians and singers. And so, in April 2020, just after the lockdown was lifted, Aaron opened his music studio called ADR Music Studio. This time, the space which he used to set up his studio was a storeroom which is located upstairs, just above his music store. The studio started off very well. "During the lockdown, many people had started their own YouTube channels. So, I used to get a lot of clients who used to come to do recording of their songs at my studio", he says. The studio provides services like Vocal Recording, Mixing, Mastering, Video Shoots and Editing. They have recently started music distribution to online music streaming platforms. They also provide artist management services.
Aaron has worked with many popular Goan musicians like Benzer Fernandes, Elaine Pinto, Lawry Travasso, Jelson Pacheco and Frazer Antao to name a few. In the next 5 years, he aims to expand his business and take it to the next level. Maintaining a good relationship with his clients has always been his top priority, he says.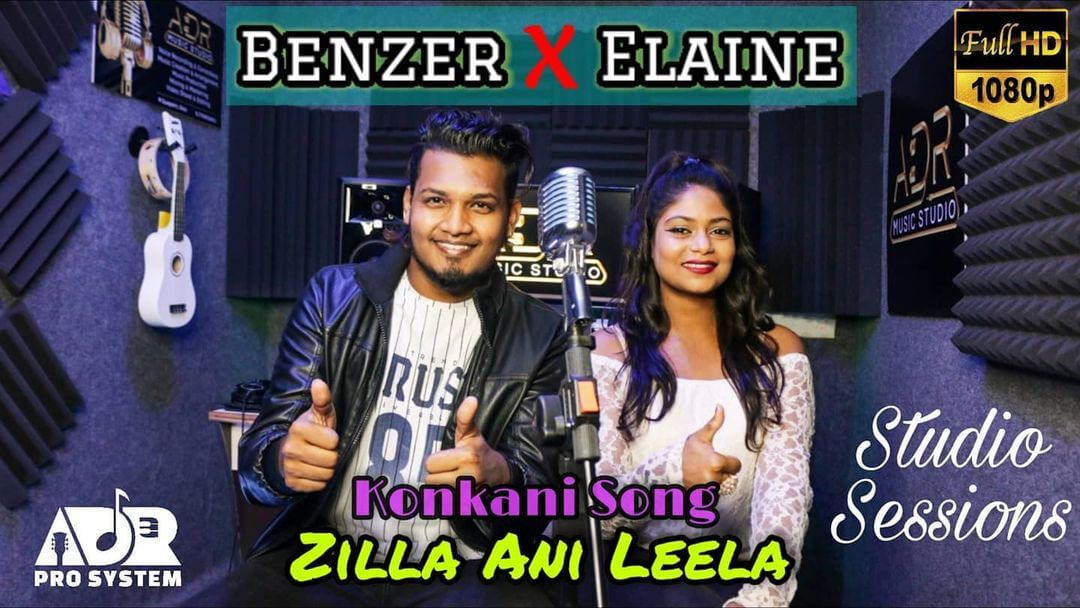 Aaron says that his parents Antonio Rodrigues and Nelsy Rodrigues have been his biggest source of support throughout his journey. "My mother Nelsy , who is also a singer, sings with me for choirs", he says. "She also sings for music videos which are uploaded on our YouTube Channel 'ADR MUSIC STUDIO'. She is my backbone", he adds.
When asked what message he would like to share with the readers of ItsGoa, he said that he wants to see the youth of Goa doing something out-of-the-box. "There are many youngsters who start their own businesses and I appreciate that", he says. "We should always try to do something different and strive to bring about a change which can impact our society and our life. Just stay focused and positive in whatever you do!".
Explore the wide range of musical instruments and sound equipment offered by ADR Pro System by visiting their store in Quepem or through their online store on Amazon India.
ADR Pro System, Quepem
Phone: +91-7040946866
Store Address: https://g.co/kgs/oCJbNx
Facebook: https://www.facebook.com/ADRPROSYSTEMGOA
Instagram: https://www.instagram.com/adrprosystemgoa
Click here to visit ADR Pro System's online store on Amazon India.