Goa. This little state in western India is known for its stunning beaches and hippy culture, but it also offers an amazing blend of Indian and Portuguese influences in its architecture, cuisine, and art. Think of it as India's pleasant place: Residents of Mumbai, Delhi, Bangalore, and other cities go to Goa for long weekends and leisurely vacations filled with sun, sand, and celebration. Although the region's attractive beaches appear to have been colonized by hundreds of international hippies and rave-goers these days, the region's European connection dates back centuries. The Portuguese defeated the Adil Shahi dynasty of Bijapur in 1510, launching a four-and-a-half-century reign. Goa was incorporated to India in 1961, 14 years after the rest of the country.
The result of this cultural mixture is one of India's most distinct enclaves, distinguished by a leisurely pace and laid-back attitude. "Susegaad," a Konkani term taken from Portuguese, refers to a sybaritic, satisfied way of life.
This article will tell you exactly what to do when you have 24 hours in Goa to roam, chill, soak in, and gorge on. 24 hours in Goa is obviously less, but it's not devoid of fun things to do. Whether 48 hours in Goa or 24 hours in Goa, this tiny state will leave you with something to yearn.
1) Landed in Goa? Visit the regal churches in Goa
Hire a car and driver to get your bearings in Goa Velha (Old Goa), the old walled Portuguese city known as the "Rome of the East." Today, Goan Catholics make up more than a third of the state's population, and their influence can be felt everywhere. The 17th-century Basilica of Bom Jesus, Asia's largest Roman Catholic church, with its distinctive single belfry (the other was struck down by lightning in 1776 and never rebuilt), and the Church of the Lady of the Mount, with expansive views of the Mandovi River, are all places where it all began in Old Goa.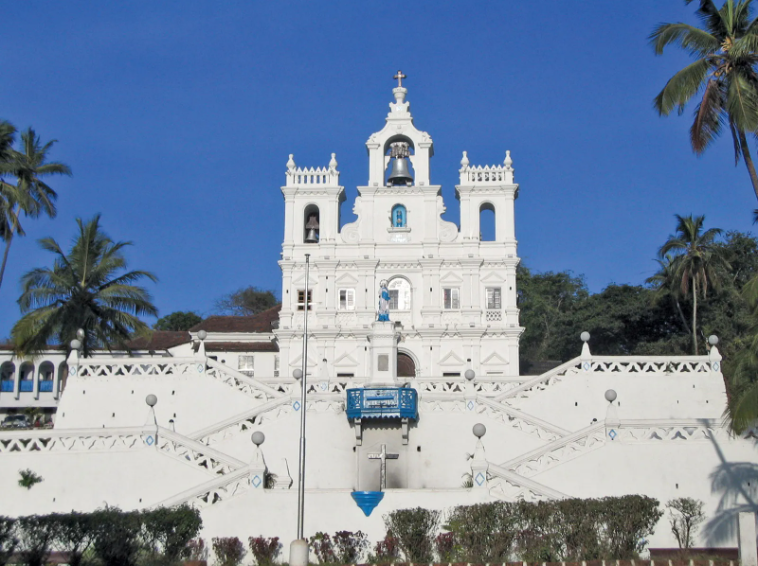 When a plague decimated Old Goa in the nineteenth century, the capital was relocated a few miles west to Noa Goa, or New Goa, which is now known as Panaji or Panjim. There is the whitewashed Immaculate Conception Church, which was built in 1600 and contains zigzag steps inspired by Bom Jesus do Monte in Braga, Portugal. Stroll around Fontainhas, the lively Latin Quarter, to view historic villas painted in marigold, turquoise, and emerald colours, as well as fountains and handcrafted Portuguese tiles. Instagram was designed for situations like this.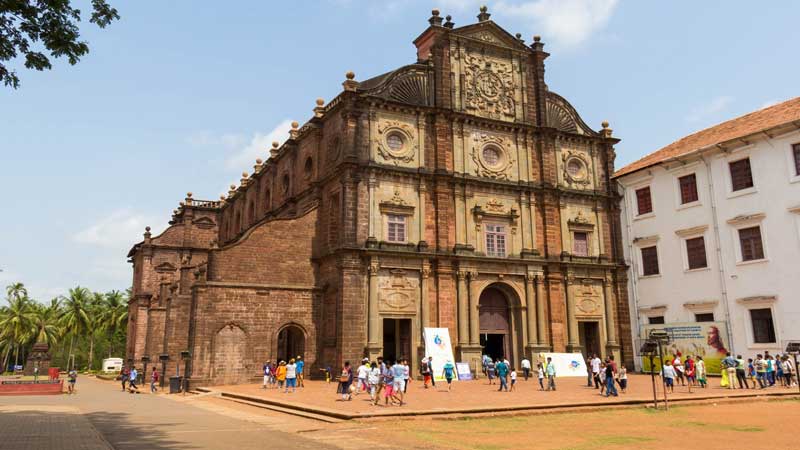 2) Free time till evening? Try on some fashion labels or fashion boutiques in Goa
A fantastic vacation, some enticing liquor, adventure activities, delicious food, explorations, and much more. But wait, these aren't the only wonderful things to emerge from the Sunshine State. Goa and its fashion are always worthy of note. And when it comes to shopping and labels in Goa, you can't go wrong with these Goan treasures. From studios to labels to brands, Goa is a shopper's (and a mindful shopper's) heaven!
3) Tea time in Goa? Take a break and try the best cafes in Goa
Goa has much more to offer than beaches in terms of sun, sand, sea, and seafood. No other place surpasses the attractiveness of Goa when it comes to a laid-back, relaxed, and gorgeous lifestyle, from white sand beaches to stunning cathedrals, and from structures that reflect Portuguese architecture to famed beach shacks.
And if there's one thing that completes a flawless Goan experience, it has to be the greatest cafes in Goa. It is a necessity for any foodie to pamper their taste buds to the food of heaven at these some of the top cafés in Goa, whether it be crispy creamy prawns or hot-piping nutella pancakes.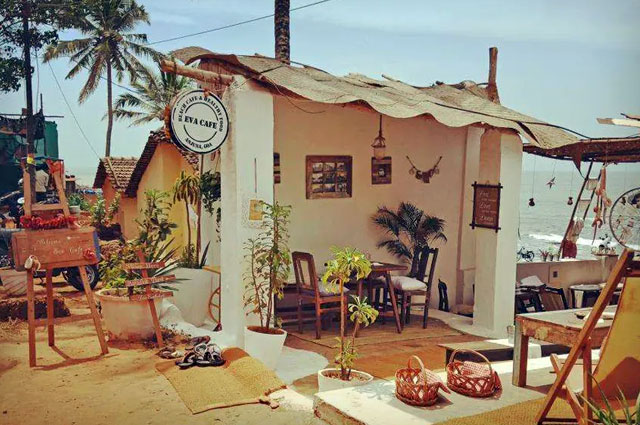 4) Wanna chill during evenings in Goa? Try the best pubs in Goa
Goa is known as the "Party Capital of India" for a reason. This small beach heaven is always brimming with cool party vibes that are difficult to find anywhere, whether it's breezy mornings, sunny afternoons, or twilight evenings. And it is at night when all of this revelry reaches its peak.
There are several venues, both old and new, that have made Goa's nightlife a vital element of the local culture. You may enjoy everything from beach parties and all-night nightlife to trance evenings and jazz events here.
So put on your party hat, leave your Goa hotels, and prepare to experience the state's midnight side.
5) Feeling fresh after waking up in Goa? These breakfast in Goa options can give you the right kick
Are we waking up in sunny Goa? Then you must be thinking about breakfast. So why not? Breakfast is a big deal in Goa. Of course, cafes, bakeries, restaurants, and shacks serve a gourmet breakfast spread that includes everything from sausages and bacon to wheatgrass shots, fluffy omelettes, and hearty sandwiches.
Looking for a filling breakfast in Goa to make up for the long night out? Don't look any further. Samosa with mushrooms. Bhaji patal. Bhaji Sukkhi Mirchi. Kapa. Chops of potatoes Cutlets. Sandwiches with roast beef Xacuti Kalvam There is plenty of variety on the Goan breakfast buffet for those who want it. Aside from the Goan options, there are cafés, restaurants, and bakeries that serve premium coffee and tea, as well as a variety of sandwiches, smoothie bowls, and other dishes.

Restaurants in Goa cater to every palate and choice, from traditional Goan cuisine, a wonderful blend influenced by Portuguese, hippies, and native cultures, to a wide range of Indian and foreign specialties, with some refreshing beverages and cocktails on the side. Culture Trip has compiled a list of the top ten breakfast and brunch locations, ranging from à la carte menus and magnificent buffets to restaurants in top-tier hotels and resorts and coastal cafés that are nothing short of delectable.
6) Ready for beaches in Goa? 11pm is beach hopping time
Goa is one of India's smallest states, but it has more beaches than any other coastal region on the subcontinent. Consider swaying palms, unbroken expanses of glittering yellow beach, and smooth azure sea to alleviate the anxieties of travelling in India. And, at only an hour and 15 minutes by plane from Mumbai, Goa is an easy addition to any vacation to South India.

Whatever you're searching for, there are seaside spots to visit in Goa that suit your personal travel style. Benaulim Beach is a popular family getaway. Agonda Beach is the go-to spot for aspiring surfers. Butterfly Beach is ideal for adventurous travelers looking to get off the main path.
7) Lunch time in Goa? The Goan Thali is the remedy
A simple serving of fish curry and rice has a comforting and homey feel about it. While every other restaurant in Goa, both posh and run-down, serves thali, not all of them do it properly. Nowadays, many of us would rather dine at a local eatout than go to a fine dining establishment to enjoy healthful and authentic local cuisine. The same is true for Goa.

There are numerous eateries in Goa that serve great thalis for lunch/dinner at extremely reasonable prices while not sacrificing taste. Believe it or not, every Goenkar's first love is 'sheet kodi nustea' (Fish Curry Rice). A lunch in Panjim is never complete without a delectable thali from one of the local restaurants. It offers everything you need to become a regular, from the crisp, hot rawa fried fish to the relaxing curried rice.

Though you may see these thalis served at restaurants for dinner, it is best to consume them during your lunch break. The substantial dishes on the platter will keep you satisfied for the next 2-3 hours.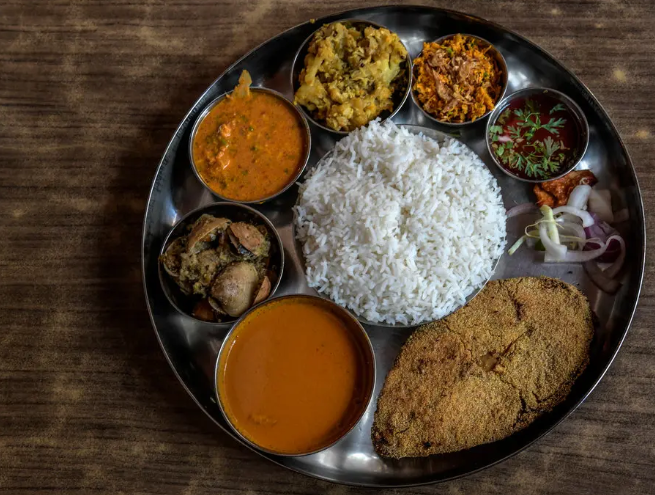 8) The sun's going down. Why not visit the best galleries in Goa? It's an artistic affair with Goa after all
Goa also has a thriving cultural scene, where local artists and creative minds collaborate to promote both international and Indian art. In a sense of passion and camaraderie, state-funded institutions and smaller, independent art galleries present artworks from the region. We've chosen eight of our favorite art galleries in Goa, from Calangute to Panaji, that exhibit both contemporary and traditional works of art.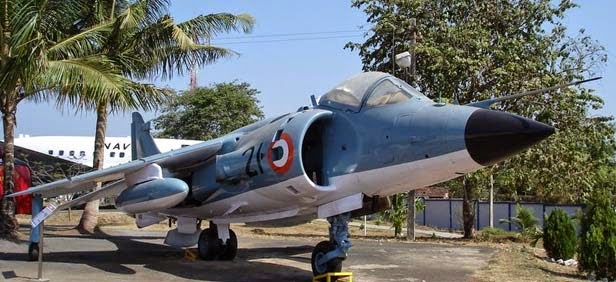 9) Feeling tired after a long day and wanna dine at home in Goa? The best takeaways in Goa are a click away
24 hours in Goa is incomplete without food. Goa is recognised for its rich cuisine culture as well as its laid-back atmosphere. Restaurants have taken notice, and you may now enjoy your favourite meals at home. So, what can you anticipate? Thanks to many tiny delivery and takeaway menus on offer, there are seafood delicacies, contemporary Goan cuisine, alcoholic scoops of ice cream, South Indian cuisines, and much more.
That completes the 24 hours in Goa. Yes we added 48 hours in Goa but a day in Goa is too little anyway. Enjoy.