The Fonsecas were major landowners on the island of Santo Estevao on the Mandovi River.
Angelo da Fonseca's father was one of the richest men in the Estado da India. He was also very close to the Portuguese colonial leaders. Angelo was born in 1902 – the seventh child in the family. In those days all well-to-do families sent their children to study outside of Goa. Angelo too went out of Goa – to Mumbai. He studied at Grant Medical College, Mumbai and was considered a prodigy in anatomical drawing. However, he was more fond of art, than medicine. So, he left to pursue his dreams. He was an independent thinker. Even though his elder brother was doing well at the Sir JJ School of Art in Mumbai, Angelo did not go there to study art. Instead, he chose to become a 'shishya' (student) of one of the best Indian artists of the 20th century. Finally, he decided to go to Shantiniketan in Kolkata and study art. His guru was Rabindranath Tagore. Nandalal Bose was his teacher. Under their training, he learnt to see things differently and developed his Indianised form of painting Christianity.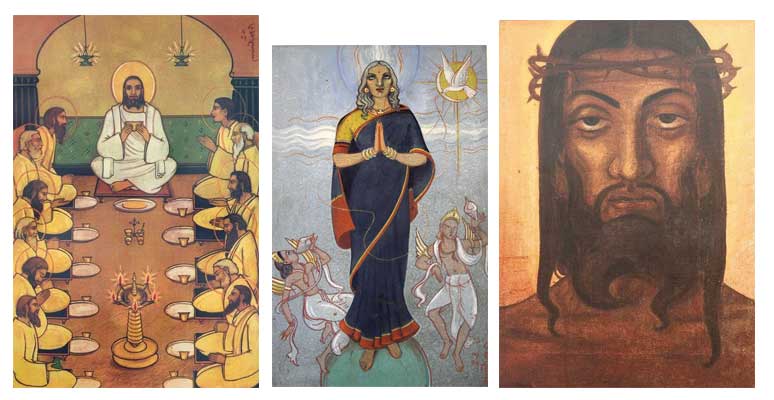 Criticised and Hounded from his hometown
In 1931 he returned to Goa. He was the first person ever, to paint the Virgin Mary in a traditional Goan (Kunbi), Sari. The Christian priest in his native village of St Estevam criticized him for painting Christian themes with Indian settings. Hounded from Goa, he moved to Pune. At the Christ Prem Seva Ashram in Pune, he was more accepted. Here, he painted exactly what he liked – the world through Indian eyes. Some say he was way ahead of his time. Though his version of the Virgin Mary received much criticism back then, his Indianised view of Christianity is more accepted now. In fact, even at the Global level, white skinned-western-Christianity is now more accepting of the concept of a coloured or dark-skinned, Asian Christianity. It brings to mind the words of St. Paul – Christ died for all (Jews as well as Pagans). Christ's love has no bounds.
In 1951 Angelo da Fonseca married Ivy Muriel Menezes, their daughter Yessonda Dalton was born in 1957. Angelo da Fonseca died in 1967, of meningitis.
Fonseca was a prolific and versatile painter; carved on wood, slate, worked on scrolls, stained glass, wax drawings, pencil sketches, baked clay. He has over 1000 watercolors and oils; murals and paintings at places such as St. Xavier's College, Mumbai; Missio Museum, Aachen, Germany, De Nobili College, Pune; Rachol Seminary, Goa, to name a few.
His wife Ivy bequeathed his collection of paintings to the Xavier Centre of Historical Research (Porvorim, Goa). The Center holds regular exhibitions of his works. You can also post a request for a private viewing.
Xavier Centre of Historical Research
BB Borkar Road
Alto-Porvorim
PORVORIM, Goa 403521
Timings: Monday – Friday: 9:30 – 13:00, 14:00 – 17:30 Saturday: 9:30 – 13-00
Website: http://www.xchr.in/ Phone: +91-832-2417772 Email: [email protected]
For Info sources, image credits and more info about Angelo da Fonseca, click here:
Vivek Menezes: Bluinartinfo: Indigenousjesus: