India is hosting the FIFA U17 World Cup for the first time this year. The tournament will begin from October 6.
Navi Mumbai, Delhi, Guwahati, Kochi, Goa, and Kolkata are the six cities which will host matches.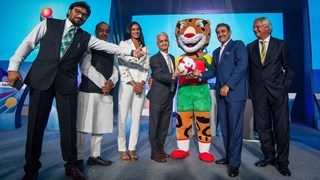 For the first time in the history of Indian football, two NRIs will don the India jersey when they represent the country in the FIFA U17 World Cup next month. US-based defender Namit Deshpande and Canada-based goalkeeper Sunny Dhaliwal have made it to the final squad of 21, Coach Luis Norton de Matos made the announcement to the players at the team hotel.
Watch the Official FIFA U17 World Cup India Song!
India's final 21: Goalkeepers: Dheeraj Singh, Prabhsukhan Gill, Sunny Dhaliwal; defenders: Boris Singh, Jitendra Singh, Anwar Ali, Sanjeev Stalin, Hendry Antonay, Namit Deshpande; midfielders: Suresh Singh, Ninthoinganba Meetei, Amarjit Singh Kiyam, Abhijit Sarkar, Komal Thatal, Lalengmawia, Jackson Singh, Nongdamba Naorem, Rahul Kannoly Praveen, Md. Shahjahan; forwards: Rahim Ali and Aniket Jadhav.
First Stage Matches of the FIFA U17 to be played in Goa
07 OCTOBER 2017 – 17:00 Local time
      GROUP C – Pandit Jawaharlal Nehru Stadium, Goa:  GERMANY V/S COSTA RICA 
07 OCT 2017 – 20:00 Local time
      GROUP C- Pandit Jawaharlal Nehru Stadium, Goa: IRAN V/S GUINEA
10 OCTOBER 2017 – 17:00 Local time
       GROUP C – Pandit Jawaharlal Nehru Stadium, Goa: COSTA RICA V/S GUINEA
10 OCT 2017 – 20:00 Local time
       GROUP C – Pandit Jawaharlal Nehru Stadium, Goa: IRAN V/S GERMANY
13 OCT 2017 – 17:00 Local time
       GROUP C – Pandit Jawaharlal Nehru Stadium, Goa: COSTA RICA V/S IRAN
13 OCTOBER 2017 – 20:00 Local time
       GROUP D – Pandit Jawaharlal Nehru Stadium, Goa: NIGER V/s BRAZIL