One of the favorite dishes of every Goan is the Goan fish thali. Goans love their 'xitt kodi nustea' and it's pretty much a staple in every Goan household. The rice with that special curry full of flavor and the fish which is fried in a certain way which you will never find anywhere else in the world. The accompaniments of tisreo sukhem, kismur, and sol kaddi add to the taste, all of which make this an extremely unique dish to eat.
What comes in a Goan Fish Thali
Boiled rice – Most restaurants serve up local fat rice in a boiled form that goes best with the flavorful fish or prawn curry.
Kismur – A preparation which can be referred to as a coconut salad of freshly grated coconut with tawa fried galmo (dried prawns) mixed with turmeric, chili powder, coconut oil and golden brown onions. The combination of the dried prawns with fresh coconut milk is simply mouth-watering.
Kodi (Curry): Goan curry comes in different forms. The best one is the 'uman' (Konkani term). Prepared with fried onions, tomatoes and coconut oil with a ross (coconut milk mix) blended together with coriander seeds, cumin seeds, turmeric and Kashmiri chilies. Served hot, the uman has a tangy taste.
Another variant of uman is prawn 'caldin' which is a mild Goan curry cooked with prawns and turmeric minus the tamarind.
Sukhem – Sukhem is a dry dish cooked with Goan sambhar powder, green chilies, jaggery, garam masala, desiccated coconut and tamarind pulp which is cooked till most of the water evaporates. It's most commonly prepared with 'tisreos' (small clams) but some restaurants may prepare it with 'kalva' (oysters) or even the big clams called 'khubbe'.
Fried fish: The most essential ingredient of the Goan fish thali is the rava fried kingfish or chonak fillet that comes along with all the other accompaniments. It's the heart and soul of any fish thali and has a melt in the mouth texture and quality.
Pickle: No Goan meal is complete without pickle. It's usually a preparation of mixed vegetables or lime or mango pickle.
Sol Kaddi – This is a special coconut milk mixed with kokum juice and garnished with finely-chopped coriander which works as a digestive. The other way of preparing it is just with the kokum juice, chopped chilies, some garlic and finely chopped coriander. Sour-sweet, tangy and a little pungent, sol kaddi is simply awesome to drink and great for digestion.
Places to eat really good Goan fish thali in Panaji
Anandashram – They have 2 restaurants; one in Panaji close to the main post office and the other in Tonca-Caranzalem on the main road.
Casa Bhonsle – Located in the heart of Panjim and also famous for their puri bhaji, Casa Bhonsle has a opened a Goan restaurant that specializes in seafood. One of the hot favorites at the restaurant is the fish thali.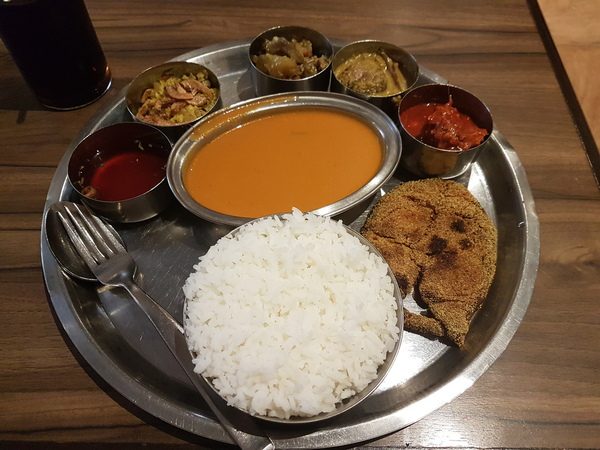 Ritz Classic – One of the most well-known restaurants for seafood in Panaji is Ritz Classic. Located just off 18th June Road, the restaurant usually has a waiting list that's a mile long and seating is literally on first come first serve basis. So if you do head there for the thali, be prepared to have people looking over your shoulder while you eat or even share your table with strangers. Or you could just head to their other branch in Patto which also is usually packed with office crowd at lunchtime.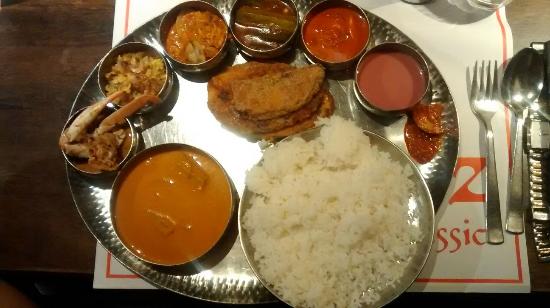 Peep Kitchen – Another favorite for fish thali is Peep Kitchen in Caranzalem. Touted as one of the best, this place is a must try.
Try any of these places for the truly awesome fish thali. Your taste buds will definitely be satisfied.