In a case that has taken the local and national media by storm, dancer, actress, and former AAP electoral candidate, Cecille Rodrigues, has publically revealed damning evidence of gross sexual harassment by one Estonio Almeida. In multiple Facebook posts, Cecille has exposed how Estonio Almeida has, on multiple occasions, sent lewd and vulgar text messages to her through various media, dating as far back as 2012. In support of her allegations, multiple women from across Goa have come forward with screenshots of messages that they have also received, thereby proving that she is not the only one to have been sexually harassed online by Almeida.
The seven-year itch?
Cecille Rodrigues is a well-known figure in the Goan public. The mother of one is a nationally recognised dancer, having competed and placed 1st runners up in Zee TV's Dance India Dance. As a certified Zumba instructor as well, she is a household name in Goa's dance circuit, and it was under the pretext of wanting to sign up for classes, that Estonio first messaged Cecille seven years ago on Facebook. As a professional courtesy, Cecille shared her phone number, which is when the phone calls started as well. After ignoring his advances initially, he curtailed his contact with her but started again after Cecille appeared on TV while taking part in the Dance India Dance competition. Cecille, who by then had forgotten about the previous messages, took these advances to be the ramblings of a fan and continued to ignore. Below are a selection of the messages he sent her during that time.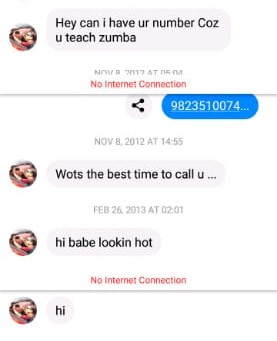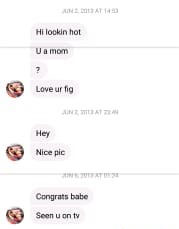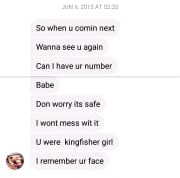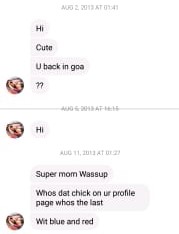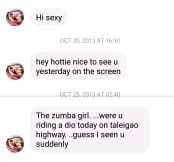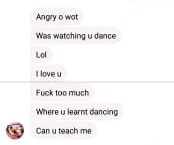 ---
The messages continue
In late 2016, Cecille began her campaign to contest the General Assembly Elections as an AAP candidate. Through a couple of years preceding the campaign, during the campaign period, and even after, Estonio continued messaging Cecille on Facebook. Even though she didn't reply to the messages, they kept coming year after year at random times – and Cecille kept ignoring them, thinking that at some point he would stop. He even attempted to message her on WhatsApp, however, she had blocked him on the messaging app. Below is a selection of screenshots from 2014 to 2016.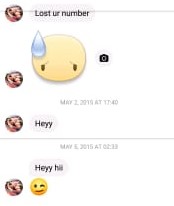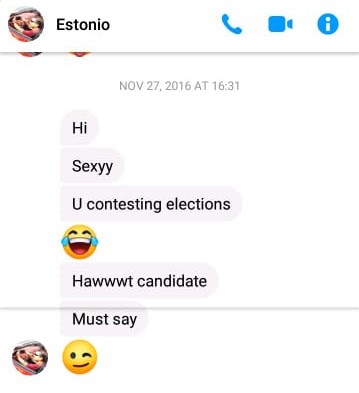 ---
The harassment begins on WhatsApp
Since Cecille had blocked Estonio on WhatsApp earlier, the only way he could harass her was through Facebook. It wasn't until this year that Estonio managed to get her new number, and decided to start messaging her again. Cecille took to Facebook immediately to post screenshots of the messages she had received, asking people if they knew who this person was. It was then that she was inundated with calls, messages, and replies from multiple women across Goa saying the same thing – that they too have faced sexual harassment online by Estonio Almeida. The original post that Cecille put up on Facebook was unfortunately taken down, however, Cecille has been relentless in her case against Estonio. Once the post went viral, Estonio began spamming Cecille with apologies. Here are the screenshots of the messages he sent her on WhatsApp.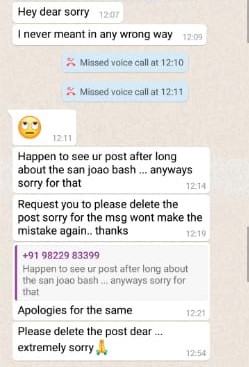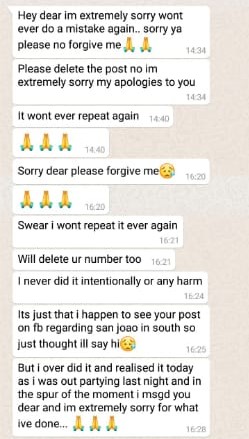 ---
One too many FIRs
Not willing to take this lying down, Cecille approached the police with all the screenshots, call records, and messages from the other women as proof that Estonio Almeida of Taleigão has been sexually harassing and bullying women online for almost a decade. In a surprising twist though, it turns out that her FIR, which has been issued today, is just one of multiple FIRs that have been issued against Estonio. As per a report in the Times of India dated September 13, 2014, Almeida was arrested for allegedly assaulting a girl. In the complaint, the girl (who was not named) said that on different occasions, the accused followed her and sent her lewd messages and expressed his love, despite disinterest shown by her. The complaint further said that the accused also assaulted her with slaps and blows, and pulled her hair in a public place. A case had been registered under Section 354 (outraging modesty) and 509 (insulting modesty) of the IPC.
In yet another case registered in 2012, Estonio Almeida was arrested on charges of rioting and mischief after he was involved in an alleged car accident. The accused were later released on bail. The incident was reported in the Times of India in an article dated June 13, 2012.
Support continues to pour in
Even though the original post on Facebook was taken down, support for Cecille continues to pour in from across Goa. Dozens of women have come forward with screenshots of messages that have been sent to them through Facebook Messenger and WhatsApp corroborating her allegations of sexual harassment. To encourage more women to speak up against Estonio Almeida, Cecille took to Instagram to appeal to women in Goa, and also to the Panjim MLA and other local MLAs to take up this case, and support the safety of women in Goa. Below is the Instagram video that Cecille posted, and a few screenshots of messages that have been sent to other women across the state. Their identities have been kept confidential at this time.
---
---
What are your thoughts on this issue? Do let us know in the comments below.
Disclaimer: The events reported in this story and information contained therein, are solely based on comments issued by Cecille Rodrigues through her social media platforms, and do not reflect the views and opinions of ItsGoa, its writers, and/or its editorial team. ItsGoa bears no responsibility whatsoever for the information contained in the story.