The Holi festival commemorates the victory of good over evil, brought about by the burning and destruction of the demoness named Holika. This was enabled through unwavering devotion to the Hindu god of preservation, Lord Vishnu.
Holi got its name as the "Festival of Colors" from Lord Krishna, a reincarnation of Lord Vishnu, who liked to play pranks on the village girls by drenching them in water and colors.
The legend of how Holi came to be
As with all festivals in India, there are legends that explain the origins of each of them. Similarly, the Festival of Colors also has a legend attached to it.
The word 'Holi' itself has a deep significance and it translates into the word "hola", which means offering prayers to gods for a good harvest. As the legend goes, there was a demon king named Hiranyakashyap who wanted to be immortal. He wanted everyone to worship him as God but his son Prahlada was a devotee of Vishnu.
Now, Hiranyakashyap was offended by his son's refusal to obey him. He thereby devised a plan where he asked his sister, Holika, to kill Prahlada by sitting down in a burning furnace with him. Holika had a divine gift that fire could not burn her and so she did as her brother told her to. But Prahlada's devotion was so strong that it evoked Vishnu's compassion and he saved the boy from the fire. However, Holika was burned to death. Vishnu thereafter defeated and killed Hiranyakashyap as well, marking the triumph of good over evil.
The origin and rituals of Holi – the Festival of Colors
It is celebrated by Hindus every year and is observed on the day of Purnima, the full moon, in the month of Falgun. It is spread over two consecutive days — the first day is known as Chhoti Holi or Holika Dahan and the second as Rangwali Holi, Dhuleti, Dhulandi or Dhulivandan. This year, Holi falls on March 1-2.
Holi is celebrated the day after the full moon in March each year. West Bengal and Odisha celebrate the festival a day earlier. In addition, in some parts of India (such as Mathura and Vrindavan) festivities commence a week or so earlier.
As already mentioned, Holi is celebrated to mark the victory of good winning over evil. The emphasis of Holi rituals is on the burning of demoness Holika. On the eve of Holi, people light large bonfires to mark the occasion. This is known as Holika Dahan. As well as performing a special puja, people sing and dance around the fire, and walk around it three times.
Unlike most other festivals in India, there aren't any religious rituals to be performed on the main day of the festival. It's simply a day for having fun!
Celebrating the Festival of Colors
This is one of the most fun festivals that is celebrated in the country. It's great fun to participate in if you don't mind getting wet and dirty.  People spend the day smearing colored powder all over each other's faces, throwing colored water at each other, having parties, and dancing under water sprinklers. Bhang (a paste made from cannabis plants) is also traditionally consumed during the celebrations.
You'll end up saturated in water, with color all over your skin and clothes. Some of it doesn't wash out easily, so be sure to wear old clothes. It's also a good idea to rub hair oil or coconut oil into your skin beforehand, to prevent the color from absorbing.
Safety measures
Of course, since it's a festival with little inhibitions, there are always safety measures to be taken. While having fun the main idea, you still to be aware and not get stuck in a situation with a bad end result. That being said, here are a few things to keep in mind when celebrating Holi.
Holi is a fun festival but sometimes isn't like that for young, single women. This is generally due to the fact that boys and men drink Bhang and sometimes, even other alcohol and end up interfering with women in their inebriated state. Therefore, as a girl or woman, if you do want to play Holi in the streets, do so early in the morning, preferably in a large group. Be home or back in your hotel by midday before the men get too inebriated.
Most hotels usually hold Holi parties within their premises so any of these would be a good option to choose. They are safer than going out into the streets to play color games. Also, as is expected, colored water, as well as colored powder will be thrown or rubbed on your face. You need to protect your face and make sure none of it goes into your eyes or nose or ears.
This year, celebrate Holi on the 2nd of March but if you cannot, you can still read all about the Festival of Colors right here.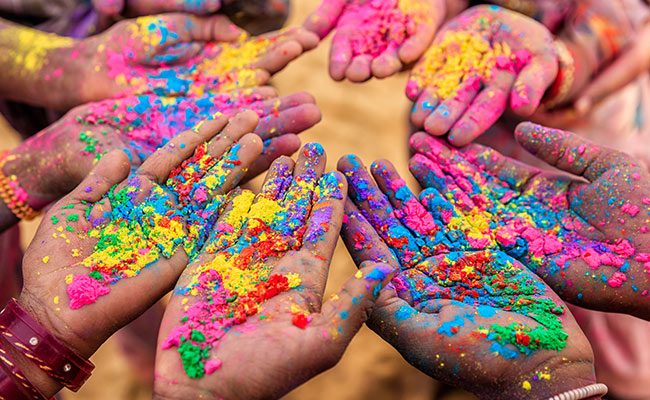 Information credit – The Indian Express and The Essential Guide to the Festival of Colors
ItsGoa/FEB/KDGP