Schubert D'silva
By Bryce D'Souza
What does it take to lead a community of your own in a foreign nation? How do we foster a spirit of unity amid differences and divisions that tend to exist in a given society? We had a chat with Schubert D'silva – a former president of the St. Michael's Sharjah Goan Committee on the subject. Schubert D'silva by profession is the owner of Morning Star General Trading LLC which has been in the business of general trading and electro-mechanical works for more than 16 years in the U.A.E. Here is an excerpt of the short
conversation we had with him:
1) Tell us a little bit about yourself and your early life in the state of Goa.
I hail from a village in South Goa called Chinchinim. This place is often referred to as the 'Village of Priests and Footballers'. Born and brought up in a Goan Catholic family, I was involved in parish activities right from childhood. I first served as an altar server and later on, a member of the 'Parish Youth Association'.

2) At some point, you decided to move to the UAE for better job prospects. How was it re-locating to the UAE back in the 90s?
It was my brother-in-law Ralph who had invited me to work with him in the U.A.E. I was initially hesitant to take this major decision as I had spent most of my life in Goa. In agreeing to this offer, I realized that I had made a great 'life-changing decision' that helped me reap a lot of fruitful benefits later on in my career. There were a lot of ups and downs in the initial days of my life in the U.A.E. However, on the flip side, I believe that the initial experience of working with a multinational firm provided me with a lot of significant opportunities.
3) How have things changed ever since the last 10 years of your stay in the U.A.E?
I have been residing in the U.A.E for the past 26 years. In the last 10 years, I have noticed several changes that have taken place, not just within my surroundings but also in my own life. I have been filled with great wonder and amazement at seeing every single aspect of the U.A.E, slowly transform before my very eyes. I have also become a self-employed individual. As an independent entrepreneur, I have learnt how to forge my path towards success. I have also learnt how to tolerate differences. Being a citizen of this diverse nation has helped improve my social skills and I enjoy being a part of this great community.
4) You did mention that you were a part of the St. Michael's Sharjah Goan Committee, where you served as the President. How was your experience managing this vast community?
Yes, I did serve as the President of the St Michael's Sharjah Goan Committee for about 4 years. We had very supportive committee members. It was with their help that we were able to come up with outstanding events. Having the opportunity to meet and interact with many parishioners helped me realize how all of us are uniquely different yet similar. I also contributed to many of the committee's decisions.
Some of them include introducing Our Lady's statue circulation amongst the Goans, the introduction of the feast of St. Joseph Vaz as well as traditional Latin litany during St. Francis Xavier annual novenas. We have also been sponsoring the education of the Capuchin priests in Goa. Apart from the above initiatives and activities, we have even assisted many Goans facing financial issues.

5) Have you ever been involved in conducting a World Goa Day event in the U.A.E on behalf of the St. Michael's Sharjah Goan Community? Can you elaborate a bit more on this?
Yes. We did organize a 'World Goa Day' event in the year 2017 at the Ajman Saray resort. As part of this event, we invited a well-known singer and musician – Accasio from Goa who performed and entertained the crowd. We also released a song- Goem Goemkar ani Goemkarporn sung by various Goan artists based in the U.A.E. There was a tremendous response as we had more than 400 guests in attendance at this event. Besides the 'World Goa Day' event, we had also organized summer festivals for our Goan community at the Ajman Beach Resort, Sharjah for community bonding.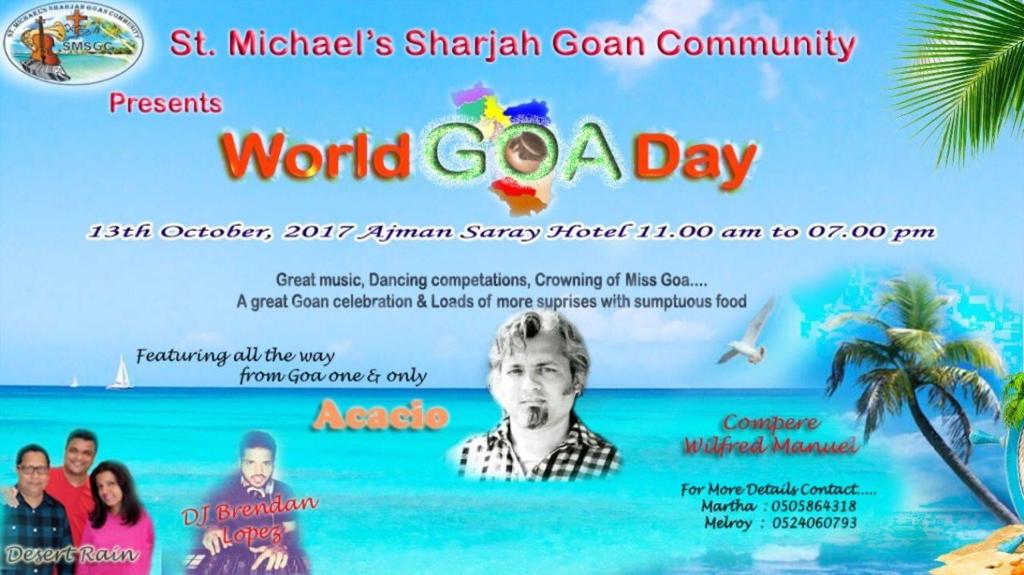 6) What are some of the key aspirations or desires of the average Goan based in the U.A.E?
Based on my experiences and learnings, I believe that these could include aspects not limited to: a wide range of opportunities, a clean and enjoyable environment, and finally, a generous salary package coupled with good business facilities.
7) What is the message that you would love to leave our readers with?
The message that I would like to leave to all the readers is simply this: Do what your heart says, take risks. Even if it makes you homesick, even if you encounter difficulties along the way. Your result is enough to prove that it was all worth it. I have come a long way ever since my journey started and I encourage you all to push yourselves to reach your full potential.
About the Author:
This article has been authored by Bryce D'Souza, a young Goan lad based in Sharjah, UAE. He is currently pursuing his MBA from Manipal University, Dubai. He runs his own blog called 'The Perceptionist' (www.perceptotravel.blogspot.com). This article has been published with his prior permission.