Marivon Martins is a corporate lawyer cum super influencer. When we contacted her to feature on People of Goa, she was elated. "Firstly I would like to Thank You, ItsGoa, for giving me this opportunity and appreciating the content that I create on my page ❤️"

We wanted to feature Marivon on People of Goa for quite some time now. People of Goa is our original and official series that shares inspirational stories from the lives of Goans. We speak to talented and contributing individuals from this wonderful tiny state.

We asked her to start by introducing herself and giving us a sneak peek into what she loves doing. "I am Marivon Martins. A lawyer by profession, working for a corporate law firm based in Bangalore. I was born and raised a true Goan in a beautiful village named Chinchinim, situated in South Goa. I completed my LLB (HONS) from G.R. Kare College of Law, Margao."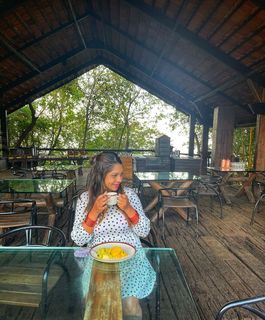 With Goa Through My Eyes, she captures Goa in it's purest essence. But how did the advocacy and influencing really start?

"Speaking of one moment that changed everything for me was when I realized how some selfish people portrayed my beautiful Goa. These people saw Goa from the surface and they believed this is what Goa is all about."

However, Goa is so much beyond party life. It is a place I call my home and only a true Goan is able to portray the beautiful stories of Goa. That's when I took my phone and ventured out to show the world Goa through my eyes."

"Goa and Goans are definitely not what is depicted in films. We are warm, nature lovers and most importantly we take pride in what we own."
Being able to juggle two professions or should we say, one profession and one hobby needs support from the family. We asked her about the role her family played.

"Everything is different when you're a child. It's a bubble of fantasies, dreams, and stories. I did not have the opportunity to meet my grandparents since I was the youngest grandchild of the family. To my advantage, I grew up in the house where my grandparents spend their entire life. During this time, my parents shared every memory of my grandparents through stories, family photographs, and everything related to our home. Sitting on my grandparent's chair, using their old bed, and listening to family stories always reminded me of them and their presence was felt in the ancestral home I lived in."

"I have two elder sisters whose looks might be deceiving but trust me they are equally naughty. They are my constant support and always motivate me to give in more. My cousins and friends show their support as they share my reels. Without all of these people in my life, I surely would not be able to deliver such healthy content and beautiful pictures. My family, friends, relatives are and will always be my support and inspiration."

"My Mom and Dad have been my role models. My mom never fails to follow the Goan traditions. She is a typical Goan mother who would tell me "Bunu aiz Patoleo korta tuka video kadpak zai zalear yo". They would involve me in all the activities to ensure the traditions stay alive through future generations. Making reels on traditional days always excites me as I am able to express my emotions through these reels."
Marivon is super humble when speaking about Instagram and the world of influencers.

"The influencers that I feel inspired by is our very own Flexcia DSouza as she inspires numerous young talents through her beautifully crafted content. She has built her success from scratch with her hard work, dedication, and skills. Also, my talented cousin Madonna Soares, helps me put my thoughts into words. They are the women who I am proud of and will always show my gratitude for their work and ideas."

"The reason is not to be an influencer but to give everyone a glimpse of Goa and its deep-rooted traditions, especially to my fellow Goans working in different states and countries. The feeling of missing home during Sao Joao, Christmas, Carnival, Zatra, and Shigmo is natural but through my videos and photos I ensure Goans away from home feel connected to their roots. Besides, not everyone will see Bebinca and Doce in films revolving around Goa and its traditions."
In closing, we asked her about the legacy she wants to leave behind.

"I want to leave a legacy to all my viewers and followers through #GoaThroughMyEyes. Trends will come and go but traditions will never die. As for me, I want to be remembered for what I created and not for what was trending. "
"Don't compare yourself to people who started the race 10 years before you, rather focus on your own journey".