In this fast-paced world that we live in today, many people do not get time to do even basic things like cooking. Due to excess workload at their respective workplaces as well as other important commitments, people don't get time to cook for themselves. They are always on the run, either completing work-related tasks or running around doing some other personal work. While going about their businesses, many people tend to get a bit tired and look for some nice places where they can stop at to have a quick bite.
Thankfully, there are several street food joints in Goa all across the length and breadth of the state. These food joints serve popular comfort food like ros omelette, cutlet pao, beefsteak bread, Pani puri etc. They come in the form of food trucks, food carts, or roadside food stalls. You can easily spot several street food joints in the major cities of Goa, which are filled with people looking to satiate their hunger cravings with a plate of some delicious comfort food like an egg sandwich, chorizo pao, or a ros omelette. In this article, we take a look at the top street food joints in Goa where you can stop at to have a quick bite.
Noronha's Food Truck, Anjuna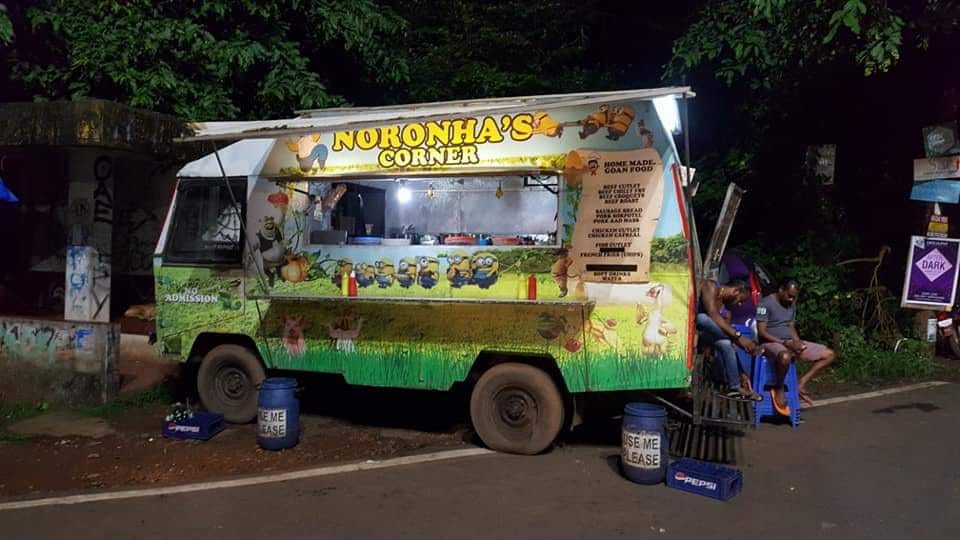 First, on our list of the top 5 street food joints in Goa is the famous Noronha's Food Truck at Anjuna. This popular street food joint, which is located near the Assagao-Anjuna crossing, serves up some of the most authentic Goan style dishes and iconic pao-sandwiches in Anjuna.
The joint is run by three Goan brothers who are experts in Goan cuisine. They are very warm and friendly and greet all their customers with pleasant smiles. The food truck mainly serves bite-sized comfort foods and snacks. The most popular items at this eatery include the chorizo pao, the amazing chicken cafreal and the fish cutlet and pao. They also serve delicious beef croquettes. You have a wide choice to choose from depending on what you desire. Many people have been regular customers of this food joint for many years because the food offered over here is very rich and delicious.
Sandeep Ros Omelette stall, Panjim
Next on our list of the top street food joints in Goa is the Sandeep Ros Omelette stall in Panaji. It is located near the Panjim Municipal market. It is one of the few places in Panjim where you can enjoy some amazing ros omelettes.
Earlier, when it was located at the Panjim Square in Altinho, it used to attract hordes of customers. Then, when the Corporation of the City of Panaji started clamping down on food carts in the city centre, the stall had to shift to its current location near Panjim Market.
After shifting to the new location, business dropped significantly. However, things have gradually improved and the stall is doing quite well now. It has now been upgraded from a cart to a small shop. They have a small sitting area with two tables at the shop. The egg for the ros omelette is fried as per your desired preference and topped up with gravy and a few pieces of chicken xacuti and pao. Apart from ros omelette, the stall also serves other items like chicken fried rice, egg fried rice, boiled eggs and cold drinks.
Coco's Kitchen – Thai Street Food, Siolim
This place is located on the Aguada-Siolim road in Siolim. It is one of the very few places in Goa where one can enjoy authentic Thai cuisine. The place is run by Coco, a Thai chef who hails from the Isan province in Northeast Thailand. Coco is an expert in Thai cooking. She prepares amazing Thai dishes and is a very lively and energetic person.
The place offers a variety of Thai street food items like Thai sticky rice, papaya salad, chicken wings and a variety of soups. Apart from this, Coco Kitchen also serves a variety of refreshing Thai fruit shakes and juices.
A must-try at this place is the amazing chicken spring rolls with sweet and sour chilli sauce. It tastes so good and is sure to tickle your delicate taste buds. Another item on the menu that is highly recommended is the clear pork noodle soup, served with flat noodles, pork pieces, white radish, green vegetables, and flavoured with crushed peanuts, chilli flakes, and vinegar. It is very tasty and nutritious and serves as a wholesome meal in itself.
Almost everything on the menu is sure to take you on a culinary journey to the streets of Thailand through flavour. Coco Kitchen at Siolim is a must-visit for those who want a kick of spice, fresh ingredients, and food created with love!
Jerry's Food Truck, Bambolim
And concluding our list of the top street food joints in Goa is Jerry's Food Truck at Bambolim. It is located just a few metres away from the Goa Medical College. It is noted for its juicy delicious burgers and is "the" place to go to if you are a die-hard burger aficionado. The beef steak burger offered here is really amazing and almost comparable to any burger offered at any international fast food joint like McDonald's or Burger King. The size of the burger is also very huge. Their chicken steak burger and Goan Sausage burger are also worth trying. The place serves delicious chicken shawarma and cold drinks as well. Unlike other food trucks, Jerry's food truck has a small seating area where customers can sit and enjoy their meal.
With this, we conclude our first of the top street food joints in Goa. So, if you ever feel a little hungry and want to have a quick meal before getting back to your work, head down to one of these amazing street food joints and enjoy a delicious meal that is sure to satisfy your hunger cravings. Bon appetite!
You may also be interested in reading: Goan Pork Sausages – Varieties, Recipes, Legacy, Choris Pao And More