Mary Anne Cordeiro – Helping Talented Individuals in the Fields of Science, Arts, and Sports
Mary Anne Cordeiro was born in Nairobi and brought up in the United Kingdom, nonetheless, her parents instilled a sense of intense culture and pride in her, for her Indian heritage. Through long holidays spent at their ancestral home in Saligao, Goa; Mary Anne Cordeiro developed a lifelong appreciation for the vibrant complexity of Goan society and her ancestral village of Saligao.
Join me as I sit down with Mary Anne Cordeiro, Managing Director of Science to Business and the Director of Albion Technology and General Venture Capital Trust; to discuss her experiences in helping early-stage scientific endeavors and technologies with product development, commercialization, and funding strategy. We also touch upon Balletboyz, for which Mary Anne Cordeiro is a presiding Member of the Board, having been Chair of the Board for 5 years previously. We end the interview by talking about the Joseph Rufino Cordeiro Foundation, a project that is close to Mary Anne Cordeiro's heart and is in essence a gift for deserving individuals to pursue their endeavors in the fields of Science, Arts, and Sports (or as she likes to call it: SAS which translates to "breath of life" in Hindi). Join me as I get to know more about the extraordinary Mary Anne Cordeiro.
"To start off, please tell me a bit about your upbringing and your ties to Goan culture."
"My name is Mary Anne Cordeiro and I was actually born in Nairobi, Kenya, where my father was in charge of Civil Aviation, working for the East-African and British governments. He and my mother are both of Goan origin, my late father is from Saligao and my mother is from Salcete. My parents met in Nairobi in 1952 and they got married in 1959. There were problems in the '60s with the Mau Mau rebellion and my parents, therefore, decided that rather than sending us to a boarding school in England (which as ex-pats the British Government was happy to pay for), they would move to England with us, which we did in 1970. However, my father and mother always made sure that we were very well aware of our Goan roots, and we spent virtually every single family holiday in Goa, in our house in Saligao."
"And, How would you spend your vacations here in Goa?"
"At that point both my paternal grandparents had passed away, but my father had an aunt and she would organize various home cooks to come and cook meals for us. Which was somewhat difficult for us because we were not very used to eating in the Goan heat. We would spend our mornings with breakfast consisting of Pao bread, and then at around 11 o'clock, we would have Kanji with Raw Mango Pickle. Then we would have a full lunch consisting of Vindaloo and Sanna. At 4 o'clock we would have tea which included Dodol and various other sweets. And then we'd have a big dinner as well…"
"But that was very Goan for us because we weren't used to eating quite as many meals, and obviously in that heat, we were not very hungry, so most of the food used to go to our neighbors. That was my experience with the cooking that was going on at the back of our house, with old coconut graters and grinding stones on the floor. To this day, I still remember them making bebinca. I was always fascinated with how they would get all those wonderful layers and particularly in those old clay ovens. I mean, it was just a huge industrial operation."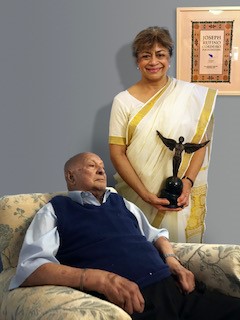 "…And then my other memory is of my father, who, even in the midday heat, would take us on our bicycles through the village introducing us to all the villagers, but Dad always insisted that we get to know who everyone was or how they were related to us. It is sad to reminisce about this nowadays because many of those families aren't there in Saligao anymore or many of those houses are empty or now in ruins."
"Speaking about your childhood days in Saligao, how has your ancestral home changed over the years, and what still remains the same to this day?"
"When my Dad retired in 1989. My parents completely did up our ancestral home: they changed the floors, from concrete and cow dung to tiled floors; and they changed all the toilets to proper flushing units; my father also put a pump system in place to pump water from the well up to the tanks in the loft; and still to this day we heat water in the kitchen with firewood; and there is a shower pump, to pump the water for a bath. My English friends who come and stay here find it really quaint and effective and it really does make you think much more carefully about how much water you use, which is different in the West where you don't usually think about conserving water."
"So I suppose in a sense your house is still very traditional…"
"Yes, It is quite traditional, in fact, I'm sitting on the swing on the balcão of the house overlooking the fields in front of me. So we've tried to retain some of the old features, even some of the old furniture is still the same."
After talking a bit more about Mary Anne Cordeiro's upbringing and deep roots in Goan culture, we discussed Science to Business, which she founded and is the Managing Director.
"In an article published in 2015, it was mentioned that you are, and I quote; "motivated by what you perceive to be a big gap between getting scientists 'off the bench and on the road' ".
"Could you tell me a bit about your Company – Science to Business and what it is that your company does?"
"Okay, sure. So my interest in science was brought out by my father. My father encouraged all of us, we're three girls and we're all scientists: My older sister is a Biochemist, my younger sister is an Ophthalmic Surgeon, and I learned Chemistry at a Master's level at Oxford University, for which I was awarded a scholarship. Oxford Chemistry is a four-year course and in the last year you do a dissertation on a subject that you may take to the Ph.D. level; I worked with Prof. Graham Richards, to design drug molecules using structural aspects of quantum mechanics. That company: Oxford Molecular, was then spun out and was one of the most successful companies in the 1980s."
"But I, myself, having come from a family of scientists, realized that it is very difficult for scientists to get their products to market because it is very difficult to get intelligent funding and actually structure a viable business model. In fact, my father had a patent for a meteorological system for wind speed and wind direction, which he patented in 1983 and when he and my mother actually went to market it, the idea was stolen by an electronics company from the US. So, I've grown up understanding that there is a huge problem in trying to get good science to market. So my idea has always been that I'd first go into business, and find out about how to value and fund companies, how to negotiate and how to structure deals, and then go back to science."
"That's what I started to do from 2000 onwards; I worked with scientists to provide funding and commercial strategy to bring new medical technologies to market. So at Science to Business, we advised a range of medical technology businesses from the idea, all the way to getting the product launched on the market, taking into account who the potential customers are, how they're going to distinguish their business proposition from the competition and also how to get the business funded. That's really what Science to Business is, we've had about 20 to 30 different clients in the course of 20 odd years."
"You mentioned that scientists encounter difficulty in marketing their products, what problems were they facing before your company provided its services? "
"Maybe an inventor understands their technology, but they may not be very good at understanding the market dynamics, so one of the important aspects is putting the correct team together. That typically involves finding a commercial person with experience in that area. So, for instance, if it's a drug delivery device, someone who's actually worked in a company that has successfully sold drug delivery devices – we bring them in to help the team. By this stage, the team will include a scientist as well as a finance person to build the commercial and business model for the product."
"…You know when you've invented something, you feel like it's like your baby and you think it's like the best thing… It is very very difficult to break from that mentality and think of it from the customers' point of view and what distinguishes your innovation from other products. 'What is the product's unique selling point and why therefore does the customer need to buy your product as opposed to any other product.' And having that objectivity is very important."
"One of the projects that I'm currently working on originated from the technology used to manage Scoliosis through Bracing, but the technology was not fit for that purpose. We then tried to see whether it would work for Emergency Splinting – I was in discussion with a few emergency doctors who said that when they (they being doctors who work with air ambulances) go to fetch highly injured individuals, the biggest problem is moving or handling them multiple times and not a broken arm or leg. It is actually the potential to cause even further internal or soft injury every time a person is moved or handled which is the biggest problem. Therefore we came up with a transfer device that the patient remains on from the scene of the accident all the way through their hospital journey – through a CT scanner and on the operating table till finally to the hospital ward bed. And it has a number of other features which include warming the patient, which is also important as a lot of trauma patients can't manage body temperature and invariably get hypothermic. We've patented this technology and we're in the middle of doing user trials at the University Hospitals of Birmingham. And the idea is after we've obtained regulatory approval, that we launch the device onto the market by the end of this year. As I have explained, this product is very much driven by market needs."
Another project within the realm of multi-talented Mary Anne Cordeiro is BalletBoyz; for which she is a member of the board. Continue reading, to know more about the founders of BalletBoyz and why Mary Anne Cordeiro joined them on this endeavor of theirs.
"I should also mention that you're a Board member of Balletboyz, what is it about the creative arts and theatre that attracted you to this project?"
"Well, I've always been very creative and artistic. Dance and music have always interested me. I play the piano. I also love to dance, I think it's a great way to exercise. I've done a whole range of dances from contemporary to Latin American."
"I was introduced to the founders of Balletboyz, Michael Nunn and William Trevitt, in 2000. They are two dancers that are Royal Ballet trained but they got tired of always being labeled as 'men in tights' and typically always being pictured as gay or 'always in leotards'. So, they founded BalletBoyz in 2000, as a way of getting men into dancing and in the hope that they would just be seen as being fantastically good dancers. They formed this group initially with 6 dancers – the idea was that it would primarily be a group of men and that they would have one or two ballerinas. BalletBoyz has been highly acclaimed and they have traveled the world. By 2014, Michael and William thought that they were getting too old for touring as they were in their late 40s. Since then, we've recruited young boys from a range of backgrounds but all highly proficient in dance. Another thing that the company is well known for, is making films, for which we've won a number of awards. The most recent one is Romeo and Juliet. We also have live performances in theatres."
"We're huge on diversity, and I don't just mean diversity of gender but also diversity of ability. We're in the process of putting together a program for disabled children to see how we can teach them what they can do and what they cannot do through dance."
In my final minutes with the marvelous Mary Anne Cordeiro, we talked about a project that is very near and dear to her heart – The Joseph Rufino Cordeiro Foundation.
"We've talked both about the Science as well as the Arts; that you've paved major contributions towards, I think it would be remiss if I didn't bring up the Joseph Rufino Cordeiro Foundation. To quote your gracious philosophy: 'To serve SPORTINGLY is the ART of giving and the SCIENCE of fulfillment. I am here to fulfill my father's vision. To serve is my duty.'"
"Could you tell me a bit about the initiative behind THE GOLDEN WING and GOAN NIGHTINGALE CORPS?"
"So, my father as you've probably gathered was a scientist, he was an aeronautical engineer. He kept in good health even through Covid, but being 96 he had a very weak heart and whenever he got an infection, his heart just couldn't keep up with it. In November 2020, he was admitted into the hospital with pneumonia and heart failure. However, we brought him back home, as Covid had restarted in the United Kingdom hospitals. We were all very pleased to launch the Joseph Rufino Cordeiro Foundation whilst he was still alive on 5th December 2020 with the main aim being to nurture talent in the fields of Science, Arts, and Sports. We choose 'SAS', which means 'breath of life' in Hindi. The first thing we did when Dad was still alive was to intertwine our Indian and Western roots through a divine literature project. There's a very famous Bible called the Thomas Macklin Bible, which was printed in the 1800s by a woman; in fact, George III was one of the patrons of it. My father was fully behind the vision to have it translated into Sanskrit with the help of the Banaras Hindu University; this would be the first time that the Bible will be translated from English to Sanskrit, it's usually the other way around. This was in December 2020 and my father passed away on 5th January 2021, exactly a month later."
"It was very difficult to travel at that time, but my sister Lucinda and I came to Goa in February 2021, with some of my father's ashes, because he had expressed a wish that he wanted some of his ashes to be in his ancestral home garden. At that time, we managed to get a Goa Trust set up by 31st March 2021. So we have both a charitable organization in the United Kingdom, as well as one in Goa to undertake our work."
"The other initiative that we have is the Joseph Cordeiro Foundation Award for Excellence, and we had the inaugural award ceremony in the United Kingdom on 16th December 2021 at the British Library in London. We gave three inaugural awards in the fields of Science, Arts, and Sports. In Science we gave it to Prof. Hagan Bayley, who is an acclaimed scientist from Oxford who has founded a very successful company which has been spun out, called Oxford Nanopore; this has taken the costs of decoding the genome from millions of dollars down to a few hundred dollars at most."
"We also gave the Art Award to the acclaimed spiritual artist – Udayraj Gadnis, who is very well known for his superb monumental artworks. Finally, we gave the Sports Award to the Olympic Gold Medal Winner for javelin, Tessa Sanderson, who also helps children enter the field of sports."
"The initiative called the Golden Wing is for giving a scholarship to a deserving engineer in the field of aeronautics. As my father was an aeronautical engineer, it is very important to me that we nurture research and development in that field. We gave the scholarship this year to a young Indian engineer by the name of Vivek Ajgaonkar who is based in Mumbai, and who worked on the JRD Tata airplane restoration project, in Mumbai."
"Over the whole Covid period we had noticed a lack of community healthcare workers in Goa and so I had been looking for ways to get another initiative off the ground in Goa and that brings me to the Goan Nightingale project. We launched the Goan Foundation on 27th March 2022 at the Maquinez Palace in Panjim and that occasion was marked by presenting the Joseph Rufino Cordeiro Foundation Award for Excellence to Dr. Asha Sawardekar."
"She is the Founder and architect behind Sanjeevan where in addition to looking after old ladies and destitute women, also has a nursing school for training young girls who have graduated from the 10th standard, in the field of nursing, for a 2 year period, after which they are assigned a Government recognized Diploma. We want to work with Dr. Asha, to promote the work that she does and also provide employment for the young nurses who have passed out as qualified nurses from Sanjeevan. I would also like to start this initiative in Saligao, where I believe there is a need for more nursing care."
"Any parting words that you would like to give our readers…"
"Well, you know… what has been wonderful is the support and the enthusiasm that I have had from everyone. I think people find it very heartening that someone who lives abroad still cares a lot about Goa and nurturing talent here."
You may also be interested in reading: Humans of Goa: Ankur Kankonkar – A Blind Entrepreneur With A Strong Vision