Panaji, Oct 2023 — Triathletes from 30 countries, some as far-flung as Argentina, Australia and US, will join a large number of Indian counterparts in the country's biggest and truly international endurance race, the IRONMAN 70.3 India, being held in Goa on October 8.
The latest edition of IRONMAN 70.3 India will pay homage to Goan icon and Padma Vibhushan awardee, the late Mario Miranda, with the latter's trademark artwork featuring on the winners' medals, which were unveiled on Thursday at the hands of Jeff Edwards, CEO and MD of IRONMAN Asia, Deepak Raj, race director and franchise owner of the IRONMAN brand in India and Chief Executive Officer of Yoska and V.S Ganeshan, Director Marketing, Herbalife.
The official jersey for the race, which was also unveiled at the event, has been styled using the ancient Kaavi art motifs, which are indigenous to the region. Kaavi art, an indigenous art from the Konkan region, draws inspiration from nature.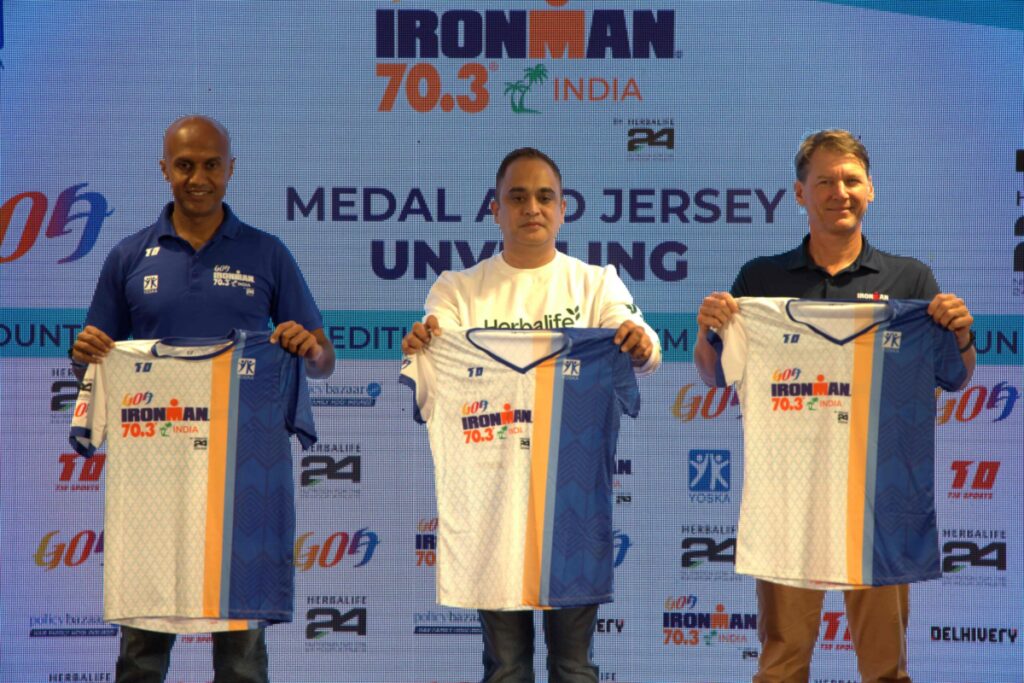 Goa's state capital, Panaji, will host the international endurance race for the third time. The event will be flagged off at Miramar beach in the presence of athletes and top government officials. The race's 30 top finishers will qualify to compete in the IRONMAN 70.3 World Championship, slated to take place in New Zealand.
The gruelling race kicks off with a 1.9 km swim off the beautiful Miramar beach in Goa, followed by a demanding 90 km bicycle ride and culminating with a half-marathon run covering 21.1 km. Each leg has its individual cut-off timings and athletes must surpass these thresholds in all three sections to earn the coveted IRONMAN 70.3 India 'finisher' title and medal. IRONMAN 70.3 India is considered the ultimate test of the mental and physical fitness of competing triathletes and is one of the first international endurance competitions to make its mark in India, dovetailing into the central government's 'Fit India' mission.
The route selected by the organisers takes participants through some of the most scenic parts of the culturally rich city of Panaji including the Ribandar causeway, Mandovi river and popular Miramar beach.
India's most prominent and truly international triathlon event has attracted the most participation by athletes from Maharashtra, Karnataka and Haryana, among several other Indian states and participants from abroad. In addition to an impressive Indian contingent, athletes from all six habitable continents – North America, South America, Africa, Europe, Australia and Asia – have registered to participate in this prestigious event, showcasing its international acclaim. Since its inception, athletes from 50 countries have participated in the IRONMAN 70.3 India event in Goa. The Goa government's Tourism Department has partnered with IRONMAN 70.3 India for the October 8 event. 
According to race director and franchisee owner of IRONMAN in India and CEO of Yoska, Deepak Raj, the high scale of participation in the third edition of India's biggest triathlon event was an encouraging sign for endurance and adventure sports in the country. "As far as international registrations are concerned, we have received entries from the UK, US, the Russian Federation and even far-flung nations like Bolivia, South Africa, Argentina, Estonia and New Zealand. Indian triathletes have also shown unprecedented enthusiasm in signing up for the event. Participating in an IRONMAN is not just about winning the race, it also helps build a sense of personality, fosters a spirit of camaraderie and helps the country by generating an interest and passion about staying fit," said Raj.
Speaking about Goa, Deepak Raj added, "Goa offers a great backdrop for the race and provides convenience with various accommodation options and good airport access. Its marketability was crucial for attracting brands and participants. Ensuring the safety and quality of the beach waters was another essential factor. Goa emerged as the best choice due to its suitability and strong government backing. We have seen growing support year after year from the government of Goa, with Goa Tourism coming onboard as principal sponsor to further support and expand the event and we are thankful for it"."Apart from Goa Tourism, IRONMAN 70.3 India is also supported by PolicyBazaar, Delhivery, T10 Sports, Redbull, Herbalife and Hyperice", said Deepak Raj.
According to Raj, nearly 15 percent of the participants in the upcoming edition of IRONMAN 70.3 India are women, which syncs with the mission of increasing women's participation in endurance sports events. "It reflects our commitment to inclusivity and empowering female athletes in these challenging events," Raj said.
Jeff Edwards, CEO and MD of IRONMAN Asia who is spearheading the IRONMAN brand's initiatives in Asia said, "It's encouraging to see India embrace the culture of triathlons. Interestingly, 65% of the participants this year are first time participants, while more than 60% of the finishers in the previous edition of the IRONMAN 70.3 India in 2022 were first-time participants, underscoring the growing interest and appeal of triathlons in India."
An IRONKIDS race is planned on 7 October as a curtain-raiser to the IRONMAN 70.3 India race which will be held on 8 October in Goa.  IRONKIDS is an attempt to introduce the excitement and thrill of competing in a truly international race while also being introduced to competitive racing and fitness at an early age. Six to eight-year-old children can participate in a one km run, nine to 12-year-olds can participate in a two km run, while 13 to 16-year-olds can participate in a three km run, which are the three designated categories for the event. All the participants would be awarded medals for taking part in the IRONKIDS Goa challenge, the only such run of international repute for children in India. PolicyBazaar is the primary sponsor for IRONKIDS.
Over 700 dedicated volunteers will contribute to the organisation of India's largest endurance race, reflecting the scale and magnitude of this event. The scale of the event can be gauged by the fact that over 21 tons of ice and 23,000 litres of potable water are being readied to provide refreshments to athletes, volunteers and spectators on race day.