Goa has its fair share of athletes, sports activities and gyms. There are a lot of people that like to keep fit in the state. The ones that want to do it for fun as well as get fit pick options like aerobics and Zumba. Zumba, in particular, has a very big following with lots of young people not only just participating but becoming Zumba Instructors (or ZINs) themselves. But what if the Zumba craze could be fading? We just heard about a new fitness regime called PoundFit. So let's go find out what that's all about.
PoundFit for a fitter self
Meet Navelim-based Cliszma da Costa, a dance instructor and therapist. Her curiosity got the better of her after she read all about this new form of fitness known as PoundFit, online. It was completely unheard of in Goa. She went on to do a professional PoundFit training course in Edinburgh under the guidance of Christine Reid, one of PoundFit's Icons.
Speaking about 'Pound', Cliszma says: "What if your daily routine workout is made interesting with a different fitness format, inspired by drumming, where instead of listening to music you become the music and this further combines with a cardio workout, conditioning, and strength training with yoga and Pilates-inspired movements? so, you need to try Pound training."
What exactly is PoundFit?
PoundFit is a unique fitness format – a combination of cardio and weight training exercises that include some of the rhythmic techniques used in Pilates. This full-body workout usually lasts 45 minutes to an hour. It includes exercises that involve alternate squatting and standing to strengthen the inner and outer thighs, buttocks, core muscles, and back muscles; it also includes lunges and various others movements. The format is suitable for both men and women and has many positions that help in maintaining and improving balance.
Benefits of PoundFit
The workouts use Ripstix ®, lightly weighted drumsticks engineered specifically for exercising. POUND® transforms drumming into an incredibly effective way of working out.
Additionally, Clizsma says that this is a form of fitness where one can burn up to more than 900 calories per hour and also strengthen and tone up muscles that aren't used much. These workouts are a great stress buster and help to improve one's rhythm, timing, coordination, speed, agility, endurance, and musicality.
Check out the PoundFit official website for more information.
A little about Clizsma Da Costa
Hailing from Navelim, Clizsma Da Costa is also a certified dance therapist. She says that most people aren't aware of how dance can be used as a form of therapy.
"Dance and movement collectively is a very powerful tool. The objective, be it dance therapy, Pound or Zumba, is aimed at creating a positive impact on individuals through practice. The biggest challenge that I face is creating awareness through which I fail to make it accessible to a larger group of people." she says.
Clizsma started her journey with dance at the tender age of 17 when she attended a youth convention in Spain and led the entire group in a dance event. She then sought training in dance movement therapy in Mumbai's Tata Institute of Social Sciences. The multitalented Cliszma also won the role of 'Isabel' in Konkani film Nachom-ia Kumpasar, thanks to her singing, dance and acting skills. Today Cliszma keeps busy with the fitness classes she conducts in Margao and Panaji.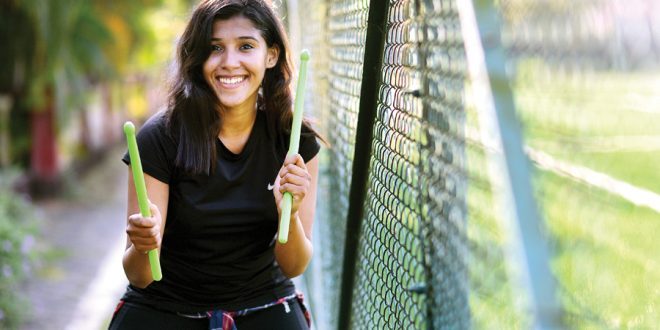 Is PoundFit a fad or is it here to stay?
One can't say as yet if PoundFit is the next big thing just like Zumba seemed to be. Guess, everyone just has to wait and watch. Check it out for yourself as soon as you can. That way you will know which fitness workout gives you the best deal and the best feeling.
Information credit – Navhind Times and PoundFit's official website
ItsGoa/JAN/KDGP