For all the street shoppers who love flea markets, shopping in Goa is a dream come true. Right from chilled beer to handcrafted art pieces, you name it and the Goan flea markets have it all.

These markets remain open from November to April and are at their resplendent best between Christmas and New Year's.

With both foreigners as well as the locals selling their goods and switching between Hindi, Yiddish, and Russian fluently, these flea markets give you the feeling of walking through a global village.

The variety and reasonable price of the goods make the Goa flea markets every street shopper's dream come true.
Here is our list of ten flea or shopping markets for effortless shopping in Goa.
Anjuna Flea Market
Anjuna in North Goa is known not only for its glistening beach line, but also for its trendy flea market, where you can buy trinkets from all across India.

This market is a buyers' dream and a melting pot of cultures, with everything from Kashmiri items to a range of delicious spices from Kerala.
This market in Goa, known for junk jewelry, Indian handicrafts, sculptures, modish clothing, ethnic apparel, and other items, may leave you unsure of what to buy and what to leave.

Get yourself the best of India, and don't forget to wear your bargaining cap. This one will take your breath away.

Having kicked off as a "Hippie exchange" of commodities, it is now has been transformed into a full-fledged market.

Held on every Wednesday from morning 9 till the 6 in the evening, Anjuna Market is one of the most popular sites for shopping in Goa. Apart from having various trinkets and knick-knacks on sale, it also has live performances by various bands that play different genres, ranging from rock to jazz.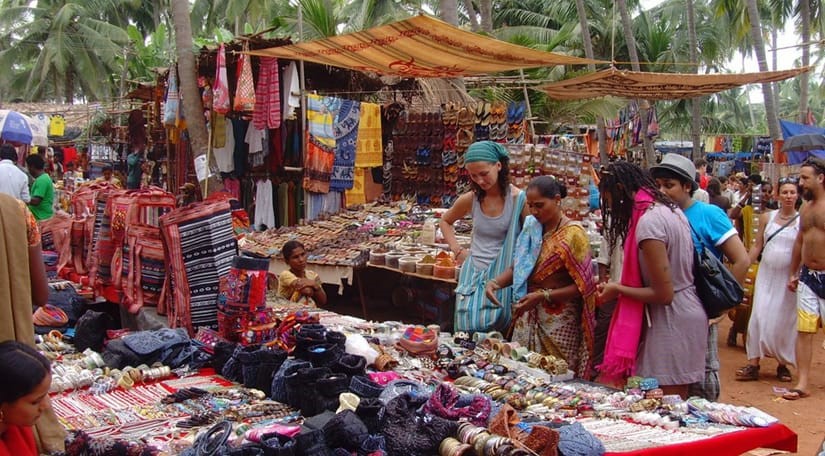 Saturday Night Market, Arpora
The best market in Goa is the Saturday Night Market. Flea markets are an important aspect of Goa tourism, and the Saturday Night Market in Arpora is the most popular attraction. It's one of Goa's most famous flea markets, and the night market, which is lit up with vivid colours of delicacies and calming music playing in the background, has lots of items to buy.
From indigenous Kaju feni to chilling beer, dried fruits, scrumptious seafood, warm chocolate waffles, junk jewelry, handcrafted pieces, voguish togs, beachwear, scarves, hammocks, and spices, the Saturday Night Market of the popular beach location, Arpora, has it all.

Located in Arpora, this Saturday night market begins at 6 in the evening and remains open till late in the night. With food stalls offering cuisines from all over the world, the Saturday night market is every food lover's paradise, also making shopping in Goa a breeze.

With the right mix of both local as well as international goods, the flea market in Arpora has something for everyone.

For ease of shopping, the Saturday night market has been divided into three zones: The lower field, where you get local products from all over the country, the central field that houses the central stage and the upper field that has boutiques or designer stalls.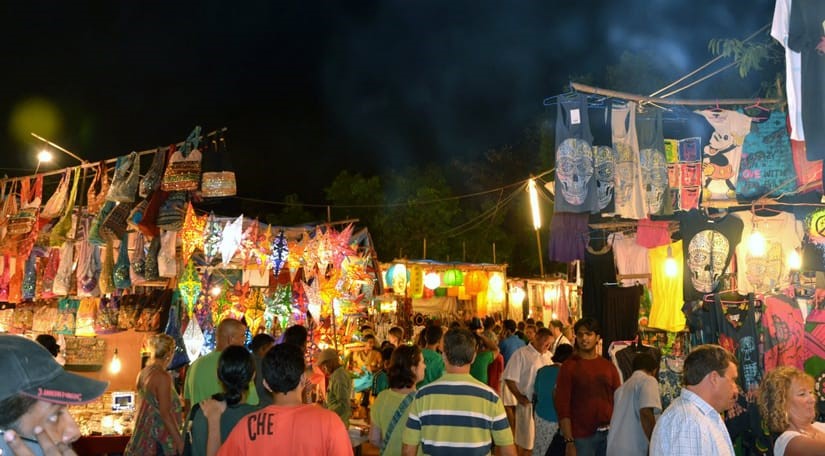 Ingo's Bazaar
Ingo's Night Bazaar in Arpora is one of Goa's busiest flea markets, offering a fantastic shopping experience. This Saturday night market is filled with stalls offering a wide range of goods. Grab your drink and embark on a shopping spree from dusk to dawn, with everything from food stalls to an array of merchandise.
The unique handicrafts, souvenirs, and antiques sold at European shops are enticing and wonderful to own. Apart from taking in the charming atmosphere of these European shops, you may shop for exquisite hats, jewelry, clothing, souvenirs, and a variety of other products at attractive prices.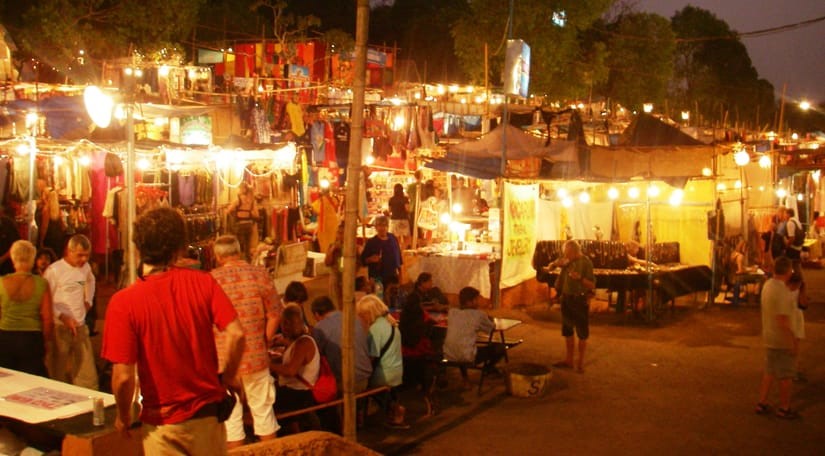 Friday Market, Mapusa
The weekly market outside of North Goa's Mapusa Municipal Market is unquestionably the most appealing and cost-effective. Apart from residents, the Mapusa Flea Market attracts a large number of tourists because it is the most recommended market for purchasing traditional Goan items.
Vendors from Bardez, Tiswadi, and other districts of Goa display their wares every Friday.

In addition to fish and sausages, you may discover reasonably priced local handicrafts, pottery, antiquities, junk jewelry, beachwear, coir products, and other items. If 'shopping in Goa' is on your plan, you must visit this market, which is one of Goa's busiest. Simply type 'goa market near me', around Mapusa, and get there!

What makes the Mapusa Market different from the other flea markets is its transformation from a regular bazaar during the rest of the week, to a typical Goan flea market on Fridays. It remains open from morning 8 till 6.30 in the evening and has a bit of everything that one could look for in a flea market- right from fruits to handmade paper.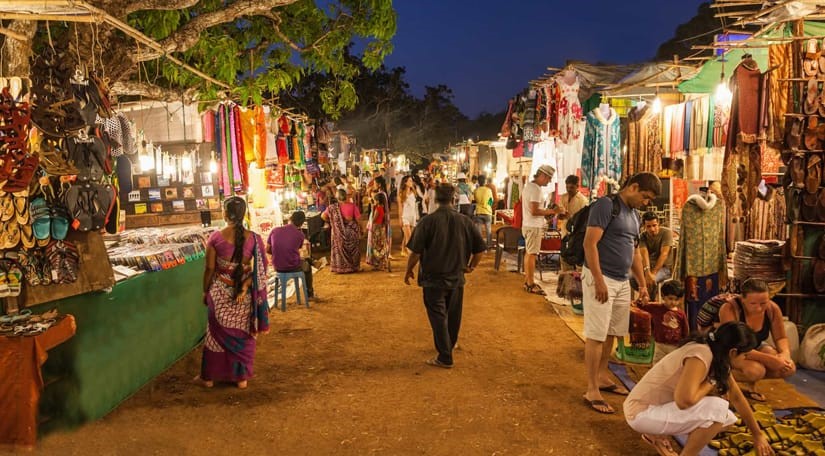 Calangute Bazaar
When going on a beach vacation to Goa, you don't need to bring much because you'll find attractive items that will tempt you to embark on a shopping spree. Calangute Market Square is one such market, where shopping is difficult to resist.
You'll go crazy for the cut bargains on practically everything in the market, from the nicest beachy attire to one-of-a-kind pieces of jewelry. Seashells, beachwear, sarongs, souvenirs, handicrafts, leather goods, antiques, you name it, you'll find it in this market, where shopping is a pleasurable experience.

The Calangute Bazaar remains open only on Saturdays from morning 6.30 till 12 noon, and is well known for its Tibetan and Kashmiri sections that test one's bargaining skills. One can even find astrologers and fortune tellers in the Calangute Bazaar.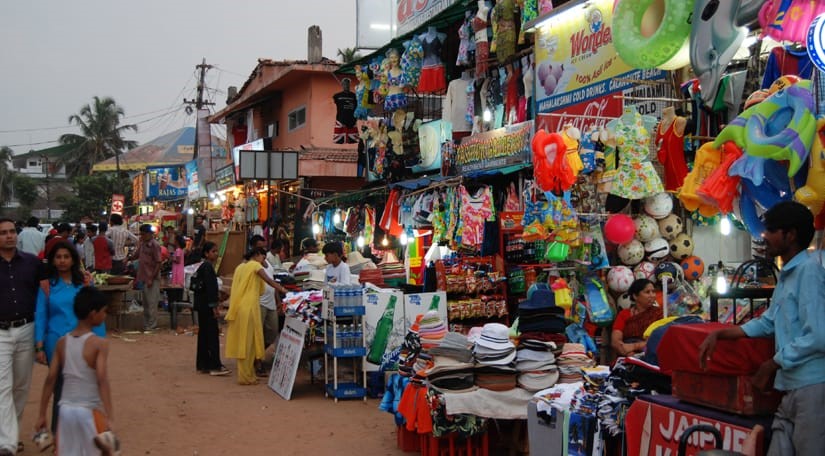 Mackie's Night Market
On your trip to one of India's top vacation spots, indulge in a little retail therapy. The seaside location, which is known for its parties and revelry, also has a plethora of fantastic flea markets where shopping is a pleasurable experience.

Mackie's Night Bazaar, located on the famed Baga beach, is known for a variety of eating places serving delectable dishes as well as many kiosks selling vintage items.
This Saturday night market, one of Goa's most lively, will blow your mind with the best culinary and retail experiences the state has to offer. Among the live bands, purchase one-of-a-kind handicrafts, souvenirs, eco-friendly goods, clothing, rugs, bags, and other items.

Having started after a disagreement between the organizers and owners of the Night Bazaar, the Makies Market remains open from 6.00 PM to 1.00 AM on Saturdays.

The market can be roughly divided into three sections: the first one selling Indian clothes, the second one housing the bandstand, and the third one filled with food shacks and stalls selling western clothes.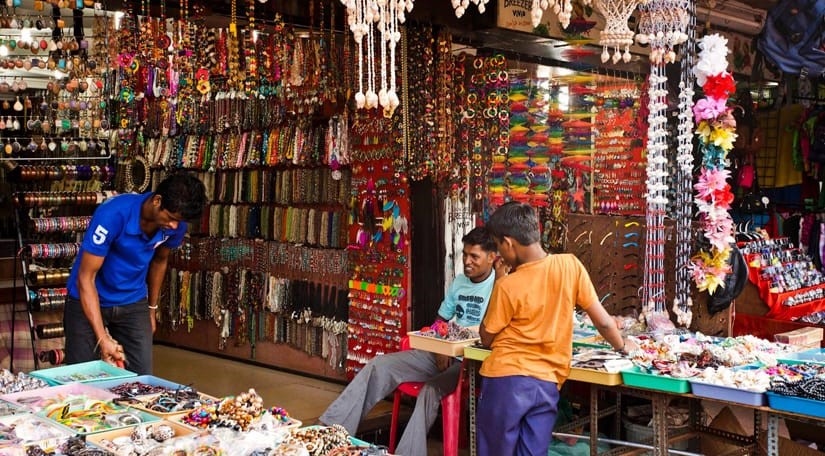 Arambol Flea Market
The Arambol flea market has so much to offer, with its bohemian air and exceptional experience. The Arambol Flea Market in Goa, also known as the hippy flea market, features everything from fashionable accessories to trendy garments.
You can buy a whole lot of quality products such as hammocks, crystals, dream-catchers, lampshades, handicrafts, leather stuff, trinkets, or even books from this heavenly shopping place in Goa, which is dotted with many shops run by Indians and ex-pats from different countries such as Ukraine, Russia, and so on.
Arambol Drum Circle also throbs with a musical spectacular that boosts the spirits and makes your shopping experience one to remember.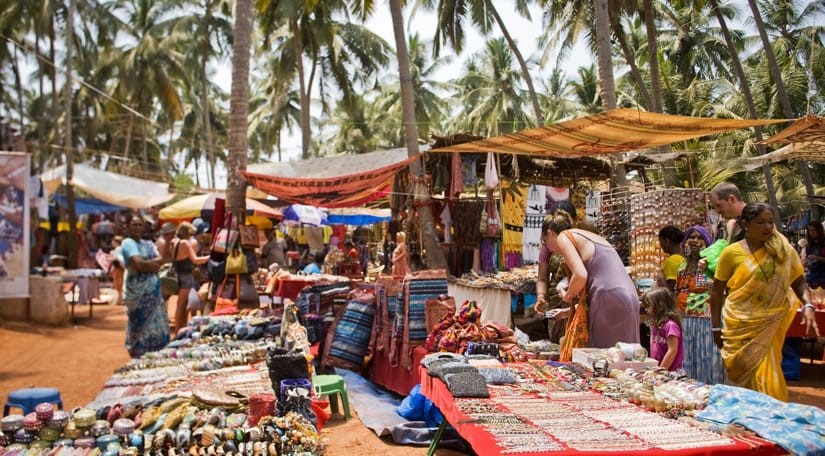 Beachside designers village, Ashwem
Located on the Ashwem beach, "Le Souk" is considered as India's first luxury marketplace, and unlike the flea markets, it remains open all through the season. The open-air beachside bazaar has both local as well as international designers displaying their goods in huge tents in the shade of coconut groves.
Tibetan Market, Baga
The Tibetan market on Baga Road is lined with dozens of shops and stalls selling clothing, shoes, souvenirs, jewellery, leather goods, and other necessities. The lanterns light up this beautiful market just as the sun sets, illuminating everything from local to hip and happening.
Apart from the ultimate shopping experience, wonderful gastronomic delights will appease your taste buds in a dynamic atmosphere of live music and entertainment by Goan artists. From high-quality clothing to fashionable footwear and gorgeous jewellery, there is something for everyone's budget. In this market, you can indulge in some shopping therapy.

The Tibetan market on Baga Road is lined up with numerous shops and stalls that sell clothes, shoes, jewellery, and other useful items. As the sun goes down, the lanterns light up this amazing market where one can purchase everything right from local to hip and happening.
With many places one can go out for shopping, Goa truly is a shopper's paradise. The above-listed places are some of the best places to go out shopping. And most of the markets and stores offer items at affordable prices, these places are sure to please all visitors. Don't forget to buy gifts for your loved ones and share the lovely experience you enjoyed in Goa.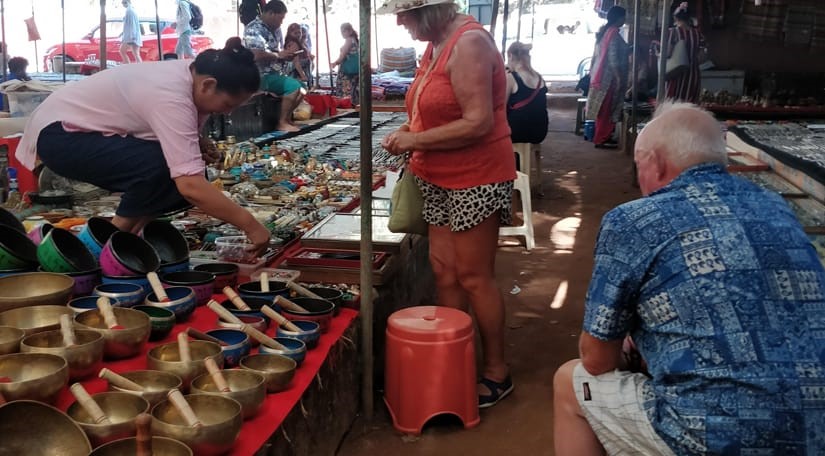 Colva Beach Market
Shopaholics who are enamoured with flashy clothing and fashionable accessories flock to the Colva Beach Market in South Goa. This flea market is a favourite with shopping because compulsive purchasers may expect to acquire items from high-end retailers and boutiques at bargain costs.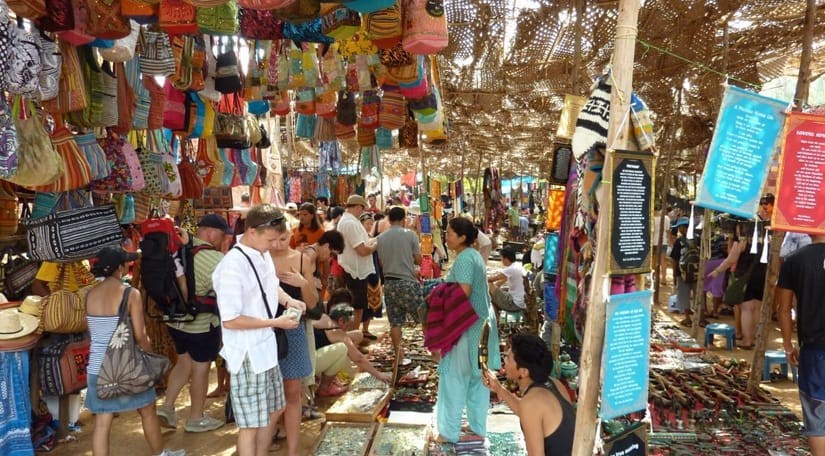 More markets for shopping in Goa
Jade Jagger Beach Boutique
The Jade Jagger Beach Boutique. Yes, high fashion exists in Goa, and this splash of color on Ashwem Beach belongs to none other than British designer Jade Jagger, daughter of Mick Jagger of the Rolling Stones. Flowy clothing and jewelry can be found here. It's located at Ashwem.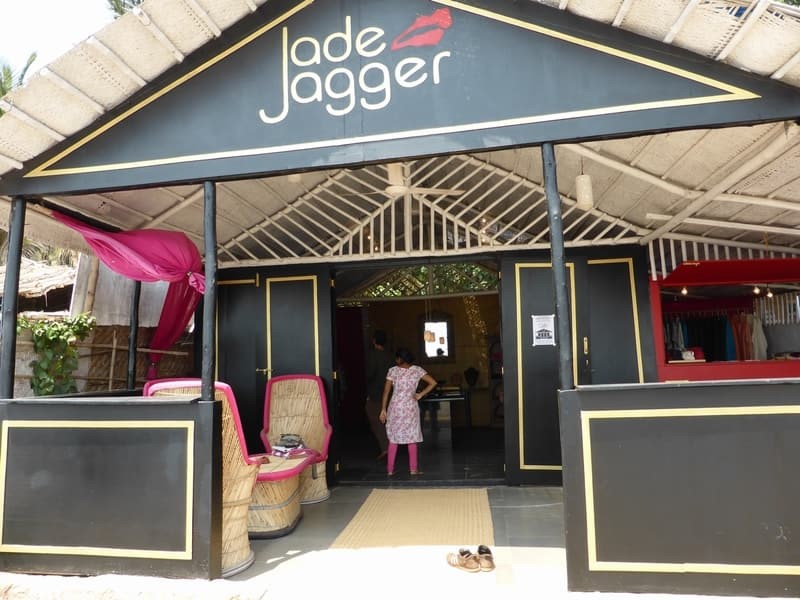 Le Souk
If you're looking for high-end things in Goa, Le Souk by Amarya is the place to go. The tented businesses in this open-air bazaar house some of the top national and international designers. It's worth checking out Nappa Dori, Shades of India, and Jonas G.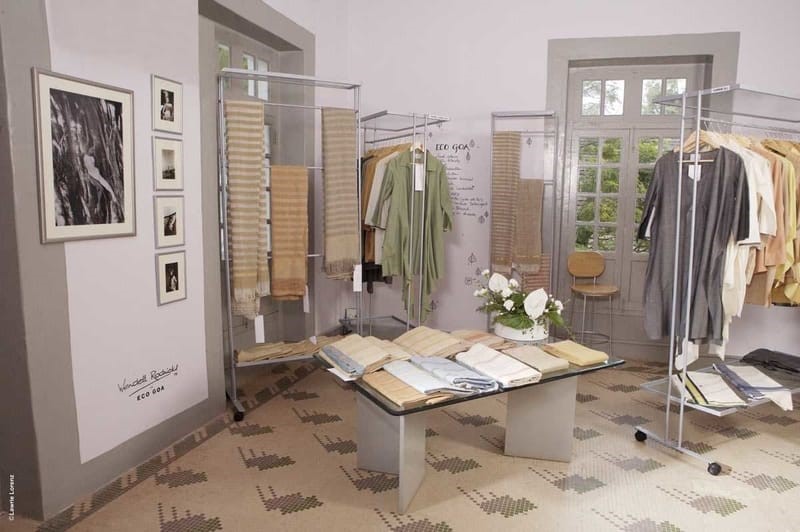 Beach Candy
This charming tiny beach store in Morjim collaborates with a lot of NGOs in Mumbai, and all proceeds go to the craftspeople. Purchase lovely maxi dresses, ikat handbags, and other traditional clothing. Beach Candy is located at Morjim.
CocoRoots
This is must check out store as it has one of a kind jewelry that make for perfect gifts to take back home. Here all the jewelry is inspired by nature. The pieces are made of bone, coconuts and horn (ethically approved as they use these parts from already dead animals). Look out for their stalls at various flea markets in Goa. You will find them at Anjuna.
MMC Market
Also called Gandhi market, this is one of the most bustling areas in South Goa that's popular with locals as well as tourists. They have apparel as well as handmade soaps, household time and lots of spices.
Palolem Market
This bazaar is a great place to chill at on a Saturday night. Here you can find a lot of beach related items as well as stalls selling clothes, souvenirs as well as food and lots more.
Tuk Tuk
This little store is packed with a range of gift items as well as household goods. Here you will find India and Goa inspired mugs, coasters, coin pouches and a lot more. The prices are reasonable and the owner is very helpful.
Babu Tea & Coffee
If you're looking for local flavors then make sure you make a pit stop at the famous tea and coffee shop where you can pick up aromatic blends from across India. The pricing is reasonable and these make great gifts to take back home.
Goa is a shopper's paradise! And as most of the market and stores offer items at reasonable prices, the places above are sure to please. Make sure to pick up some stuff to take home for friends and family to give them a taste of this stunning state. Let us know about your experiences in the comment below,