Sonia Shirsat is undoubtedly a household name in Goa. Her music has swept the world by storm.
Here's her story, chorused with dreams, ragas, high notes, inspiration, and her stellar musical journey.
Humans of Goa is our original and official series that shares inspirational stories from the lives of Goans. We speak to talented and contributing individuals from this wonderful tiny state.
---
"I initially sung 'Papa kehte hain' for a Sarvajanik at Ganesh Chaturthi when I was seven. I was a regular at school tournaments and in college after that.

Ponda was Sonia's birthplace, where she grew up, and where she went to school. She then went to Miramar to study law at Salgaonkar's Law College, after which she spent four years as a visiting faculty member teaching law to the students.

Despite having completed a thorough legal education, her singing career began with a Margao-based band named Status 4. The wonderful thing about this band was that it was conducted by Dr. Alan Abreu, who was the Principal of the Ponda BEd College, is the Dean of the Goa University Educational Faculty, and also a family friend. He was so taken with her singing western pop at university festivals that he decided to hire her. With such a fantastic individual leading the band and a dedicated Sonia who didn't give up her master's programme, teaching, or singing, her parents had no choice but to let her pursue her ambitions without limitations!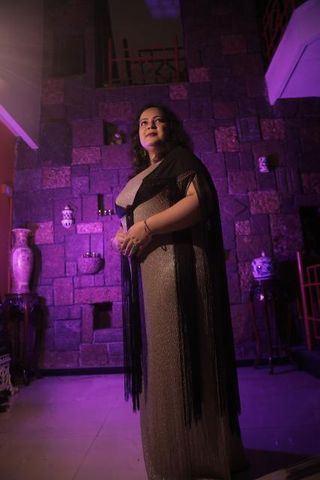 "Singing is something that comes naturally to me. It's all a gift from above. It all started when I won the All Goa English Solo Singing Competition during my tenth standard. That was my first trophy."

My mother and grandmother used to sing, but it was only a pastime for them. She was very enthusiastic about it, so she sang a lot. My father, a doctor, would occasionally sing as well. He was known for playing old Hindi songs by well-known senior vocalists.

I grew up listening to a lot of Hindi film music. I assumed I inherited their enthusiasm because I like singing as well, so I practiced on a regular basis.

Once I was hooked on MTV, I got introduced to beautiful albums by Whitney Houston (Bodyguard), Mariah Carey (Butterfly), and I could sing in Whitney Houston's voice, Celine Dion and Tony Braxton were also inspiring.

The issue is that female singers like Lata Mangeshkar and others in Bollywood sang in a higher range of voice called soprano, precisely because they sang for duets where the male voice's range had to match theirs.

Our vocal cords are technically powerful when we use our speech tone, but the head voice (soprano) has to travel to a different range and requires training. So I'd rather sing male singers' songs since I wouldn't have to fight with the high pitch. MTV drew her interest, as it does most teenagers, and she was exposed to western music."

A year after the competition, Antonio Chainho, a Lisbon-based Portuguese guitarist maestro, came down to Goa for a workshop. He was on the lookout for someone who could sing Fado.

I wasn't keen on it because it was in a language I didn't know at the time, but he urged me to learn Fado, so I did. I performed with him, and later, after the show, he approached me and informed me that my voice was best suited to Fado. He indicated I could always contact him if I needed assistance. That was the first time someone listened to my voice and advised me on how to improve it.
Sonia grabbed the listener's heartstrings in Goa, Daman, Bangalore, and Delhi with her Fado songs. She lectured at the law school while simultaneously singing in the band and for the Konkani programme 'Bhangrale Ghoi.'

Multitasking couldn't have lasted much longer. It was time to specialize rather than be a jack of all trades.
There are times in life when one is faced with many possibilities but only one choice, and the decision made at that time is irrevocable, therefore it must be made with extreme caution.

If it's right, it'll completely transform your life. Sonia had made a similar decision. It signaled the start of a new chapter.
Sinking into Fado was not at all what she had anticipated. "During my stay in Portugal, every evening at seven o'clock, I would go to the Fado homes, which were set up for Fado performances," Sonia recalled. They were tiny, well-built buildings with restaurants where people might congregate and enjoy appetisers, wine, or coffee. Two chairs were set out for the guitarist and the Fadista, who would arrive and begin their performance. Nobody was allowed to leave, talk, or even make the sound of silverware while the Fadista sang.
I sang Fado with a sitar and the help of a Portuguese guy from Goa, followed by Mando, a Goan folk song with Portuguese instruments that many people refer to be Goan Fado (I disagree). I summoned Maestro Antonio Chaihno, who performed a lovely concert for me. I wanted them to feel the essence of Fado via my singing, and I wanted to show them the type of music where poetry was the source of beauty. I attempted to decipher the cross-cultural relationship between the two countries by singing a Hindi song, 'Humne dekhi hai inn ankho ki,' with the Fado instruments.
Despite the fact that I was not a well-known vocalist, the performance sold out two days in advance. There was a waiting list, and I was featured in three of their major national newspapers, on their radio, and on three of their national networks in real-time."
Few people can make the transition from student to teacher. It's only possible if you have a firm grasp on the subject and are willing to provide even the tiniest details.

In Goa, Sonia was the only professional Fado singer. She had accumulated a wealth of information in Portugal, which she urged to be shared with the people of her homeland if it was possible. The Taj chain of hotels approached her and asked if she might train people in Fado.
Sonia has performed in worldwide Fado concerts at venues such as the Kala Academy, Clube Vasco da Gama, and Cidade de Goa.

Her music has also led her to Canada, the United States, Luxembourg, Portugal, France, the Middle East, Nepal, Singapore, Macau…the list goes on and on! But one location, in particular, holds a special place in Sonia's heart.

"Cidade de Goa has been a spot where I've been singing Fado since the beginning," she said.
Sonia decided to create a project named 'Fado in the City' in 2016 because of its uniqueness. She wanted to take it to every city in the world. She hosted free Fado events for people who had never heard of Fado or the language.
"I have never sought the government," she stated confidently. We are currently self-sufficient, with sponsors, facilities, and resources. The goal, to make Fado significant to everyone, is the most crucial part here." Her efforts were not in vain. In 2011, she received the Goa Yuva Srujan award.
"I taught Fado workshops in Jaipur and Delhi." I was also invited to IIT Kharagpur for a SPICMACAY International Convention, which featured numerous artists and artisans specialising in wood carving, flower making, crafts, and South Indian traditional dance. One of the ten students I had was a Pakistani national. I also gave a three-hour workshop at MES College, with 5-6 Afghans in the audience. So I'm content with where I'm at; Fado is developing at its own speed!"
The word "fado" literally means "destiny." The origins of history can be traced in a variety of ways. One reason for this is that it was sung by seamen who missed their families and homes. Another version is that it was performed by Portuguese street comfort women. Fado contains melancholy, melancholic sounds and significant lyrics in any case.

In the pool of mixed culture in Goa, I didn't know how many people would be open to Fado music," Sonia said of her initial hesitation about learning Fado. Fado is sad music; it's an acquired taste, not a commercial product."
I had previously travelled to Portugal on a Fundacao Oriente scholarship in 2006 when Maestro Antonio Chainho assisted me in learning about the Fado. With language being my sole restriction, it was an eye-opening experience for me. So I'd accompany my mother, who spoke Portuguese. Despite this limitation, Fado and Sonia's romance flourished. "I chose to go to Portugal alone," she said of her bold decision.
I wanted to thoroughly immerse myself in Fado. My mother's distant cousin, who was visiting Portugal, arranged for me to stay in an elderly lady's home as a paying guest. It was a large house with 14 rooms on the first level, and the lady who lived across the street had picked up a few survival phrases from my mother. The elderly lady was a sweet lady who was patient with me. She would get irritated when I left for Goa because we both enjoyed each other's company so much."
Fado has a lot of influence on people. There are many different types of fado music. It is known as Morna in Cabo Verde, Mando in Goa, and Gazal in India. The beauty of these songs is in the singer's vocals, which do not require a large orchestra or a large number of violins. A Fadista (Fado singer) is supposed to communicate emotion through her singing, however, she relies on the musicians for her base and beats. Thousands of people listened to her perform Fado music. The semi-classical genre, like the majority of semi-classical genres.
Fado follows a set of rules that other genres may find weird. Fado, for example, has a musical interpretation that is akin to Hindustani Bandish, in which one sings a raga while inserting a poem in between the sounds. "If a Fadista copies an original, there is no value," Sonia explained, "but if a Fadista interprets an existing Fado with another Fado, it is valued by the people." Such techniques are exclusively present in earlier societies and are not found in modern music."
Sonia became one with Portugal's music after living and studying there. Sonia exclaimed, "I realised I had a connection with Fado, so I decided to focus on this field." She had made a connection not only with the music, but also with the people who made it. "I had to return to Portugal every year for a month to dispel my reservations about this music." Thankfully, I had a lot of senior citizen acquaintances in Portugal. I used to bring a list of my concerns from home and submit it to them.
The majority of my friends were musicians, Fado writers, or poets. They thought I was amusing! To them, I was like a kid, asking questions and talking about it. I used to ask them questions that perplexed them since they had never considered them before. As a result, they'd offer me books about Fado and its history. I've been emailing them my doubts up until now, and they've always responded promptly. The rare books I'd bring back from Portugal used to be the heaviest part of my luggage."
Sonia has big ambitions for the future of Fado music, much like any other parent who makes elaborate preparations for their child.

"I'd like to build Fado houses in Goa as they do in Portugal." I want the singers to understand what they're singing so they can get into the spirit of the song. We also need a well-informed audience that understands the language so that the singers do not deceive the audience. We inform the audience about the Fados sung at every performance and event so that they are aware of what we are singing.
If I could go back in time, I would tell myself to take one day at a time, and yes, perform on a song composed by Chris Perry."
"The period just before going to Portugal was complex. My entire career hinged on that one decision I took. That's life for you."

"My legacy would be to ensure Fado continues to grow in Goa and maybe discover future Fado artists that will keep this trend going."
---
You can catch a snippet of this conversation on ItsGoa's Instagram page. Humans of Goa is our original and official series that shares stories from the lives of Goans. 'Humans of Goa' celebrates the spirit of every Goan.
Insert #humansofgoa to feature your story, and follow @ItsGoa_ for more inspiring stories.
Excerpts are taken from IncredibleGoa.org